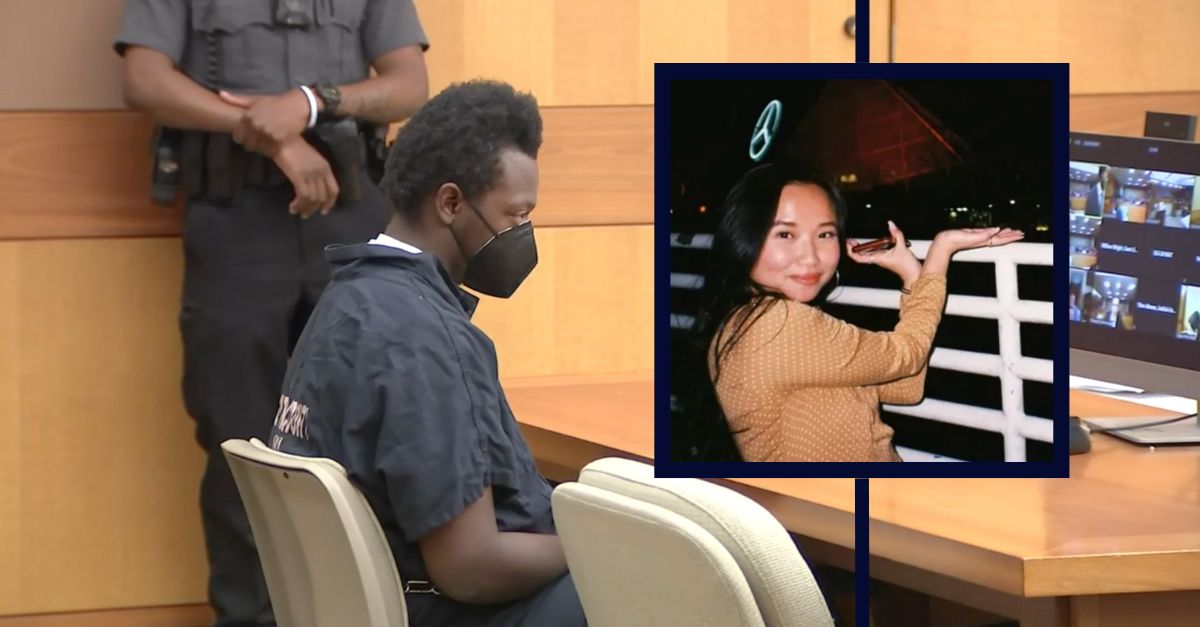 Ja'Keivious Arnold appears in Fulton County Court on Friday, Oct. 13, 2023. (Law&Crime Network); Mitchel Dang appears inset. (GoFundMe)
A Georgia man appeared in court on Friday to face allegations before a judge that he is responsible for the death of a young woman whose body was found stashed in a parking garage across the street from the Fulton County Courthouse on a late August morning.
Ja'Keivious Arnold, 24, was formally charged with murder, felony murder, aggravated assault, false imprisonment, kidnapping, aggravated sexual battery, necrophilia, financial transaction theft, and robbery. He's accused in the brutal killing of Mitchel Dang, 25.
A warrant was issued for his arrest on Sept. 19. He was arrested on the night of Sept. 22 in Chamblee – a medium-sized city in the northeastern Atlanta suburbs of DeKalb County.
About three weeks earlier, on Aug. 26, Mitchel Dang recorded her last vlog. She was dressed, dancing, happy, and, looking into the camera, made it known she was ready to dance some more with friends at a nightclub on Lower Alabama Street.
"She was really excited for the night," her sister, Mary Dang, recalled in comments to Atlanta-based NBC affiliate WXIA.
In a press release, Atlanta police offered threadbare information on the grim discovery at the Fulton County Justice Center Building in downtown Atlanta. Details are similarly scant in the updated press release announcing Arnold's arrest and connection to the crime.
Since the woman went missing, however, her loved ones have spoken out about her life and offered some details about the investigation into how it was cut short on the awful night in question.
In comments to WXIA, Mitchel Dang's family said police told them the victim and her assailant did not know each other.
"She could be anybody, she could be anybody's daughter, sister, walking the streets and it could just happen," Mary Dang told WXIA.
But even the family was largely kept in the dark until the preliminary hearing.
"However it happened, it happened … we don't know," Mary Dang said in comments to local Fox affiliate WAGA. "[Police tell us] that she went to a music venue and on her way back to the car she was attacked by a stranger."
Arrest warrants in the case obtained by WXIA allege that Arnold stole Mitchel Dang's cellphone during the attack. He also held her against her will and killed her, according to the warrants.
During Friday's hearing, Atlanta police Detective Jarion Shephard testified that Arnold "masqueraded as a good citizen" on the night Mitchel Dang died, offering to help her find her car before ultimately killing her.
"He insisted and persisted on helping her," the investigator testified.
Police say surveillance footage shows the two walking around the parking garage where her body was found, nude and partially hidden under a stairwell in the basement.
"His words were as they got into the stairwell, she started scratching him," Shephard testified. "He said he drug her down – drug her up under the stairwell, threw her on the ground [and] choked her until she passed out."
After that, he allegedly admitted to sexually assaulting the victim. She woke up during the assault, the officer testified, and Arnold allegedly choked her again until she died, removed her clothes, and then sexually assaulted her corpse for "at least 20 minutes," according to Shephard.
The defendant allegedly left a newspaper over the victim's face as he left – returning once to retrieve his sunglasses and try to hide her body better, police allege. The detective said the defendant admitted to two additional sexual assaults under similar circumstances – women walking alone at night – in DeKalb County.
As the investigator relayed the brutal and sickening details, Mitchel Dang's family broke into tears and sobbed in the courtroom.
Arnold was arrested at the DeKalb County Animal Services building where he worked as a temp.
A GoFundMe has been established to help the victim's family with their loss.
"It hurts all of us that Mitchel is no longer here," her cousin wrote. "She had such a kind personality and cared for everybody around her. She was loved by all, and she did not deserve such a cruel fate. To see how she was like, please take a look at her youtube channel."
In late September, on what would have been Mitchel Dang's birthday, her family erected a shrine that will stand for 49 days – in line with their Buddhist religion, WAGA reported.
"My parents came here from Vietnam after the war," Mary Dang said through tears. "We didn't have much, but we always had each other."
The slain woman's family said the parking garage where her body was found is not where her car was parked.
"Awful, she was just enjoying herself, the night, music… just enjoying it," her father, Minh Dang, told WXIA. "At nighttime, we sleep together in the family room. We can't separate out, we have to stay together to fill up the emptiness."
In Mitchel Dang's last video to the world, she described her outfit for the night of dancing as "casual and comfortable." She was on her way to see DJs Victor Calderone and Giammarco Orsini.
"I'm just going to dance my heart away," she said.
Have a tip we should know? [email protected]