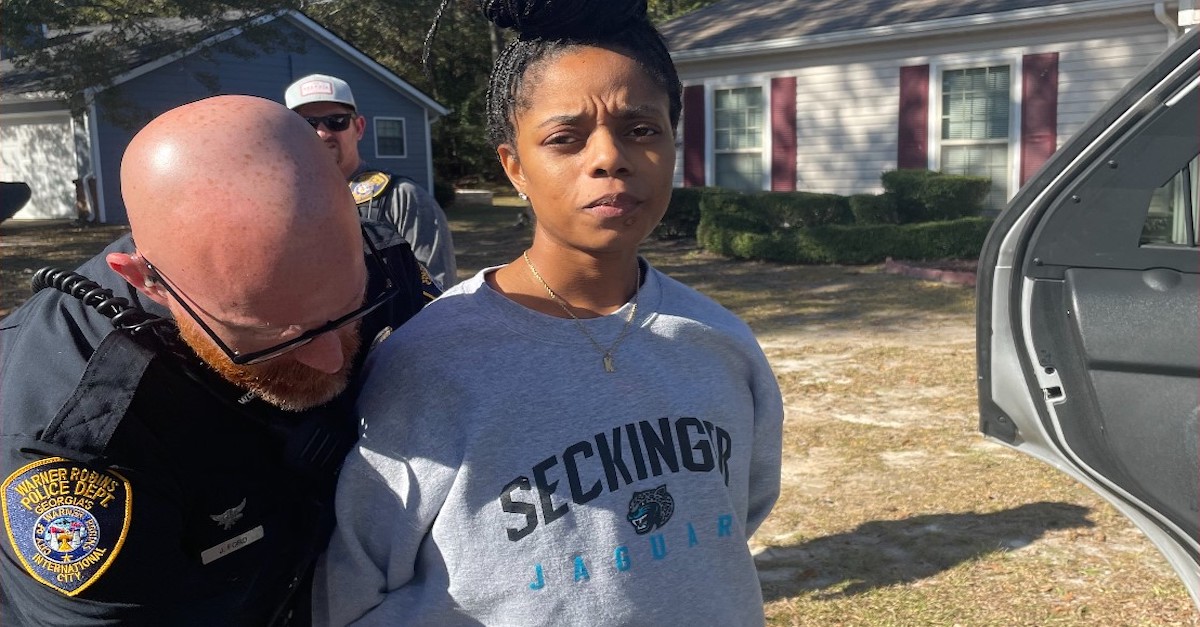 Kianna Aiesha Renee Davis being placed under arrest (Houston County District Attorney's Office)
A 32-year-old high school teacher in Georgia has been arrested for allegedly killing a 2-year-old child who was beaten to death nearly three years ago. Kianna Aiesha Renee Davis was taken into custody last week and charged with one count of malice murder, two counts of felony murder, one count of first-degree cruelty to children, one count of aggravated assault, one count of second-degree murder and one count of second-degree cruelty to children in the 2020 death of young Karter Ambrose, court documents reviewed by Law&Crime show.
Davis was a teacher at Seckinger High School in Gwinnett County at the time of her Nov. 4 arrest, though a substitute had been covering her classes for nearly two weeks, the district said.
Davis' co-defendant, Kiyon Devoy Benton, faces the same litany of felony charges in the child's brutal death. The duo were indicted by a grand jury on Oct. 18, though it remains unclear why Davis was not arrested until November.
According to a copy of the criminal indictment, filed in the Superior Court for Houston County, Georgia, and obtained by Law&Crime, prosecutors claim that Davis and Benton between Nov. 15 and Nov. 17, 2020, did "unlawfully, with malice aforethought, cause the death" of Karter by "beating said victim with an object, the exact nature of which is unknown."
The duo allegedly beat Karter, causing him "cruel physical pain" while also lacerating the little boy's liver.
Regardless of Davis and Benton's intentions, prosecutors say the second-degree murder charges stem from the defendants "failing to seek immediate medical attention" for Karter's lacerated liver.
The aforementioned charges in connection with Karter's slaying were brought following a "thorough investigation" by the Warner Robins Police Department, the Houston County Sheriff's Office, and the Houston County District Attorney's Office.
The relationships between Davis, Benton, and the victim were not immediately clear — nor was it clear whether authorities had been able to locate and arrest Benton. Police, the sheriff's office, and the DA's office did not immediately respond to messages from Law&Crime seeking clarification and additional details in the case.
Seckinger High School Principal Jimmy Fisher sent a letter home to students' parents regarding the situation, a copy of which was obtained by Atlanta CBS affiliate WANF.
"Earlier today, we were alerted that one of our teachers was arrested over the weekend. In accordance with Gwinnett County Public Schools policies, the district's Human Resources Division has launched an investigation into the matter," Fisher wrote. "Because this is an ongoing police matter and a personnel matter, I cannot share any additional information. To be clear, the teacher in question has been away from our school for nearly two weeks and will not be permitted on campus while this situation remains unresolved."
Fisher added that because the news about Davis' arrest had already spread among the student body, he wanted to reach parents first and assure them that the students were "in good hands."
Have a tip we should know? [email protected]