Grim new details have emerged in the murder of a beloved young woman who was killed last weekend in Laguna Beach, California.
Tatum Goodwin was only 27 years old when she was killed around 1 a.m. last Sunday — steps away from the restaurant where she worked for the past four years — after leaving one of her favorite bars.
On Friday, Dino Fabrizio Rojas-Moreno, 26, was formally charged by Orange County prosecutors with a special circumstance — a feature of law akin to a sentencing enhancement — of committing murder in the commission of a kidnapping. He was also charged with one felony enhancement of personal use of a deadly weapon.
He was arrested on murder charges on Wednesday.
"She was a 'bring-you-Carl's-Jr-to-work-and-sit-with-you-while-you're-stuck-working-on-Thanksgiving' friend," Goodwin's best friend, Madison Moyer, said at a vigil held Wednesday evening. "She was a 'just-wants-to-spread-love-light-and-happiness' friend."
Rojas-Moreno approached Goodwin in a downtown parking lot and began attacking her near her car, investigators allege, according to a criminal complaint obtained by Fox West Coast flagship KTTV. After that, investigators say, he dragged her to the back of the parking lot, down an alleyway, and to a secluded area behind a former movie theater building that was under construction.
There, Rojas-Moreno allegedly beat Goodwin to death with a fire extinguisher, prosecutors allege. When Goodwin's body was found, a sandbag was covering her head, according to law enforcement.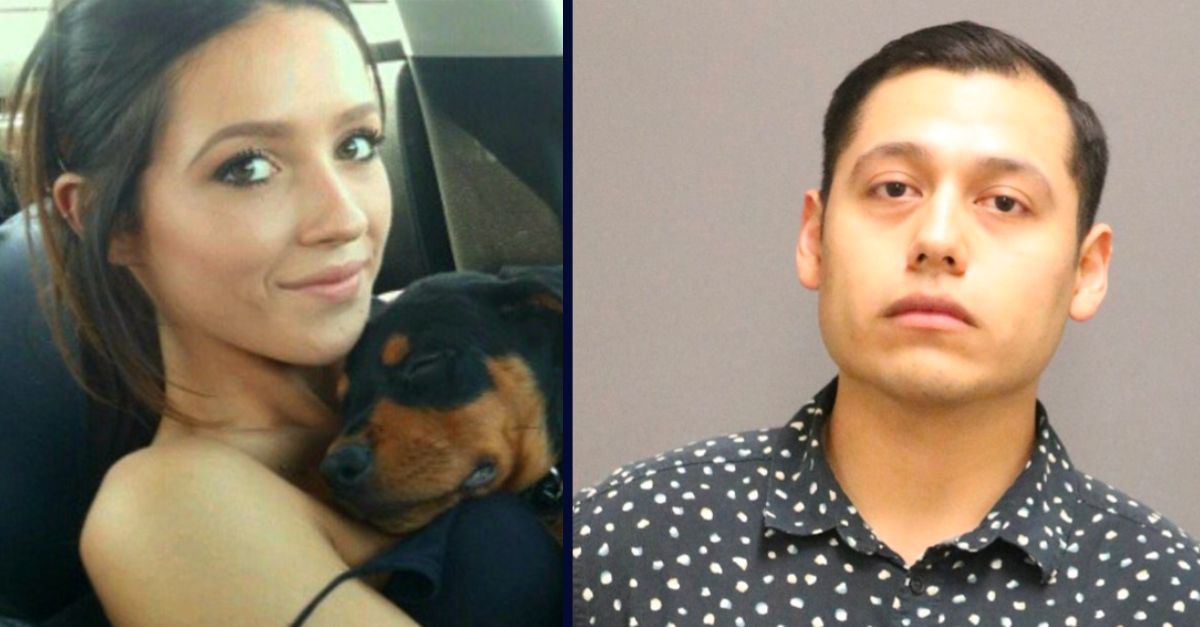 Left: Tatum Goodwin (via Instagram); Right: Dino Rojas-Moreno (Laguna Beach Police Department)
As Law&Crime previously reported, social media profiles suggested a man using an abbreviated iteration of the suspect's name worked at numerous bars and restaurants throughout Orange County.
On Friday, ABC West Coast flagship KABC confirmed that Rojas-Moreno worked as a bartender in the area. On the day of the slaying, he did not show up for work, according to KTTV.
Both law enforcement and the victim's family are unsure whether the alleged killer knew Goodwin before the night in question.
Three separate agencies arrested Rojas-Moreno in Laguna Hills. He is being detained without bail. His arraignment is slated for Nov. 20 at the Central Justice Center in Santa Ana.
Until Friday, details about the incident were scarce.
But the void left by the loss has been apparent.
Goodwin worked as an assistant manager at Carmelita's, a Mexican restaurant on Broadway in downtown Laguna Beach. She was all but considered a "family member" by the eatery's owner, Michael Heredia. After work on Saturday night, Goodwin went out for drinks at nearby Hennessey's Tavern.
"For me, it wasn't just losing a friend. It's clearly almost losing a family member," Heredia told The CW West Coast flagship KTLA. "I knew that she always had my back, and I always had her back also when she needed things."
The restaurateur organized a GoFundMe to build a permanent memorial downtown — and to help her family with funeral expenses.
Earlier this week, some 300 friends and family gathered in the rain at the end of the San Clemente Pier, roughly 30 miles south of downtown Laguna Beach, for a candlelight vigil where flowers, speeches, and tears commemorated the loss.
"I see you in absolutely everything," Moyer said there. "I hate that you told me you felt like your life was just getting started, and for the first time, you finally felt like you were beginning to have this life thing down. I will never recover from this, but I will do my best to carry your legacy of love with everyone because I know that's what you would want."
We want Law&Crime to be your favorite destination for all things true crime
To continue bringing you the very best content, we rely on valuable feedback from our loyal viewers. We invite you to take a brief survey about the kind of programming you want to see more of from us. Participation is anonymous and will only take about 3 minutes.
Have a tip we should know? [email protected]