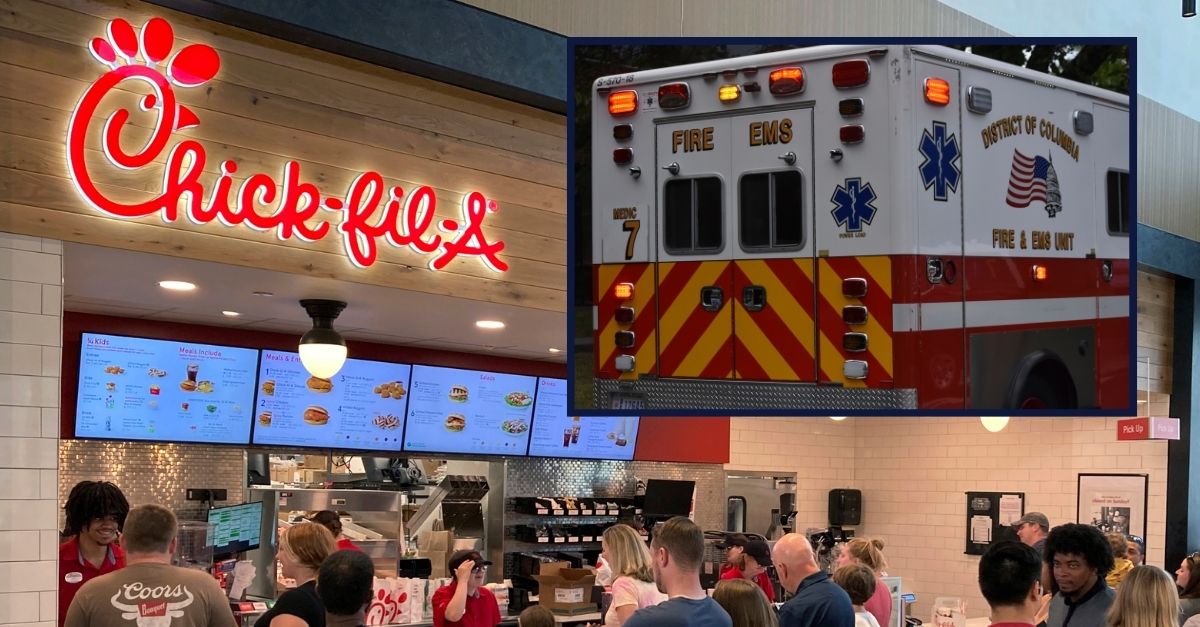 Background: People line up to order fast food from a Chick-fil-A restaurant, June 30, 2023. (AP Photo/Ted Shaffrey). Inset: Ambulance responding to the scene of a shooting in Washington, DC in August 2023. (Photo by Kyle Mazza/NurPhoto via AP)
A firefighter in Washington, D.C. who stopped to grab a bite to eat at Chick-fil-A after a woman having chest pains called for help just a mile away from him while he was on duty this spring has been terminated.
In a report first obtained by local NBC affiliate WRC, two firefighters assigned to an ambulance in the nation's capital on March 24 were asked to respond to the call — but one claimed to have just placed an order for their meals over an app when the emergency call came in.
In an early investigation by local authorities, one of the firefighters allegedly wrote in his after-incident report that they were at the fast-food restaurant for "literally a few minutes tops" and after being "fatigued" from a long day, they were famished.
The firefighter, whose named was not released by the department, reportedly emphasized that there was "not a delay to the patient's care or response."
Vito Maggiolo, a spokesperson for D.C. Fire and Emergency Services (EMS) only told Law&Crime by phone Thursday that the firefighter in question was terminated.
"Our official position is that the individual is no longer working for D.C. Fire and EMS," the public information officer said. "It was under investigation; whether the gentleman is still working for department, the answer is no."
It was reported that the firefighter was dispatched in his ambulance because he was closer than a medic unit in the same vicinity. The other firefighter on duty with the since-fired individual has not been terminated while matters remain under review. The distressed woman at the center of the debacle was reportedly taken to an area hospital and treated the same day. D.C. Fire and Emergency Services had no further comment about her condition.
The department said this March that it had put both of the crew members on "no patient contact status" after the incident and that and investigation had only been started due to the department's response monitoring system capturing "an anomaly" in the firefighter's travel logs, WRC reported.
Have a tip we should know? [email protected]