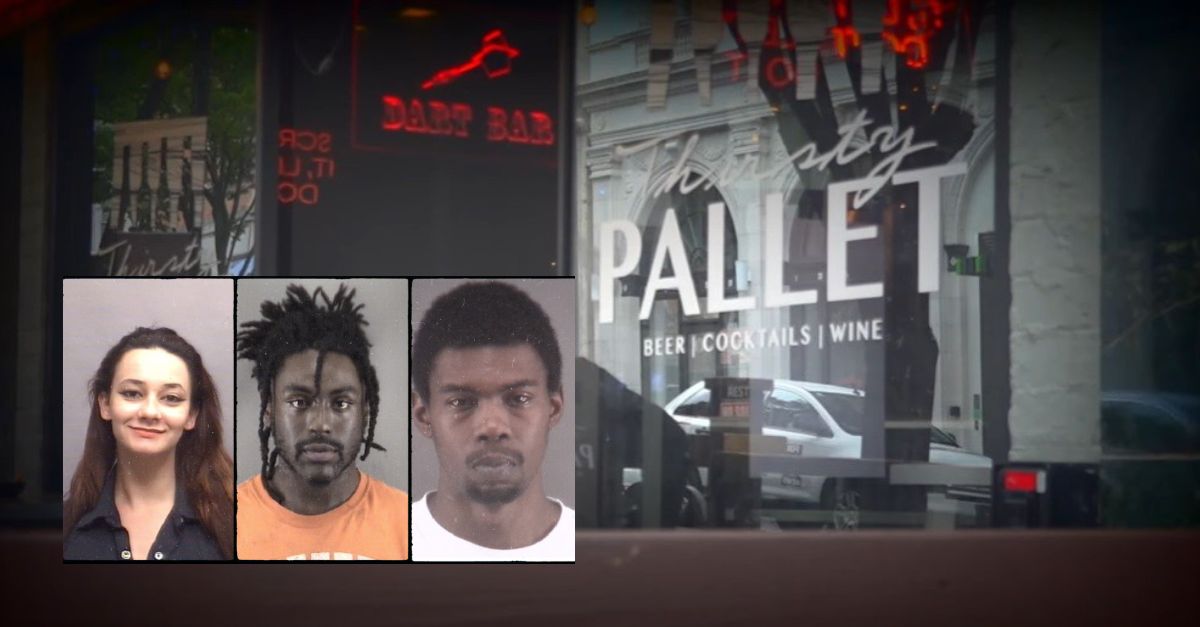 Background: Thirsty Pallet bar in North Carolina, YouTube screengrab local CBS affiliate WFMY. Inset left to right booking photos from Winston-Salem Police Department: Kailyn Irene Barclay, Miles Jay McCollum, Kendrell Montavise Smith.
It was a barroom blitz in North Carolina when Winston-Salem Police say a giant brawl broke out inside a local watering hole led to one security guard being hospitalized after a violent beating.
The fight broke out at the Thirsty Pallet, a craft cocktail bar in downtown Winston-Salem when, according to police, around 1:30 a.m. on Sept. 23, they were called in to respond to a fight allegedly started by two individuals heard arguing and throwing drinks.
Punches, kicks and several chairs were reportedly thrown, many of which landed on the bar's security guard as the brawl billowed out of control.
Suspects scattered once authorities arrived, local CBS affiliate WFMY reported. The security guard was hospitalized and in an interview with the outlet last month, the bar's owner Eric Zyglis said the guard had been released not long after the attack and was in "good spirits" afterward.
Zyglis said he had extra security measures in place to prevent such a thing from happening and was appalled that it had happened anyway.
Video of the fight was captured on security cameras in the bar, the owner said, adding that he believed at least one patron came behind the bar and was misunderstood by one of the people in the fight to be an employee. Drinks were thrown and things erupted from there.
Though at least 20 people were believed involved by the bar's owner, as of Friday, Winston-Salem Police reported obtaining warrants and arresting seven of nine immediate suspects. They include women and men between the ages of 22 and 45 who are now facing or are wanted for an array of charges including misdemeanor assault with a deadly weapon, simple assault and more.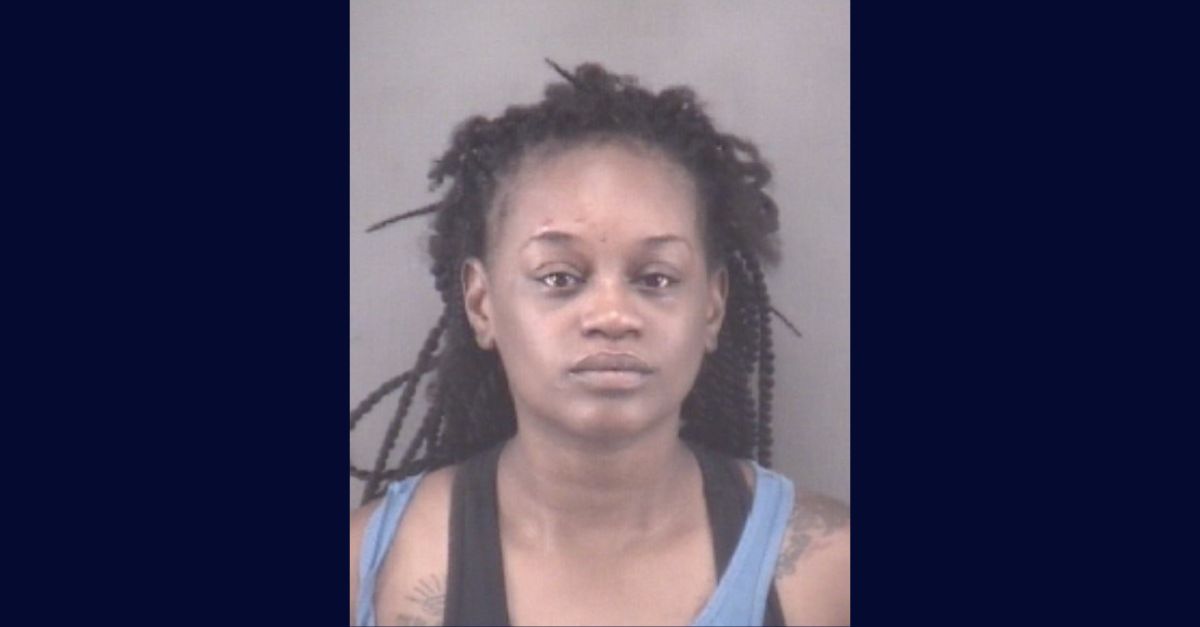 Shakella Shanae Dobson booking photo Winston-Salem Police Department
Zyglis said as a member of the Winston Owner's Bar Council he has a sign posted on his business stating that if someone " does something so egregious, [we] can choose whether [we] want to allow those people to come into their business."
According to a statement from Winston Salem Police posted on Facebook on Friday and with arrest records confirmed by a public records search conducted by Law&Crime, while an investigation is still going police have arrested and charged:
Nyasia Wesley, 22, simple assault and second-degree trespassing.
Kendrell Smith, 28, simple assault and second-degree trespassing
Shakella Dobson, 33, simple assault, second degree trespassing, and misdemeanor communicating threats
Miles McCollum, 25, assault with a deadly weapon, simple assault, and second-degree trespassing.
Kailyn Barclay, 29, injury to personal property and second degree-trespassing.
Cynthia Tart, 23, simple assault, communicating threats, and second-degree trespassing.
Gerry Walters Jr., 34, larceny and possession of stolen goods/property
Forsyth County District Attorney Jim O'Neil said he could not comment on the particulars of the case but that the violence would not be tolerated and that "our job will not be completed until the last two have been arrested and successfully prosecuted."
A police spokesperson said not all of those arrested had booking photos immediately available.
As of Sunday, outstanding warrants still existed for:
Dwight Alexander Reid, 45, for misdemeanor larceny.
Melvin David Young, 26-year-old, for misdemeanor assault with a deadly weapon, misdemeanor simple assault, and misdemeanor second degree trespassing
Have a tip we should know? [email protected]