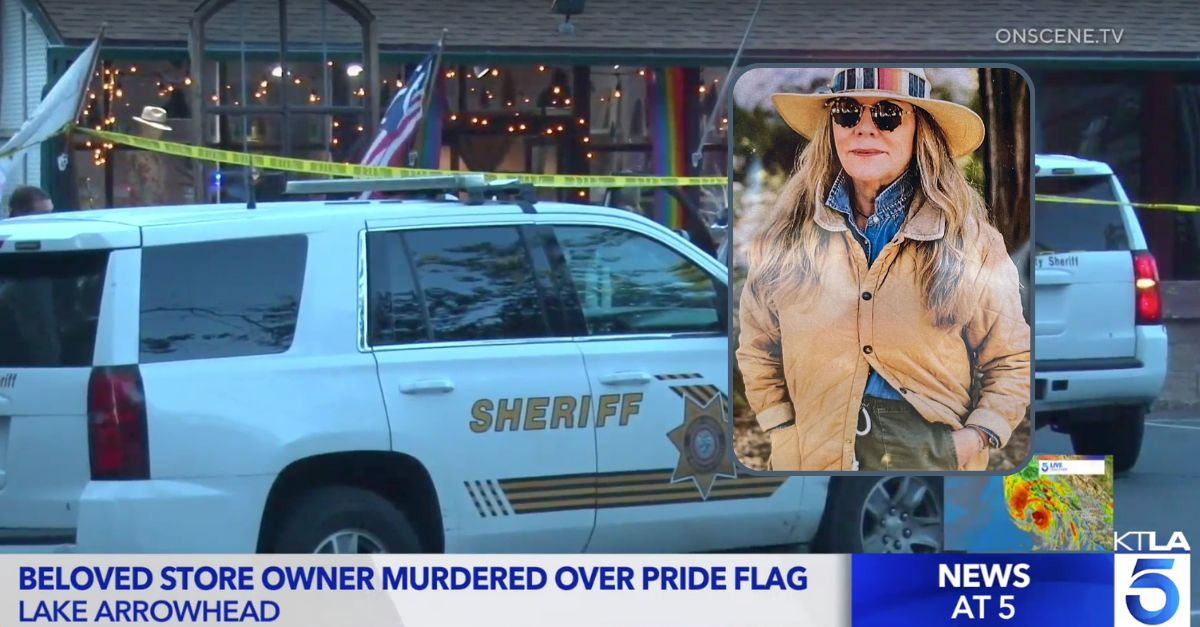 Laura "Lauri" Ann Carleton appears inset against her Cedar Glen, Calif. store, Mag.Pi, where she was shot and killed on Aug. 18, 2023. (Instagram; Screengrab via KTLA/Onscene.tv)
A beloved California shopkeeper and clothing designer was shot and killed over the weekend by a man who complained about her business displaying an LGBTQ+ pride flag, authorities say.
Laura "Lauri" Ann Carleton, 66, began her career in the fashion industry when she was a teenager, according to the website for Mag.Pi, her store located in the small, unincorporated community of Cedar Glen, near Lake Arrowhead, some 60 miles east of Los Angeles.
On Friday evening, around 5:00 p.m., she died outside of the store she built amidst a hateful confrontation initiated by her killer, according to a press release issued by the San Bernardino County Sheriff's Department.
Deputies arrived on the scene to find the woman suffering from a gunshot wound, the sheriff's office said. She was pronounced dead at the scene by emergency medical services personnel.
Law enforcement specifically mentioned the shooter's alleged motive.
"Through further investigation, detectives learned the suspect made several disparaging remarks about a rainbow flag that stood outside the store before shooting Carleton," the SBSD press release reads.
Deputies tracked the suspect down to the intersection of Torrey Road and Rause Ranch Road – near the edge of Papoose Lake, the sheriff's office said. There, he was allegedly found still armed with a handgun.
"When deputies attempted to contact the suspect, a lethal force encounter occurred and the suspect was pronounced deceased," the SBSD press release reads. "No deputies were injured during the incident."
Law&Crime reached out to the sheriff's office for additional details on this story but no response was immediately forthcoming.
The victim is survived by her husband of 28 years and their blended family's combined nine children.
Carleton is remembered as a fierce ally of the LGBTQ+ community.
"Today was a very sad day for Lake Arrowhead and for the LGBTQ community," Lake Arrowhead LGBTQ wrote in a post on Facebook. "Our friend and supporter Lauri Carleton @magpi_shop was murdered defending her lgbtq+ Pride flags in front of her store in Cedar Glen California. Lauri did not identify as LGBTQ+, but spent her time helping & advocating for everyone in the community. She will be truly missed."
Before she branched out on her own, Carleton spent 15 years with the socially conscious fashion brand Kenneth Cole – and she eventually worked as an executive there, the Mag.Pi. site notes.
Cole himself took note of the tragic slaying.
"An unnecessary and tragic death to a long time KCP assoc and friend," he tweeted – while using two separate hashtags to show support for both gun reform and LGBTQ+ rights.
One friend of Carleton's says the slain woman has often faced animosity for raising the pro-LGBTQ+ flag.
"In the past, when someone took down her flag or vandalized it, she'd put up another one," actress Bridget Everett wrote in a post on Instagram. "The last time I saw Lauri was, oddly enough, at Lake Arrowhead pride both in the parade and then at a party. All that anti-LGBTQ rhetoric has a price. And now, Lauri's husband Bort, her daughters, friends and community are devastated. And for what?"
The hate-motivated shooting was also noted by elected officials at various levels in the Golden State.
"[W]e suffered the tragic loss of Lauri Carleton, owner of Mag.Pi boutique and beloved member of the Cedar Glen community," San Bernardino County Supervisor Dawn Rowe said in a statement obtained by CBS News. "This senseless act of hate and violence is unthinkable and I stand with my mountain communities as we mourn this incredible loss. Everyone deserves to live free of hate and discrimination and practice their constitutional right of freedom of speech. Lauri was a remarkable member of the community and I send my deepest condolences to her family in this time of grief."
A spokesperson for California Gov. Gavin Newsom directed Law&Crime to his Twitter feed.
"This is absolutely horrific," Newsom tweeted. "This disgusting hate has no place in CA."
Have a tip we should know? [email protected]