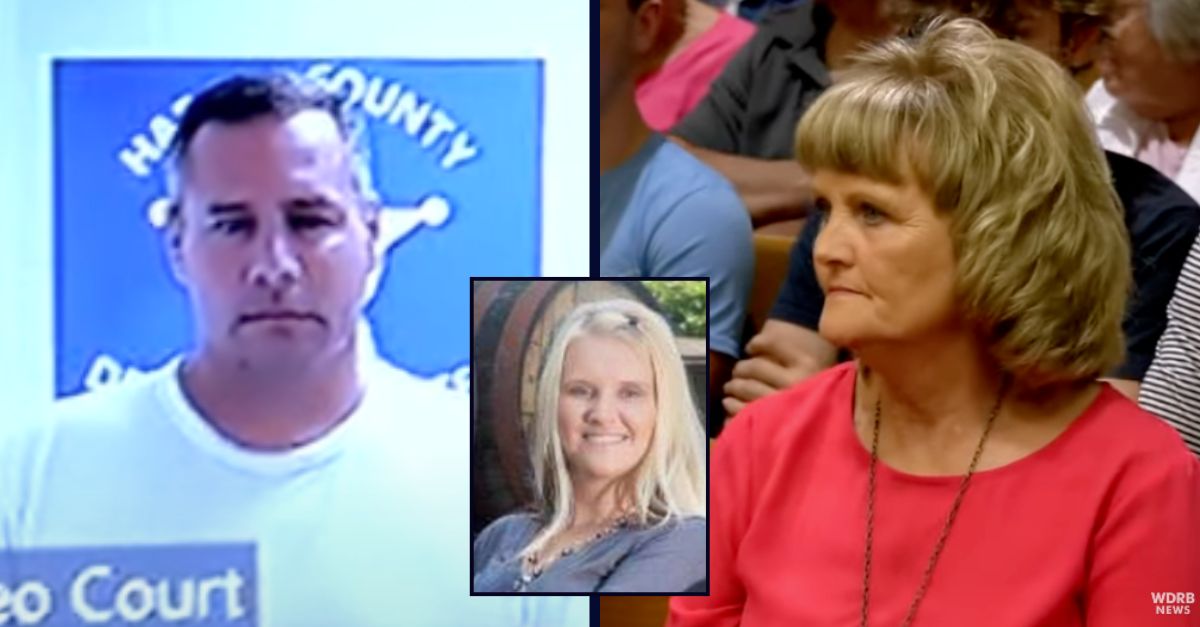 Left: Brooks Houck appears via video for his arraignment on murder charges in Nelson County (Ky.) Circuit Court on Oct. 5, 2023 (via YouTube screengrab/WDRB). Right: Sherry Ballard, mother of Crystal Rogers and wife of Tommy Ballard (via YouTube screengrab/WDRB). Inset: Crystal Rogers (via FBI).
Prosecutors in Kentucky who have charged a man with the 2015 murder of his then-girlfriend say that he is also linked to the shooting death of her father more than a year later.
Brooks Houck, 41, appeared via video on Thursday before Chief Circuit Court Judge Charles Simms for his arraignment on murder charges. He's accused of killing Crystal Rogers, 35, a mother of five who went missing in 2015.
Houck, the father of Rogers' youngest child and her boyfriend at the time of her disappearance, is believed to have been the last person to see her alive. She has never been found and is presumed dead.
He has pleaded not guilty.
At Houck's arraignment, attorneys argued over how much bond is an appropriate amount to ensure Houck's compliance and appearance in court, according to Louisville Fox affiliate WDRB, which posted the entire hearing to YouTube. Houck is currently detained on $10 million bond.
Prosecutor Shane Young said that the amount is warranted — and that he has never sought such a high sum. Some members of the grand jury, he said, thought the bond should have been set at double that amount.
Young also said that Houck may be implicated in another crime: the death of Rogers' father Tommy Ballard, who was found shot to death on family property more than a year after Rogers disappeared.
"That could potentially be related to this case," Young said. "We are waiting for testing to come back on the firearm we believe was used to murder Tommy Ballard, the firearm that was purchased from Nicholas Houck, who was using a fake name when he sold the rifle."
Young said that the rifle was the same caliber as that used to kill Ballard and that it matched four out of five criteria being considered by investigators.
Houck's defense attorney Brian Butler said that the investigation into Ballard's death has no bearing on Houck's bond amount.
"That's not Brooks Houck," Butler said. "I don't know anything about that case. I can't address the facts. I'm not Nicholas Houck's attorney. But we don't set bonds on one family member based upon speculation that another family member may have done something wrong."
Butler had also argued that his client was a low flight risk with strong ties to the community, including a supportive family.
Young seized on that argument, noting that the defendant's family has indeed been supportive — although not necessarily in a way the judge would appreciate.
"This Court is well aware of the sanctity of grand jury proceedings," Young said, referring to the 2015 investigation into Rogers' disappearance. "Grand jury proceedings are secret."
In this matter, however, Houcks' brother Nicholas Houck, along with his sister, brother-in-law, mother, and mother's live-in boyfriend "secretly brought in recorders and recorded the grand jury."
Young said he had copies of the proceedings and transcripts of the recordings. One of them records Houck talking to his sister about how to make the recording.
"The question is why," Young said, before answering his own question. "I think everyone in this courtroom knows why: to make sure everyone's story is consistent."
"It's been stated before, the truth will set you free," Young continued. "The problem in this matter is that the truth will imprison Brooks Houck."
Butler said that Young might not be right about that.
"There's two ways to look at that, and that's what trial is for," Butler said. "One way to look at it is exactly what Mr. Young said. Another way you could look at it is that law enforcement, local law enforcement, comes out and says 'You're the prime suspect,' and released evidence, and gets you excoriated on podcasts and media, and signs in yards. Who in their right mind would not want to know what's being said?"
To this, Simms said that he has concerns about the integrity of the grand jury proceedings.
At the end of the hearing, Simms said he needed more time to consider the arguments from both sides.
A second man, Joseph Lawson, 32, has been linked to Rogers' disappearance. He was arrested in September and charged with criminal conspiracy and tampering with evidence.
Have a tip we should know? [email protected]