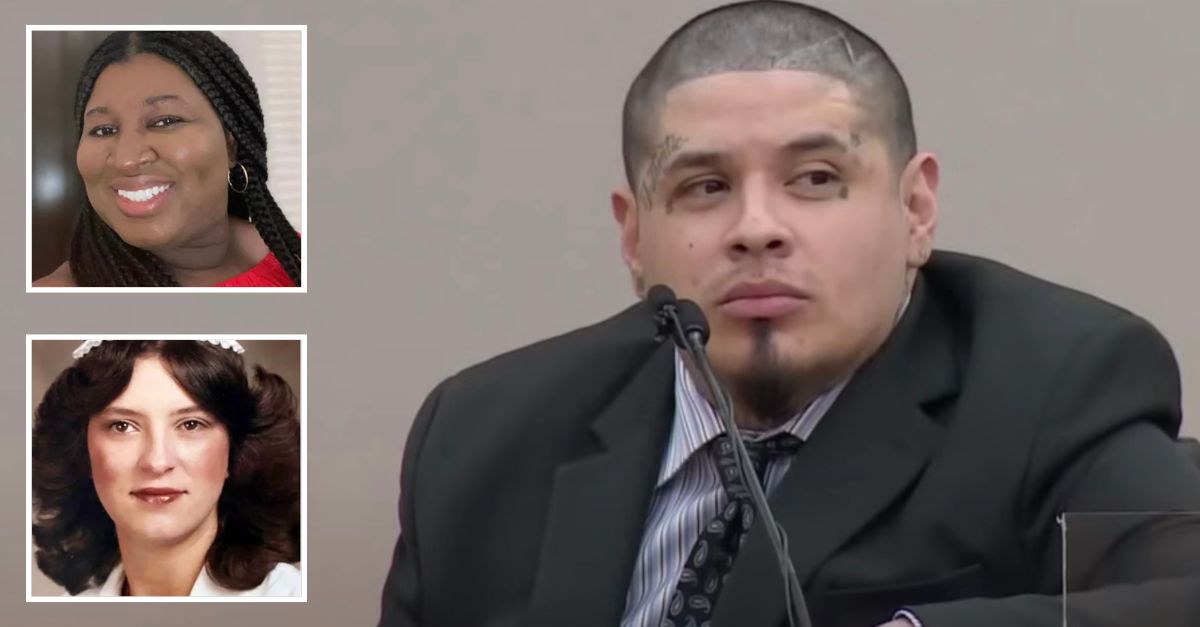 Nestor Hernandez testifying (KDFW screenshot), social worker Jacqueline Pokuaa (Mansfield Funeral Home) and nurse Katie Annette Flowers (Digital Memorial)
A 31-year-old man in Texas will spend the rest of his days behind bars for killing two hospital workers last year when he opened fire in the facility and fatally shot the two women following an argument with his then-girlfriend as to whether he was the father of her newborn baby.
Criminal District Court Judge Chika Anyiam on Thursday ordered Nestor Hernandez to serve a sentence of life without the possibility of parole for the slayings of social worker Jacqueline Pokuaa and nurse Katie Annette Flowers, authorities announced.
Anyiam handed down the mandatory sentence after a Dallas County jury found Hernandez guilty of capital murder for the October 2022 shooting.
"At the time this crime occurred, I vowed to see that justice was done, and I am satisfied to say that's what we've accomplished," Dallas County Criminal District Attorney John Creuzot said in a statement. "I say this knowing that justice is no replacement for these two innocent lives lost, nor does it repair the trauma inflicted on the staff, officers, and other families at the hospital on that tragic day. However, we have ensured that Mr. Hernandez will die in prison."
Hernandez was on parole for aggravated robbery and was wearing a GPS ankle monitor when he walked into the Methodist Dallas Medical Center on Oct. 22, 2022, and began firing.
According to a report from Dallas ABC affiliate WFAA, closing arguments in the case concluded on Thursday morning, and jurors deliberated for about 90 minutes before returning a guilty verdict.
"This man was walking resentment, rage, anger with a plan to kill," Creuzot said in his closing argument. "And he took all of that into that place where new life, new birth, new hopes, new plans are the only things that are supposed to reside in that tower. And what he took in there was death two times."
Hernandez, who sought to be convicted on lesser charges of negligent homicide or manslaughter, reportedly testified in his defense during the trial. He admitted to shooting and killing the two victims but said he did not kill them on purpose, WFAA reported.
Hernandez reportedly told the court that his then-girlfriend was a patient at Methodist Dallas Medical Center, where she had just given birth. The new mother and Hernandez were arguing about whether Hernandez was the child's father as she was going into the bathroom. That is when Pokuaa reportedly walked into the hospital room.
Hernandez struck his girlfriend with his left hand, holding his handgun in his right hand, WFAA reported. Pokuaa then stepped in and tried to stop the attack when Hernandez reportedly said the gun misfired and he killed the social worker.
"She got in between us. She yelled, 'Stop.' It all happened. It went real slow,'" Hernandez reportedly testified. "I panicked. I panicked. I opened up the door, and I shot with my right hand. I shot out the door, boom, boom twice."
Hernandez told the jury he was not aware that Flowers was in the hallway when he fired the shots that killed her.
Family members also read victim impact statements.
"You will rot in a prison cell until, hopefully, you have a long, drawn-out, painful death and face the hell you have coming," one of Flowers' nieces said. "You will live in a cell where your short, fat self will undoubtedly be made someone else's special friend where every day, they will have their way with you. Unfortunately for them, if the photos of your toddler-sized shoes have anything to say with it, they will be disappointed. Rot in hell."
Other family members reportedly referred to Hernandez as "disgusting," "scum," "a monster," and "a waste of human space," the Dallas Morning News reported.
Have a tip we should know? [email protected]