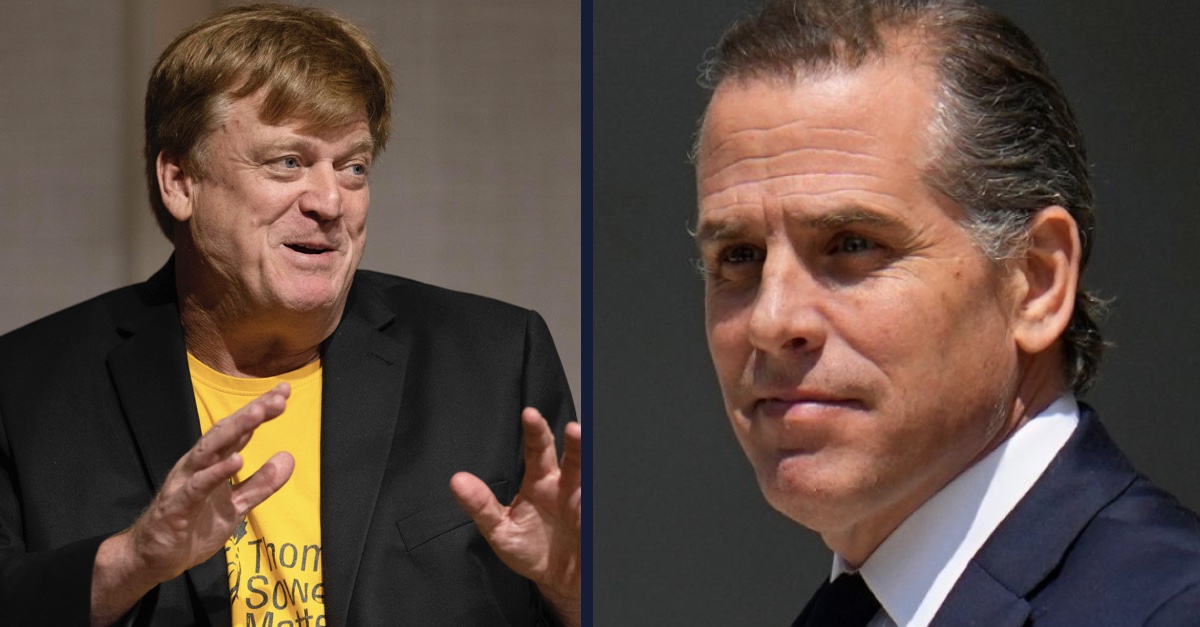 Patrick Byrne speaks during a panel discussion at the Nebraska Election Integrity Forum on Saturday, Aug. 27, 2022, in Omaha, Neb. (AP Photo/Rebecca S. Gratz), President Joe Biden's son Hunter Biden leaves after a court appearance, Wednesday, July 26, 2023, in Wilmington, Del. (AP Photo/Julio Cortez, File)
President Joe Biden's son Hunter Biden filed a lawsuit in California federal court on Wednesday against Patrick Byrne, claiming that the former Overstock CEO defamed him when he falsely accused him of committing "despicable and treasonous crimes" involving bribery and Iran.
"Plaintiff brings this action for defamation against Byrne because he has made, published, and repeated false and defamatory statements about Plaintiff, knowing full well that the statements are false, for the purpose of subjecting Plaintiff to harassment, intimidation, and harm," the lawsuit began. "On or about June 27, 2023, Byrne published false statements that Plaintiff 'was reaching out to the Iranian government in the fall of 2021' and offering to have Plaintiff's father, President Joe Biden, 'unfreeze' $8 billion in Iranian funds 'in return for $800 million being funneled into a numbered account for us.'"
Hunter Biden alleged that Byrne was "told that his allegations are false" and a retraction demand was made, but the named defendant "doubled down" in an Oct. 8 post linking the president's son and his "purported crimes" to the "horrific terrorist attacks by Hamas on Israel." From the complaint:
To make matters much worse, on or about October 8, 2023, shortly after news broke of the horrific terrorist attacks by Hamas on Israel that resulted in the slaughter of more than 1,400 civilians, Byrne reposted the false and defamatory statements about Plaintiff's allegedly corrupt and treasonous dealings with Iran on X (formerly known and hereinafter referred to as Twitter), apparently so that his hundreds of thousands of social media followers and others would be reminded of the false statements Byrne initially had published in June. The clear implication of Byrne's October 8, 2023 posts was that Plaintiff's allegedly criminal and corrupt actions had contributed to the terrorist attacks by Hamas, that Plaintiff's purported crimes had led to the deaths of more than 1,400 innocent civilians, and, more broadly, that Plaintiff was a substantial factor in causing the recent outbreak of violence, war, and tragic death in the Middle East.
Patrick Byrne resigned from Overstock in 2019 after his self-described "trysts" with Maria Butina were revealed. Butina was prosecuted and convicted in 2018 for conspiring to act in the U.S. as an unregistered foreign agent of Russia, in a case that was unrelated to special counsel Robert Mueller's Russia probe but which nonetheless stemmed from Butina's activities — prior to and during Donald Trump's 2016 election campaign — to leverage relationships in Republican circles, including high-ranking National Rifle Association contacts.
On Dec. 18, 2020, more than a month after Trump's election loss, Byrne attended a heated hourslong Oval Office meeting involving the then-president, former national security adviser Michael Flynn, then-White House chief of staff Mark Meadows, Rudy Giuliani, and "Kraken" attorney Sidney Powell. Bandied about at the meeting were ideas to seize Dominion voting machines and even to appoint Powell as special counsel to investigate her never-proven stolen election claims.
The Hunter Biden lawsuit made reference to both Maria Butina and Byrne's post-2020 election activities:
Byrne served as chief executive officer of Overstock.com until 2019, when he was forced to resign due to revelations that he had an affair with a Russian agent (now a Russian politician) named Maria Butina. Following his resignation from Overstock.com, Byrne spent significant time seeking to challenge and overturn the 2020 presidential election and promoting the idea that the election was "stolen," including through his self-financed film called "The Big Rig."
The latest adds to the ever-increasing pile of lawsuits that Hunter Biden has filed against Giuliani, the IRS, and others, as the president's son faces a federal gun prosecution in Delaware and as House Republicans attempt to ramp up their impeachment inquiry with subpoenas.
Read the lawsuit here.
Have a tip we should know? [email protected]