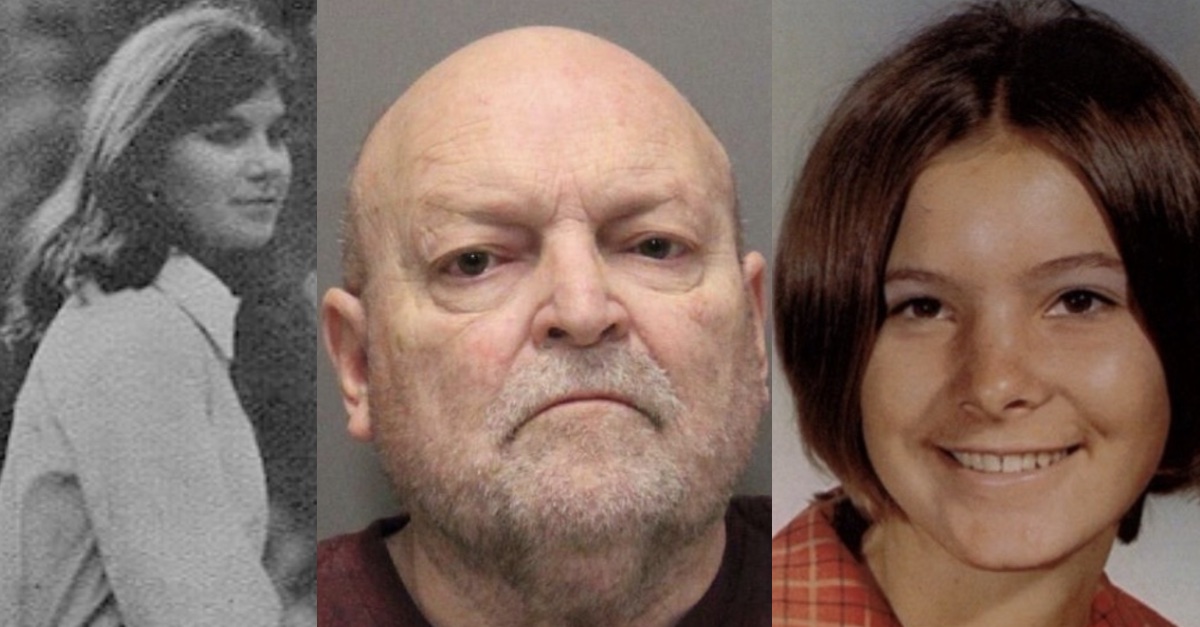 Leslie Marie Perlov (left) via Santa Clara County Sheriff's Office, John Getreu (center) and Janet Ann Taylor (right) via Santa Mateo DA's Office.
A 79-year-old serial rapist and murderer sentenced just five months ago in the strangulation slaying of a Stanford Law librarian on university land has died behind bars.
It took 50 years for John Arthur Getreu to receive a life sentence for the 1973 murder of 21-year-old Leslie Marie Perlov, a punishment handed down nearly two years after Getreu was locked up for the 1974 murder of 21-year-old Janet Ann Taylor, a Canada College sophomore and the youngest daughter of former Stanford football coach Chuck Taylor.
A California jury found Getreu guilty in September 2021 of murdering Taylor. Sentencing for his "evil and despicable crimes" followed in November 2021.
Taylor's body was found by a truck driver in a ditch on land belonging to Stanford University on March 25, 1974. She was strangled and beaten to death, and her clothes were torn. San Mateo County prosecutors also said that Getreu intended to rape Taylor.
As in other high-profile serial killer cases, discarded evidence containing a DNA sample was the first step in making an arrest. This time, DNA from a disposable coffee cup was crucial to solving both Taylor and Perlov's murders.
Authorities had crucial DNA evidence from the Perlov murder in their possession for 45 years. Like Taylor, Perlov fought back against her killer. Getreu's DNA was found underneath Perlov's fingernails.
Santa Clara County prosecutors said that Perlov's body was discovered on Feb. 16, 1973, discarded in the hills that overlook the Stanford University campus. She was found with a floral scarf wrapped and "tightly knotted" around her neck.
Already sentenced for murdering Janet Ann Taylor, the convicted killer decided not to face another trial and pleaded guilty in January 2023 to murdering Perlov. Getreu received a second life sentence in April, but he would only live for five more months before dying on Sept. 22 of natural causes in state prison.
While San Mateo County District Attorney Steve Wagstaffe reportedly called Getreu a "truly evil human being who was not held accountable until the end of his life," Santa Clara County District Attorney Jeff Rosen reportedly said "good" upon hearing of the murderer's death.
Getreu was previously convicted of the statutory rape of a teen girl who was a member of his Explorer Scout Troop in 1975. He was also convicted of the rape and strangulation murder of 15-year-old Margaret Williams in Germany in 1964.
According to The Almanac, Getreu served nearly six years out of a 10-year sentence for rape with fatal consequences. He was released after German officials determined he was likely to lead a "righteous life."
Colin Kalmbacher contributed to this report.
Have a tip we should know? [email protected]