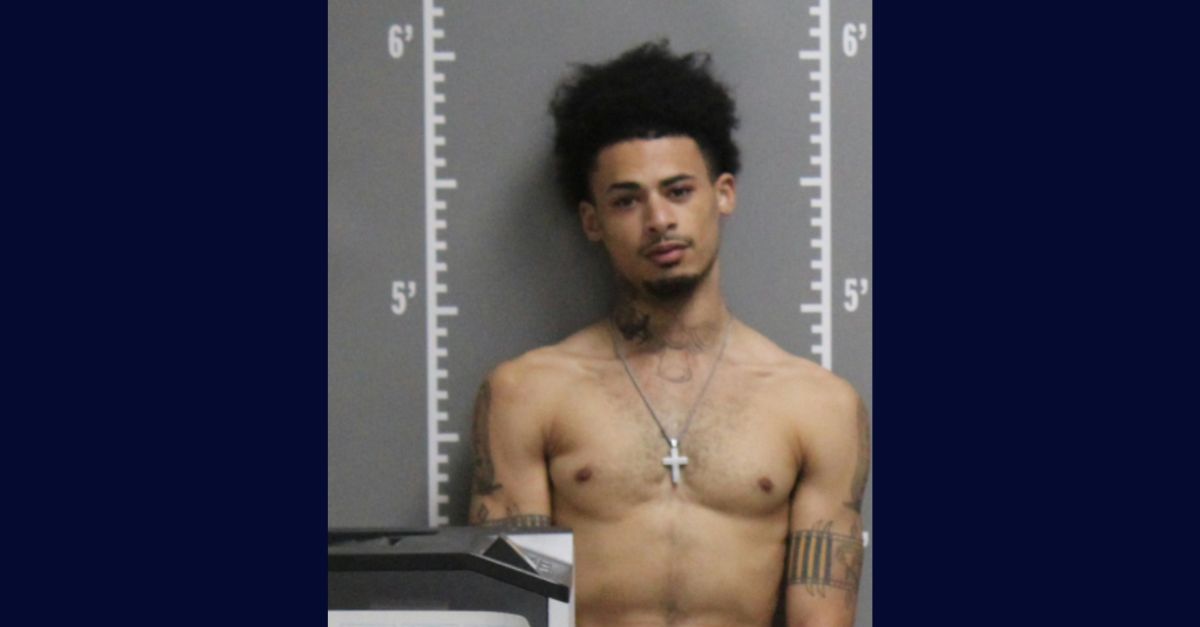 Jihad Abdul Malik Gasaway (Mug shot from the Poweshiek County Sheriff's Office)
Troopers responding to a stalled car on a highway in Iowa this week found a man's body slumped in the passenger seat hidden under clothing and arrested the driver, who had asked officers for a jump start.
The driver, identified as Jihad Abdul Malik Gasaway, 23, was booked on $50,000 bail into the Poweshiek County Jail on murder and abuse of a corpse charges in the death of Kemp Xavier Sherrod Harriel, 26, police said in a news release.
The discovery was made on Tuesday morning when Iowa State Patrol responded to reports of a stranded Chevrolet Malibu on Interstate 80 at the 187-mile marker. A trooper found Gasaway trying to restart a stalled vehicle.
An affidavit obtained by Law&Crime outlines the case when troopers arrived at the stalled car and found Gasaway standing outside the vehicle.
He allegedly told the officers he needed a jump and that he had a gun, a Taurus 9 mm pistol, which turned out to be the murder weapon, the document said.
"Upon further investigation, another male was located in the front passenger seat of the vehicle," the affidavit said. "The male was covered with miscellaneous clothing and was not responding to the troopers."
Troopers noted in the affidavit that Gasaway did not call 911 to request medical assistance or tell them that someone was dead in the car.
They said he had covered the body with clothing to conceal it.
At the sheriff's office, Gasaway allegedly told investigators he and the victim had left Cedar Rapids for Des Moines early that morning, the affidavit said.
He said he covered the victim because "I thought he was very cold" and "kept him warm because we were both cold," the document said.
"I didn't know (victim) was gone until I watched the police eyes and read his lips. That's when I started crying in the car. He was alive and talking to me."
Investigators learned a vehicle had been reported in a ditch along I-80 near mile marker 205 at 6:01 that morning. Investigators also learned that the 2010 Malibu had been in a ditch while driven by the suspect sometime before stopping near mile marker 188, the affidavit said.
When asked if the victim was alive when the Malibu went into the ditch, the suspect allegedly said, "Yeah."
When asked what happened to the victim, the defendant said, "We got into it."
While searching the Malibu, investigators found a 9 mm shell casing on the front floorboard and two expended bullets in the front passenger door. The casings came from the gun troopers had taken from the defendant, the affidavit said.
It was unclear whether he has an attorney.
Have a tip we should know? [email protected]