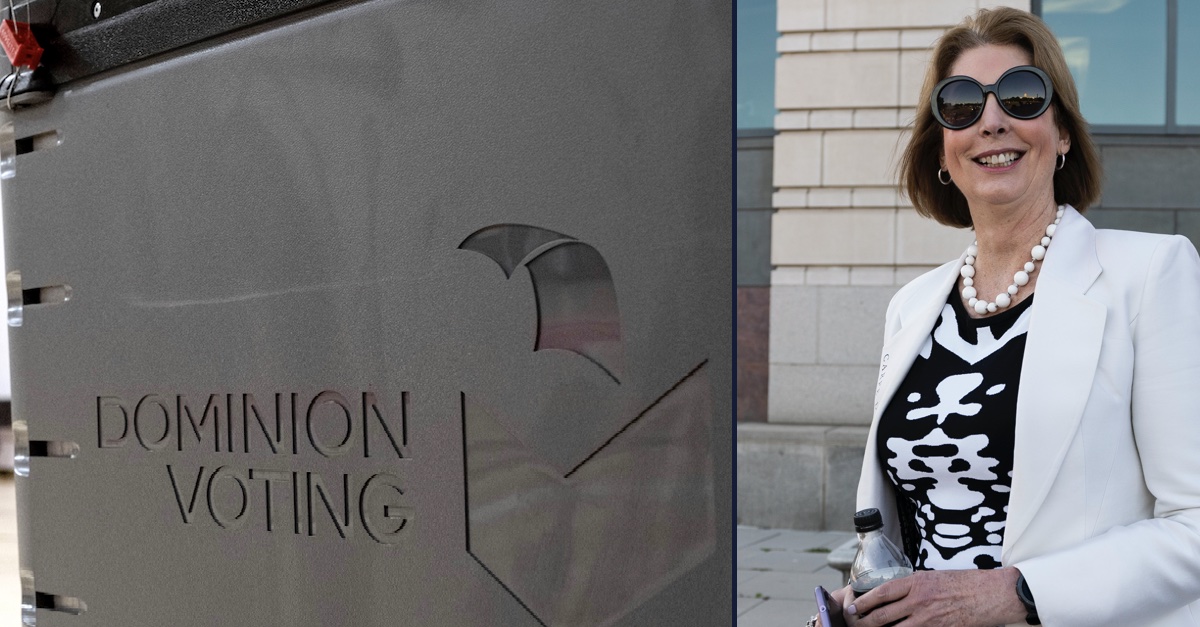 Dominion Voting Systems (AP Photo/Ben Gray, File), Sidney Powell (AP Photo/Manuel Balce Ceneta)
Lawyers for Dominion Voting Systems have responded at length to complaints by Sidney Powell about "document dumps" as the voting machine company and the "Kraken" lawyer wrangle over discovery protocol in the billion-dollar defamation case against her, the pro-Trump One America News Network (OAN), and others.
Dominion, which reached a blockbuster settlement in its defamation lawsuit against Fox News back in April, filed its opposition on Halloween to the discovery path forward proposed by Powell, OAN, former OAN host and Donald Trump lawyer Christina Bobb, and former Overstock CEO Patrick Byrne.
Dominion asked U.S. District Judge Carl Nichols, a Trump appointee in Washington, D.C., to reject the defendants' joint discovery protocols proposal, arguing that they should not be incentivized to "gin up overbroad requests to force an opponent to weed out irrelevant material" in an effort to prove their never-proven claims that Dominion stole the 2020 election from Donald Trump and handed it to Joe Biden.
"[T]he defamatory statements Dominion is suing over overlap among Defendants. As a result, Defendants are each trying to prove the truth of those statements — most significantly that Dominion's voting machines were used to rig the 2020 Presidential Election," Dominion wrote. "Again, all Defendants are trying to prove those defenses with expansive requests for documents from Dominion's files about Dominion's operations, activities, and customers."
Dominion, in bold and italics, emphasized that their "efficient" proposed discovery protocols are "just." The voting technology company argued that complaints about a lack of a "relevance" review and a "secondary responsiveness review" of documents — i.e., complaints about "document dumps" or a "means to obscure and weaponize discovery" — fell flat:
Any evidence Dominion produces to one Defendant related to these defenses is the same evidence it would produce to the others asserting the same defenses. That is in no small part why consolidation of these cases makes sense and why discovery governed by a just, efficient discovery protocol is essential.

Against this backdrop, five Defendants have filed four separate motions supporting Defendants' joint proposed discovery protocol, repeating the same arguments. They primarily complain that Dominion has not and does not intend to conduct a "relevance" review of documents Dominion has and will produce in response to their 763 separate requests, nor does it intend to conduct a secondary responsiveness review separate from its use of custodians, time periods, and search terms to locate responsive custodial ESI. They raise a couple of other issues as well. Each of their arguments should be rejected and their proposal should not be entered.
Dominion, noting that defendants have made "763 very broad document requests sweeping in virtually all the company's operations" ("'Any documents concerning Dominion's Election Services' encompasses very nearly every document the company generates"), said that it has tailored its document production by "using custodians, search terms, and time periods to target documents likely to satisfy the 763 requests."
"The lion's share" of those documents, the plaintiff said, came from their defamation lawsuit against Fox.
"As shown in Dominion's Motion, the entire Fox production is exactly what five Defendants explicitly requested," the filing said.
And the production of documents should be enough, Dominion asserted, because it's 2023, not the 1980s, so defendants can electronically sift through the material and review it themselves:
Plus, contrary to Defendants' arguments, practically speaking it is unnecessary for Defendants to review all documents to locate ones they want. This is not the 1980s. Defendants are not reviewing documents one by one, by hand. Defendants are loading them into databases of their own, and because Dominion appropriately provided extensive metadata that allows Defendants to identify exactly the documents they want — through their own search terms, by time period, author, recipients, attachments, and all sorts of other criteria — their complaints ring hollow.
If Judge Nichols were to require the secondary responsiveness and relevance review defendants seek, the plaintiff warned, the result would be "subjective, costly, disproportionately burdensome on Dominion," and it would open the door to a fishing expedition.
"At bottom, the core purpose of the proposed discovery protocol is to find a path forward that advances these cases to trial," Dominion said. "Defendants should not be allowed to withhold basic information about their approach to discovery, and then subject Dominion to lop-sided requirements that would impose a massive burden and require re-doing work, at enormous cost, for no good reason."
What would the unnecessary "enormous cost" be? An "astronomical $700,000 and $1,660,000 to review and re-produce the documents," not to mention the costs associated with litigating endless, subjective disputes across the multiple defamation cases as to relevance of documents.
"Relevance review, whatever that might mean, is likewise in the mind of the litigant. Especially here, where productions are coordinated across the cases, imposing a relevance requirement would be impossible," Dominion said. "No review could simultaneously satisfy all parties, which of course would lead to even more disputes and incalculable delay."
The plaintiff, therefore, asked Judge Nichols neither allow the defendants to "turn the Discovery Stipulation process into a motion to compel responsiveness review," nor solely require Dominion to conduct costly "relevance" and "secondary responsiveness" reviews.
On Oct. 20, Dominion filed a proposed discovery stipulation seeking to move past "five main areas of disagreement" between the parties, particularly on the subject of "custodian interviews," relevance and responsiveness reviews, search term "hit" reports, search date ranges, and production of texts.
The plaintiff is trying to move past these disputes in order to conduct "fact witness depositions."
In an accompanying memo, Dominion reiterated that Powell et al. are the ones being sued.
"The pivotal context here is that these are defamation cases, and, typically, discovery in a defamation case is, and should be, largely directed toward evidence of the defendant's conduct and circumstantial or direct evidence of their mental state. Nonetheless, and in further effort to compromise, Dominion has largely accepted Defendants' re-writing of Dominion's original discovery proposal and efforts to obtain extremely broad discovery from Dominion," the memo said. "Yet, Defendants continue to push proposals that would decrease transparency into whether they are complying with their discovery obligations and impose immense, unwarranted additional discovery burdens on Dominion."
Powell, for her part, argued on Oct. 31 under the subheading "What is Dominion Hiding?" that Dominion is engaging in "histrionics," "revisionist history," and that the aforementioned document production from the Fox lawsuit was "[n]ot even close" to being responsive to her requests ("After Powell reviewed the 678,195 documents initially produced, only approximately 3.5% were relevant and responsive to Powell's discovery under Rule 26(b)," the defendant said in bold and italics).
"Dominion's revisionist history of the parties' discussions surrounding discovery is riddled with inaccuracies, if not blatant falsity," Powell asserted through her attorney Joshua A. Mooney. "Indeed, if Dominion's quest to strip away discovery requirements of the Federal Rules were so just, it begs the question as to why Dominion must engage in its histrionics?"
The discovery protocols proposed by Powell et al., Mooney said, are meant to combat impermissible "document dumps" that negate Dominion's "obligation to review its documents for relevance to this lawsuit, or produce them in a manner pursuant to which Powell can reasonably determine which documents are responsive to their discovery requests."
Powell asked Judge Nichols not to "legitimize Dominion's unmitigated and improper 'document dump'" and to put an end to Dominion's "gamesmanship," which the defendant maintained is geared towards "obscur[ing] the location of relevant documents."
"Plaintiffs' proposed Discovery Protocol undermines the discovery guardrails provided by Federal Rules of Civil Procedure 26 and 34 and legitimizes Dominion's unmitigated document dump. The result will be more delays and substantial prejudice to Powell (and the other defendants)," defendant Powell stated. "As to its provisions for 'hit' counts, custodians and custodial interviews, Dominion's proposals exceed the bounds of the Federal Rules and setup further Dominion games."
Have a tip we should know? [email protected]