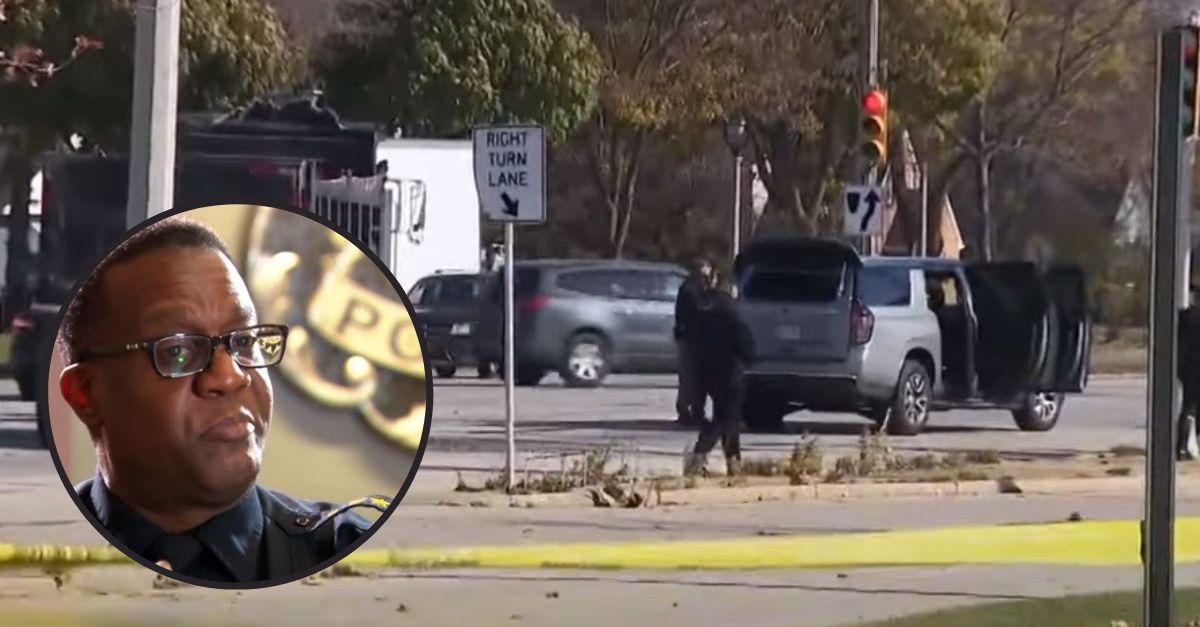 Background: YouTube screenshot features scene of car crash involving Milwaukee Police chief Jeffrey Norman on Nov. 5, 2023 following a press conference where the mayor signed a resolution aimed at curbing reckless driving. Inset: YouTube screenshot from Fox affiliate WITI of Chief Jeffrey Norman.
Literal minutes after leaving a press conference in Wisconsin where he urged residents to stop their reckless driving, Milwaukee Police Chief Jeffrey Norman's SUV was rear-ended by a dump truck driver who police say was trying to switch lanes at a red light.
Norman was inside the car with a fellow officer when the crash occurred Monday morning but he was not driving. They sustained non-life-threatening injuries and police said the vehicle's rear window was shattered and the bumper dented. Police already in the area immediately scrambled to assist, according to a live video report shared on Facebook by local CBS affiliate WDJT. The driver is cooperating with police at this time though they have not been identified while an investigation is pending by the Milwaukee County Sheriff's Office. No arrests or citations have been issued.
"The traffic crash that injured the Chief was cruelly coincidental in that it took place immediately following our news conference on reckless driving," Milwaukee Mayor Cavalier Johnson said in a statement reported by Milwaukee Public Radio. "We did not need this type of reminder that all drivers need to slow down and increase caution on our roadways."
The Monday press conference was held for Johnson to sign a resolution meant to ease reckless driving in the state by increasing penalties for offenders. The resolution was spurred, according to the Milwaukee Journal Sentinel, after three women were recently killed at an intersection when a man sped through a red light, crashed into a woman's car and then sent that vehicle careening into a nearby tree. Seven people died.
In an early iteration of a mayoral campaign plan meant to curb reckless driving that was first reported by The Washington Post, the mayor noted 60 people were killed in reckless driving incidents in Milwaukee in 2021.
According to analysis by the Milwaukee Police Department Traffic Safety Unit, the number of Milwaukee residents killed in crashes this year alone totals 67. Some 295 people have suffered "incapacitating injuries," police found.
If the resolution inked by the mayor is made into law, it would, among other things, allow the city to impound cars when a driver receives their first citation for reckless driving. Whether the person is driving the vehicle or not also doesn't matter, officials said at the press conference. At present, local public radio reports that impoundment for reckless driving in Milwaukee only applies to the owner of the vehicle and only if they have "an outstanding forfeiture for a previous reckless driving offense."
When Norman spoke at the press conference before the crash Monday, he urged the public to think "creatively" about how to address the spate of reckless driving incidents.
New street patterns or fines for offenders wouldn't be enough on their own.
"The solution just isn't one thing or one approach. It is all of us working together," Norman said.
A witness told ABC affiliate WISN that after Norman's SUV was struck, he emerged from the car and sat on a street corner appearing dazed.
"He said it was his back, and he was holding his head. You could tell he was in some pain," crash witness Isaac Boyd said.
Have a tip we should know? [email protected]