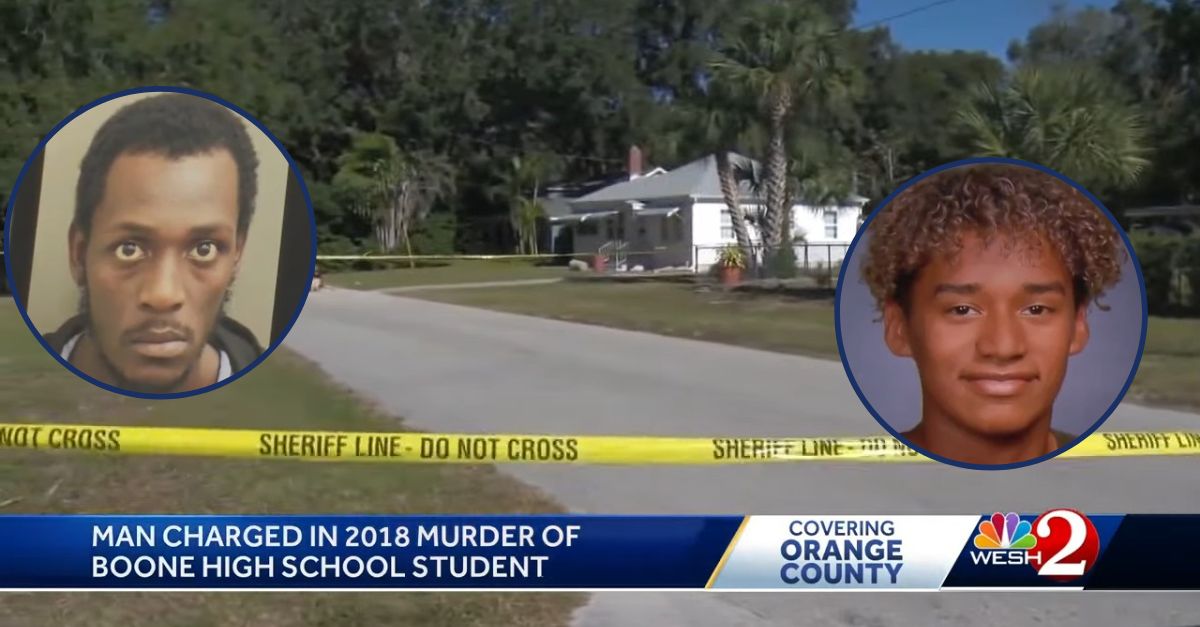 Deandre Florence, left inset, was arrested in the killing of Alejandro "Alex" Vargas Martinez, right inset. (Images from Orlando, Florida, NBC affiliate WESH/YouTube)
A Florida man convicted of second-degree murder recently released from prison faces a first-degree murder charge in the killing of a 15-year-old student who was robbed of his cellphone while he was walking to school, talking to his mom on his phone.
DeAndre Eugene Florence, 23, who has been the suspect in the case from the beginning, was arrested in the on Dec. 18, 2018, death of Alejandro "Alex" Vargas Martinez, who was walking to Boone High School in Orlando, authorities said. In addition to murder, he was also charged with robbery by snatching, racketeering, three counts of grand theft motor vehicle and dealing in stolen property, prosecutors said.
Authorities said Florence and a 16-year-old boy, the suspect's "partner in crime," were part of a "criminal enterprise" stealing cellphones when they targeted Alejandro.
A couple of years ago, that teen, Denim Williams, was shot and killed by the man he and Florence were trying to rob, authorities said. Florence was arrested in that robbery and took a plea deal to a charge of second-degree murder in the commission of a felony, NBC Orlando affiliate WESH reported. He was released from jail earlier this year after serving his time, prosecutors said in a news release.
Authorities said the case took a lot of twists and turns in the nearly five years since Alejandro was killed in senseless gun violence.
"Alex was a son, a sibling, and a bright student with a bright future and his life was innocently cut down by gun violence. Alex's family deserves justice," Orange-Osceola State Attorney Andrew Bain. "Alex deserves justice. Alex's family deserves justice after their hearts were torn out and their hearts were broken in this loss.
"It is our moral and statutory responsibility, our obligation, to ensure that those responsible for this heinous crime are held accountable for their actions."
Family members said the last five years have been hard.
"We think about Alex every single day," said his aunt Dolka Martinez at a news conference announcing the arrest. "We talk about Alex every single day. There's not one day that pets that we don't mention Alex in our house. Losing a loved one is very painful, extremely painful, especially the way we lost Alex."
"They say that time heals, but to be honest, it does not. It's just a patch to a broken heart. We just have to live with it. We never lost faith that this day was going to arrive. We know that the truth is more powerful than anything, and we know that justice."
Florence was being held without bail in the Orange County jail.
Have a tip we should know? [email protected]