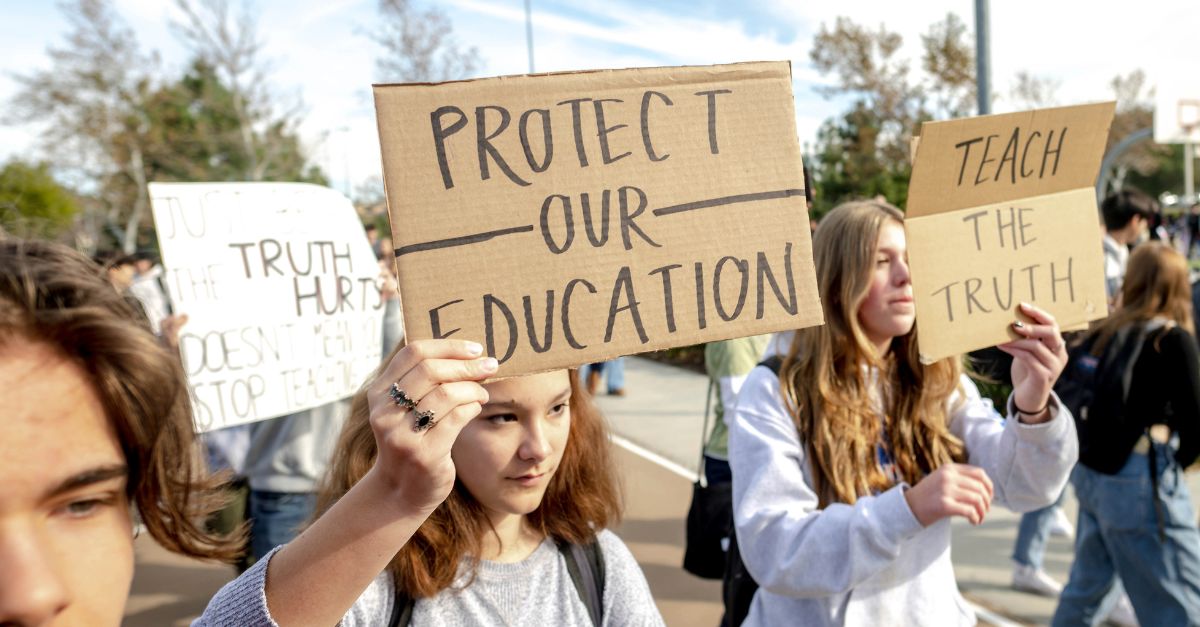 Great Oak High School students leave campus on Friday, Dec. 16, 2022, in protest of the district's ban of critical race theory curriculum at Patricia H. Birdsall Sports Park in Temecula, Calif., on Friday, Dec. 16, 2022. (Watchara Phomicinda/The Orange County Register via AP)
Controversy over a measure passed by a conservative school board in California escalated into litigation Wednesday when a group of concerned teachers, parents and students sued the district for violating their civil rights by prohibiting the teaching of LGBTQ+ and race-related curriculum.
The complaint is a first-of-its kind lawsuit against the Temecula Valley Unified School District for prohibiting the teaching of "critical race theory or other similar frameworks" and, according to the plaintiffs, illegally restricting students' access to education about American history, race, and gender identity. The Temecula students, parents, and educators are represented by Public Counsel and Ballard Spahr LLP, with the support of the California Teachers Association.
The lawsuit takes aim at the controversial Resolution 21, which passed 3-2 on Dec. 13, 2022 — the day three new conservative members were elected to the Temecula Valley Unified School Board. The resolution calls critical race theory "a divisive ideology that assigns moral fault to individuals solely on the basis of an individual's race" and says it "assigns generational guilt and racial guilt for conduct and policies that are long in the past."
Critical race theory is a decades-old interdisciplinary academic theory that focuses on the impact of social conceptions of race on the development of law and politics. Typically, critical race theory is only taught in the context of higher education and not at the K-12 level.
The resolution also bans teaching that the "advent of slavery… constituted the true founding of the United States," which refers to the New York Times Magazine's "1619 Project."
The trio of board members — Joseph Komrosky, Danny Gonzalez and Jen Wiersma — used the resolution to ban the teaching of critical race theory in their district. Later, the three made headlines after Komrosky, the board's president, referred to pioneering California gay rights figure Harvey Milk as a "pedophile" and voted to ban a textbook that covered Milk's activism.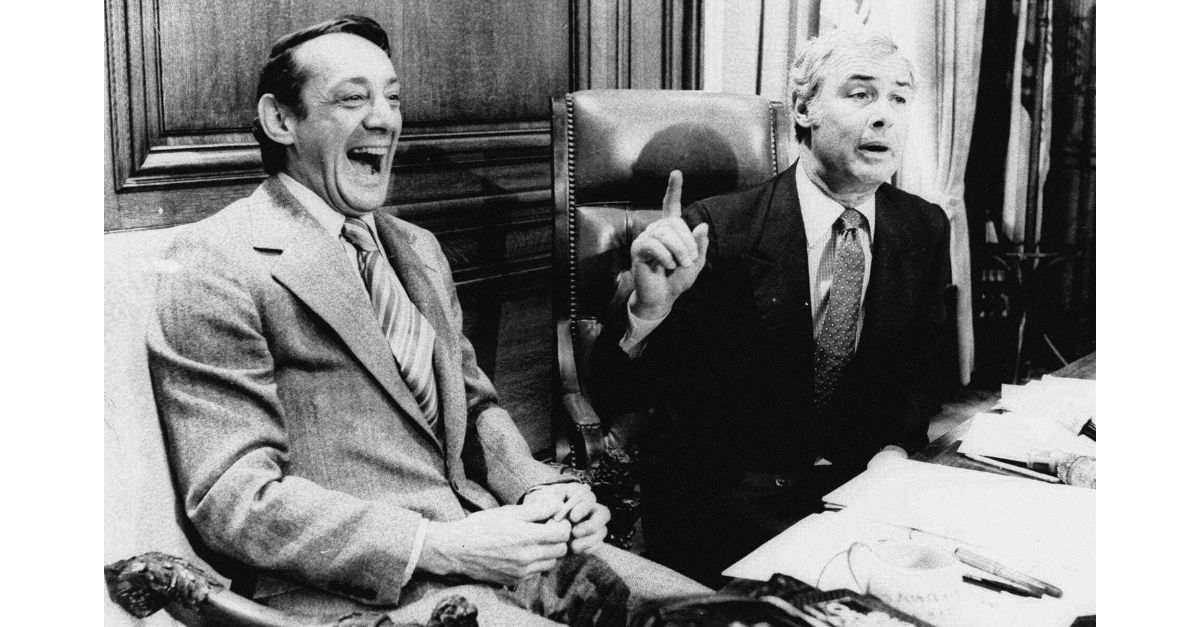 FILE – In this April 1977 file photo, San Francisco Supervisor Harvey Milk, left, and Mayor George Moscone sit together in the mayor's office during the signing of the city's gay rights bill. (AP Photo/File)
California Gov. Gavin Newsom (D) called out Komrosky for the comment in a June 3 tweet, calling it "An offensive statement from an ignorant person."
"This isn't Texas or Florida," Newsom continued. "In the Golden State, our kids have the freedom to learn. Congrats Mr. Komrosky you have our attention. Stay tuned."
An offensive statement from an ignorant person.

This isn't Texas or Florida. In the Golden State, our kids have the freedom to learn.

Congrats Mr. Komrosky you have our attention. Stay tuned. https://t.co/4HHLm3q57r

— Gavin Newsom (@GavinNewsom) June 3, 2023
California Attorney General Rob Bonta and Gov. Gavin Newsom announced shortly thereafter that the state was opening an investigation into the Temecula Valley Unified School Board.
Bonta's office sent a letter to Komrosky and district superintendent Dr. Jodi McClay warning that the state has "serious concern" about the board's vote to reject an elementary grade curriculum known as "Social Studies Alive." The letter said that school districts have a legal obligation to highlight the contributions of various groups, including gay, bisexual, and transgender Americans, and that rejecting LGBTQ-focused curriculum "may constitute unlawful discrimination."
The complaint alleges that the board "rushed to enact the Resolution, disregarding District policies and procedures, ignoring community concerns, and dismissing the expertise of Temecula's educators." It also references a new segment following the vote in which "Komrosky promised enforcement against 'rogue teachers' allegedly engaged in 'manipulation, brainwashing, and indoctrination.'"
Plaintiffs say the regulation prohibits a "sweeping and ill-defined range of content," and deprives students of "the opportunity to engage in factual investigation, freely discuss ideas, and develop critical thinking and reasoning skills," and asks that the court enjoin its enforcement. They argue that Resolution 21 harms all school children and particularly injures children of color and LGBTQ children.
"In light of the foundational role that education plays in our democracy, courts have vigilantly guarded students right to receive information against partisan and racially discriminatory 'laws that cast a pall of orthodoxy over the classroom," says the complaint, quoting a 1967 Supreme Court case.
The plaintiffs say that the resolution is not only unconstitutionally vague, but that it also violates their fundamental right to education as well as their right to equal protection under the law. They argue that students of color and LGBTQ+ students have been the victims of intentional discrimination and that the regulation is an illegal use of taxpayer funds.
"As a teacher, my role is to introduce my students to a broad range of viewpoints so they can learn to think critically and form their own opinions about the world," said Temecula Valley High School teacher and plaintiff Dawn Sibby said about the impact of Resolution 21. "This ban has created a climate of fear in our classrooms, and it is preventing my students from learning about the history and diversity of our nation. I'm proud to be a plaintiff in this case to fight for my students, who deserve an education not censored by Board members' ideological beliefs."
"The ideal of public education is to open the minds and hearts of students to the experiences and insights of communities beyond their own," said Mark Rosenbaum, Director of Public Counsel's Opportunity Under Law project. "If permitted to stand, the resolution will replace education with indoctrination, open-mindedness with bigotry, truth with falsehoods."
Teachers at the press conference read statements from the anonymous student plaintiffs, including one that said, "Many teachers and students censor themselves in the classroom to avoid controversial topics out of caution."
You can read the full complaint here.
Have a tip we should know? [email protected]