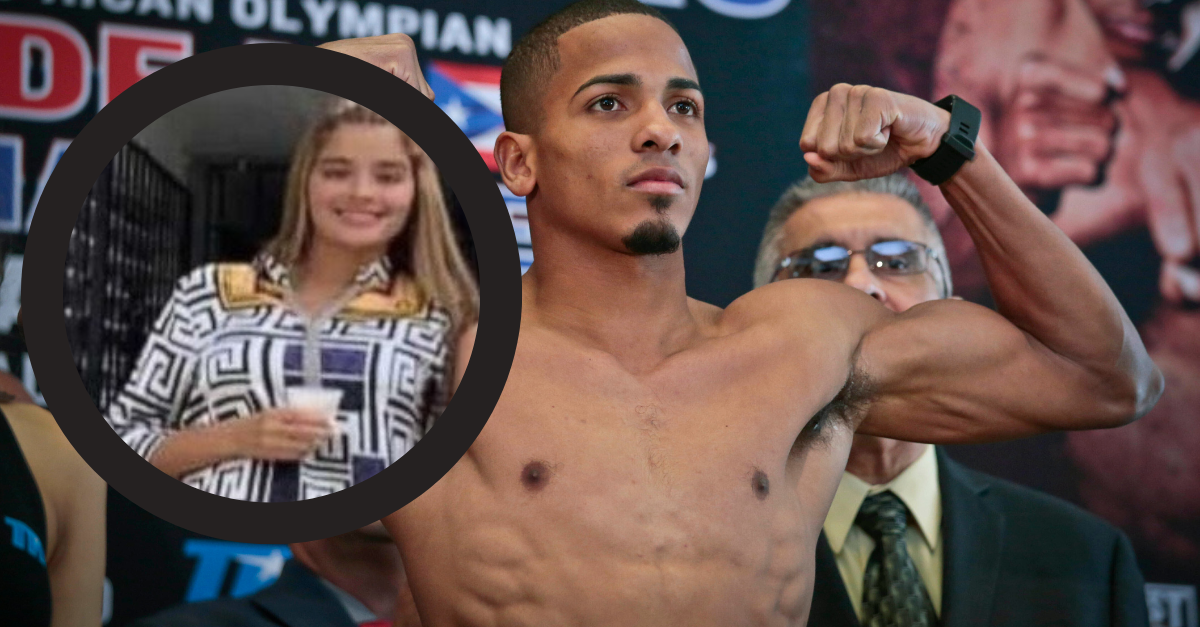 Puerto Rican boxer Felix Verdejo-Sánchez poses after his weigh-in at Madison Square Garden in New York, June 10, 2016.  (Image of Verdejo-Sánchez: AP Photo/Bebeto Matthews, File; inset of Rodríguez Ortiz: the Commonwealth of Puerto Rico.)
A boxer was sentenced on Friday in a Puerto Rico federal court for brutally murdering his pregnant lover and their unborn child.
Félix Verdejo-Sánchez, 30, is going to spend the rest of his days behind bars, the U.S. Department of Justice announced. As Law&Crime previously reported, a jury convicted him on July 28 of kidnapping Keishla Rodríguez Ortiz, 27, and killing her and her unborn child.
The co-defendant, Luis Antonio Cadiz-Martinez, 32, pleaded guilty last Nov. 28 to carjacking resulting death and killing an unborn child. He is still awaiting sentencing.
Verdejo-Sánchez lured Rodríguez Ortiz to his Dodge Durango on April 29, 2021, prosecutors said. The victim was reportedly two months pregnant at the time, and yet the defendant punched her, injected her with drugs, and tied her with metal wire to a cement block.
He drove her to the Teodoro Moscoso bridge, where the two defendants threw Rodríguez Ortiz into the San José Lagoon.
Verdejo-Sánchez later went down into the lagoon to finishing murdering the victims, prosecutors said.
The victim's mother has said that Verdejo-Sánchez had threatened Rodríguez Ortiz about not having a baby.
"In cases such as this one, regardless of the outcome, there is no way to restore what has been lost," said Joseph González, Special Agent in Charge of the FBI San Juan Field Office. "The only salve we can offer victim's families is to do our work zealously and without rest, until justice is served. I believe we have done that here and I pray that this will give Keishla's family some peace. Special recognitions to the US Attorney's Office for the District of Puerto Rico, the Police of Puerto Rico and to our Violent Crimes Squad for a detailed and arduous job well done."
"Today's life sentence rightly holds Verdejo-Sánchez responsible for the pain and suffering he inflicted on his victims," said W. Stephen Muldrow, United States Attorney for the District of Puerto Rico. "To this day, the defendant maintains his unrepentant attitude. Like Verdejo-Sánchez now knows, anyone who commits cold-blooded crimes of violence in violation of federal law will be prosecuted to the fullest extent of the law by the Justice Department and this office."
Have a tip we should know? [email protected]