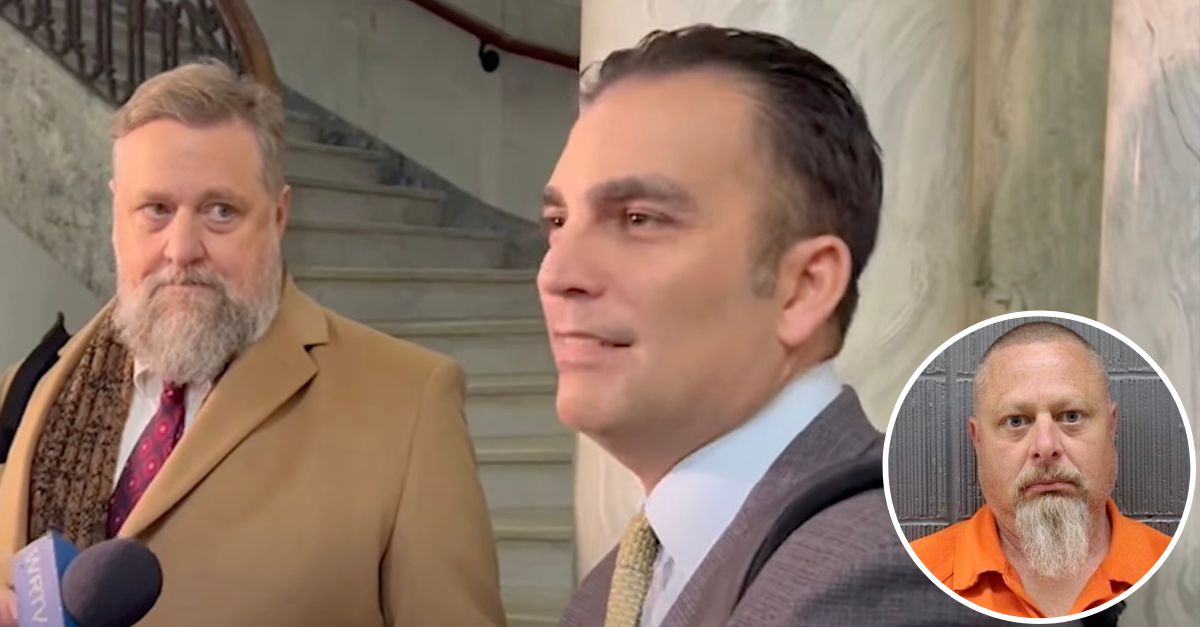 Andrew Baldwin, Brad Rozzi, and Richard Allen (YouTube: WTHR screenshot, Westville Correctional Facility)
One week after the presiding judge in the high-profile Delphi murders case announced that both attorneys representing accused killer Richard Allen had withdrawn in an "unexpected turn of events" during the case's first broadcasted hearing, Allen's sole remaining attorney says the judge "ambushed" him and his co-counsel before the proceedings and essentially ordered them to quit.
He's now seeking to remain as Allen's attorney and to have the judge thrown off the case.
During last week's hearing, Special Judge Fran C. Gull said that one of Allen's attorneys, Andrew Baldwin, had orally withdrawn from the case. That withdrawal came after sealed evidence was leaked from Baldwin's office and provided to a true crime podcast. Gull said that Allen's other attorney, Brad Rozzi, also planned to submit a written notification of his withdrawal.
The online court docket for the case has the following order from Gull for the Oct. 19 hearing:
"Prior to the scheduled hearing this date, Attorneys Rozzi and Baldwin advise the Court they will be withdrawing their representation of the defendant. Court accepts their representations and orders them withdrawn from the cause. Counsel ordered to comply with the previously entered Protective Order on Discovery and are ordered to turn the discovery over in full to the State of Indiana to be made available to successor counsel."
But Rozzi never submitted his written resignation, and in a series of motions filed Thursday, he requested that Gull be disqualified from presiding over the trial. The motions claim that Gull violated the state's judicial code of conduct when she allegedly "removed and concealed, or allowed to be removed by the Clerk of Carroll County, defense pleadings from the chronological case summary in violation of the Indiana Supreme Court's Administrative Rules."
In one of the motions, Rozzi said Gull called a meeting in her chambers 90 minutes before the Oct. 19 hearing and accused him and Baldwin of "gross negligence" in their representation of Allen and told them they could either withdraw and leave the courthouse before the proceedings or she would read a prepared statement before the court and have them disqualified on camera during a hearing that was going to be seen across the country.
Per Rozzi's motion to continue representing Allen:
"After speaking with Mr. Allen, Attorney Rozzi and Attorney Baldwin then returned to chambers at which time Attorney Rozzi articulated to the Court that the Court had engaged in an ambush of Defense counsel, entirely void of due process, and that Attorney Rozzi would withdraw his Appearance, but that said withdrawal was not a voluntary withdrawal because the Court made clear that if Attorney Rozzi did not agree to withdraw, the Court would publicly shame him in front of the world and his client before forcing him off the case by disqualifying him"
In a motion to have Gull disqualified from the case, Rozzi said Gull "ambushed" him and Baldwin with "a planned Hobson's choice designed to coerce withdrawals." He also alleged that Gull "coerced an oral request to withdraw from Attorney Rozzi" and gave neither the opportunity to defend themselves from her accusations.
"The choice presented was to suffer a public shaming AND be removed from the case or to voluntarily withdraw," the motion states. "Despite defense counsel requesting clarification as to the topics and/or motions to be addressed at the October 19, 2023 hearing, she gave defense counsel no notice of her plan to force withdrawals or remove them, thus, denying counsel the opportunity to adequately refute her accusations."
One of the other complaints put forth by Rozzi is that depriving Allen of counsel would violate his right to a speedy trial. Another of his qualms was that the judge ordered a controversial Frank's motion alleging that the murder of which Allen is accused was committed by a white supremacist pagan cult to be kept under seal and not accessible to the public.
"The Court alleged that Mr. Baldwin put improper statements in his Frank's memorandum. Not false or misleading statements, just improper in her opinion," Rozzi wrote. "The court had disdain for the defense for not filing it under seal even though there was no order to do so. That memorandum was demanded by the prosecution before there could be a Frank's hearing."
Allen is facing two counts of murder in the 2017 slayings of Williams and German, whose bodies were discovered in a wooded area just off of the Delphi Historic Trails system.
Williams and German vanished while walking the Monon High Bridge Trail near Delphi, Indiana, on Feb. 13, 2017. The trail traverses an abandoned stretch of what was once the Monon Railroad and crosses an old trestle over a small river or creek. The girls were found dead the next day in an area near the trestle, and their deaths were determined to be homicides.
Have a tip we should know? [email protected]