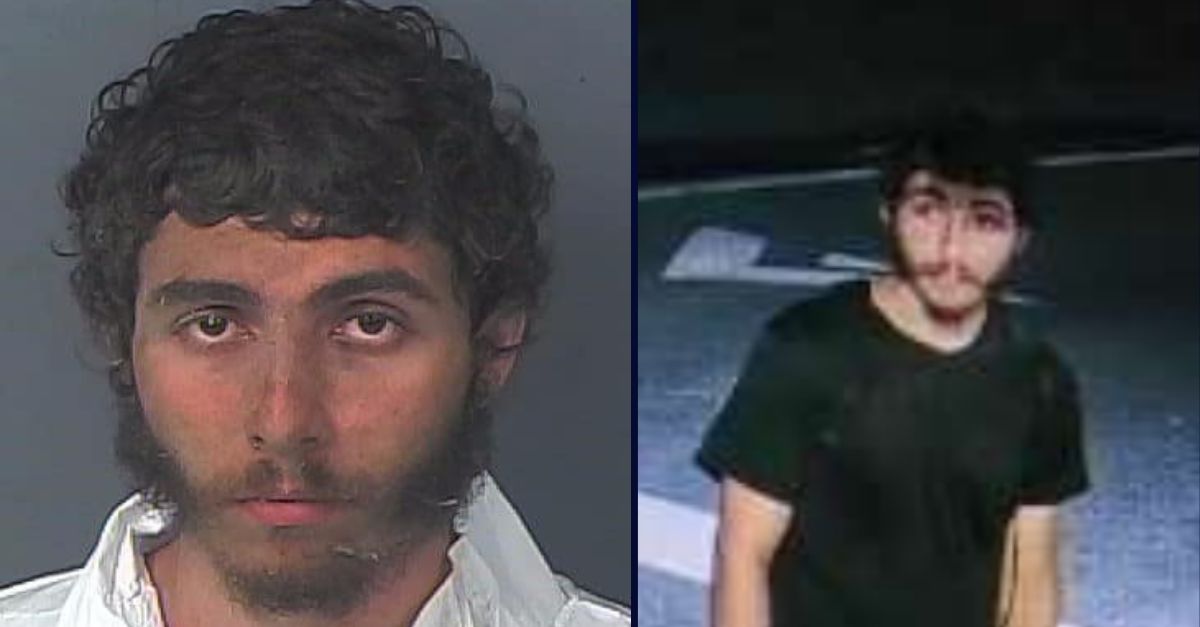 Jeremy Patterson was arrested Friday in the death of a security guard at a senior living community in Brooksville, Florida. The Hernando County Sheriff's Office released a surveillance image when he remained on the loose and a mug shot after he was arrested. (HCSO)
Police in Florida arrested a 23-year-old man after he allegedly killed a security guard at a senior living community.
The Hernando County Sheriff's Office said it received a call around 10:15 p.m. Thursday to the entrance of the High Point community in Brooksville for what had been described as a medical emergency.
"Fire Rescue personnel quickly arrived on scene and determined what was initially thought to be a medical call was in fact a criminal act," the sheriff's office said. "Deputies arrived moments later."
The victim was taken to a hospital where he was pronounced dead a short time later.
Through witness statements and video surveillance, detectives identified Jeremy Jason Patterson first as a person of interest and then as a suspect. Patterson was arrested Friday night in a nearby wooded area, deputies said.
He was taken to the Hernando County Jail where he is facing a murder charge, records show.
The sheriff's office has not named the victim, but Tampa NBC affiliate WFLA identified him as 81-year-old Ed Mead, who worked as a security guard for the residential community.
"Our gate guard was there to keep us safe, and now he's dead," a tearful Arlene Dyer told the station. "Why?"
Dyer, who lives in the community, said she saw someone she believed matched the suspect's description walking in the community on Friday morning but lost him after a 911 dispatcher told him not to follow him.
She told the outlet the homicide has left her devastated.
"I was supposed to be getting our house ready to sell, but I can't be outside because I don't know where he is," she said. "This is supposed to be a safe community and it's not."
"We're not safe anywhere," Dyer also said.
Dave Bittle went to the guard shack to say a prayer for Mead.
"Very upset," he told WFLA. "Eddie was a very good man. It's hard to believe that something like this could happen."
Deputies have not released a motive for the slaying.
According to its website, High Point is a 55-and-up golf community that was established in 1974.
More from Law&Crime: Atlanta Murder Suspect Stabbed a 77-Year-Old Grandmother to Death Inside Gated Community, Stole Her Car: Cops
Have a tip we should know? [email protected]