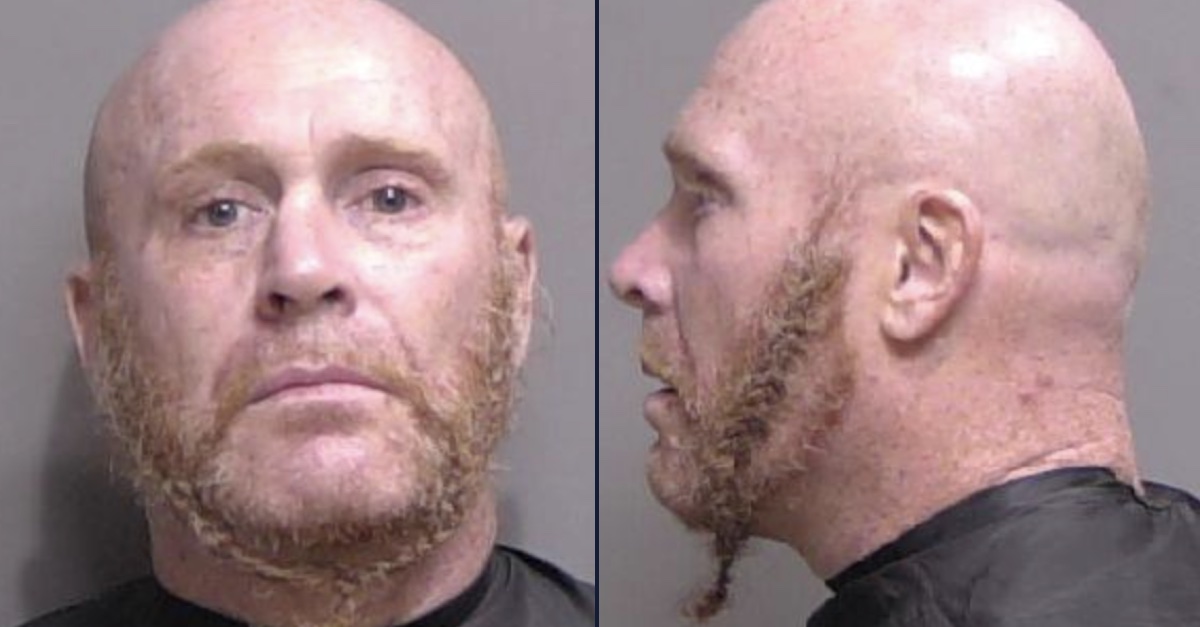 Christopher Brent Heath (Flagler County Sheriff's Office)
A Florida man who as of 2019 was a "29-time convicted felon" facing sentencing for counterfeiting Federal Reserve notes is now accused of trying to fake a heart attack to get out of a fentanyl trafficking case — just months after he was let out of federal prison.
Christopher Brent Heath, 40, stands accused in Flagler County of two felonies and two misdemeanors for allegedly trafficking in fentanyl, unlawfully possessing a controlled substance, refusing to obey police officers and use or possession of drug paraphernalia, stemming from an Aug. 6 traffic stop. According to the affidavit, Flagler County Deputy Nicholas Huzior attempted to stop a car with tinted windows in Bunnell just after midnight.
The driver, identified as Heath, did not immediately stop the vehicle, authorities said. For nearly a minute, Heath allegedly drove away from the lights and sirens before coming to a stop.
Once stopped, Heath allegedly claimed he didn't stop right away because his car's rear windows were "too dark." The deputy reported smelling the "odor commonly associated with cannabis" upon Heath's exit from the vehicle.
Heath's rear trunk window was "painted black allowing no visibility to be seen entering or leaving the rear end of the vehicle," the affidavit said.
An ensuing search of the vehicle turned up an orange container that "presumptively tested positive for the presence of both THC and fentanyl." Investigators used field test kits multiple times, the affidavit said, also noting the presence of a "torch and a scale."
The defendant allegedly claimed that the substance was "an ointment given to him by his mother that is commonly known as 'Bag Balm,'" court documents said.
Authorities then noted that Heath had recently gotten out of federal prison. Christopher Brent Heath is a convicted federal defendant who was released from custody as recently as May 12, Bureau of Prison records show. In May 2019, the feds announced that Heath was sentenced to six years behind bars for counterfeiting money.
Calling Heath "a 29-time convicted felon," DOJ said that the defendant admitted on Feb. 14, 2019 to using a computer to commit fraud.
"According to court documents, in May 2018, Heath and [co-defendant Christine Marie] Beaulieu were involved with passing counterfeit Federal Reserve notes in Flagler and Volusia Counties. On May 17, 2018, the Flagler County Sheriff's Office with assistance from the United States Secret Service – Jacksonville Field Office executed a search warrant at Beaulieu's residence in Bunnell," the DOJ said. "Inside the residence they located computer media used to manufacture counterfeit bills and chemicals used for bleaching genuine money in furtherance of the counterfeiting process. Law enforcement recovered over $11,000 in counterfeit notes from the residence and attributed several thousand more to Heath and Beaulieu."
More Law&Crime coverage: Florida mom who threw newborn in ocean 'like a piece of trash' sentenced to prison
Federal court records show, however, that Heath in July 2020 obtained a reduced sentence due to his "useful and substantial" cooperation in another defendant's case.
"During the pendency of Defendant's case, he assisted law enforcement by providing certain information in the U.S.v. Ratcliff, Case No. 3:18-cr-206-J-20JRK," said the order reducing Heath's sentence from 72 to 63 months.
Flagler County Sheriff Rick Staly called Heath a "poison peddler" and a "serial criminal" who "won't learn his lesson."
"Time for him to turn his life around or face serious jail time," the sheriff's statement said.
The fentanyl trafficking charge Heath currently faces could put him behind bars for two decades.
"A person who knowingly sells, purchases, manufactures, delivers, or brings into this state, or who is knowingly in actual or constructive possession of, 4 grams or more of" fentanyl "commits a felony of the first degree, which felony shall be known as 'trafficking in dangerous fentanyl or fentanyl analogues,'" according to Florida law.
Because the alleged "total substance weight" of the fentanyl is 27 grams, Heath faces "a mandatory minimum term of imprisonment of 20 years, and shall be ordered to pay a fine of $100,000." If the weight of the fentanyl was 28 grams or more, the mandatory minimum would be 25 years.
The Flagler County Sheriff's Office said that Heath received medical attention after he feigned a heart attack.
"He was checked on scene by a medical unit but could not be adequately evaluated due to his actions and demeanor, so he was transported to AdventHealth South by Deputy Huzior," authorities said. "Heath was later transported to SPHIDF [jail] after being medically cleared."
Heath was held at the Flagler County jail on a total bond of $331,000, records show.
Read the affidavit here.
Have a tip we should know? [email protected]