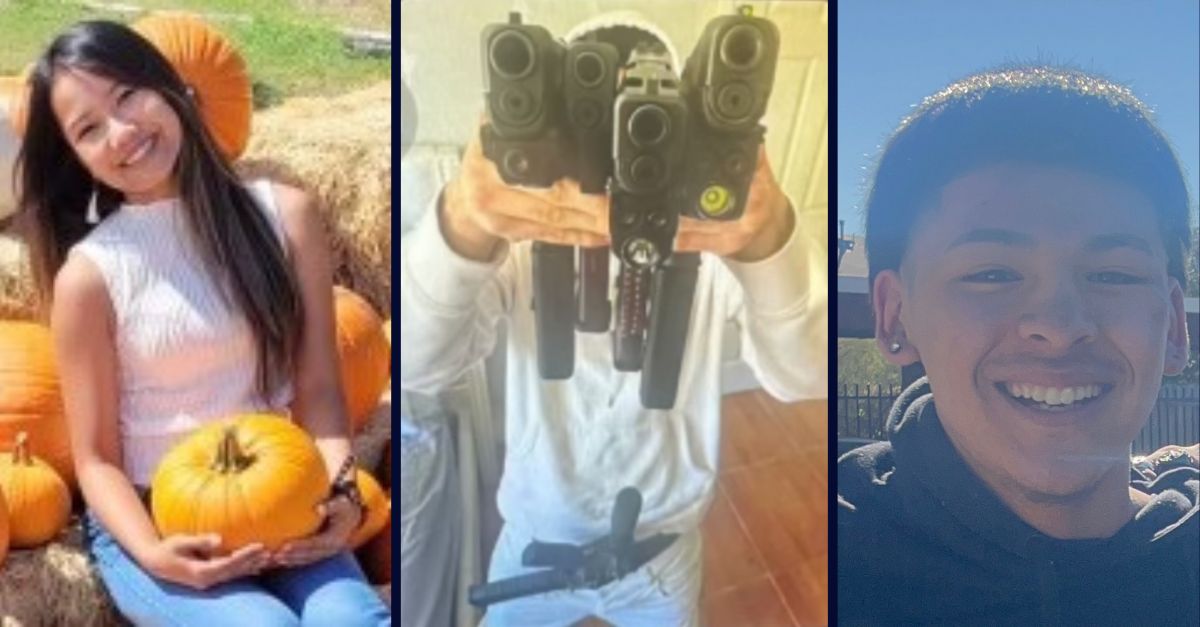 Isaac Gonzales, middle and right, and an unidentified 15-year-old boy were arrested in the killing of Novita Brazil, left. (Brazil's photo from GoFundMe; Gonzales photos from Bexar County (Tex.) Sheriff's Office)
A teenage murder suspect in Texas who cut off his ankle monitor after being accused of firing 100 bullets into the wrong home — killing an innocent woman and wounding a second — taunted cops on social media, and the police answered by taking him into custody this week.
Isaac Gonzales, 17, was arrested in the killing of Novita Brazil, 25. Gonzales faces a murder charge and aggravated assault with a deadly weapon. An unnamed 15-year-old boy faces a murder charge, authorities said.
"Here's Isaac bragging on social media a couple of days ago, saying, 'Tell everyone at the gang unit, "Catch me."' And then this next video is the gang unit doing just that," said Bexar County Sheriff Javier Salazar at a news conference. "So, as you can see, extremely cocky, very confident young man, confident that he's going to take full advantage of the legal system."
Gonzales' arrest came after the arrest of his 15-year-old co-defendant.
Salazar ripped the teens at the Tuesday news conference.
"These are just, in my opinion, bloodthirsty young heathens with no regard for human life," Salazar said. "I'm happy that we were able to put him behind bars."
Brazil was killed while studying at her home in the 11000 block of Bald Mountain Road in San Antonio after midnight on Oct. 5, 2022, authorities said in a news release.
Gonzales and the 15-year-old shot up the house, thinking they were shooting at the home of a group of gang members who had shot at them, authorities said.
"But tragically enough, they struck the wrong house," Salazar said. "They hit the next-door neighbor."
One hundred rounds were fired. Brazil was killed instantly.
"She was a completely innocent bystander, just a young lady working her way through college, doing her homework during the wee hours of the night, burning the midnight oil," Salazar said.
A 41-year-old woman in town for a San Antonio Spurs game — renting a room for the night — was wounded as she slept, Salazar said.
Police quickly found the suspected shooters in a stolen KIA and engaged them in a high-speed chase. Along the way, the suspects allegedly dumped several guns Salazar said were used in the shooting, including a small assault-style rifle, authorities said.
They were arrested and booked into jail, where they made bail and cut off their GPS-enabled ankle monitors, Salazar said.
Warrants were issued for their arrests.
The unidentified suspect was arrested after a pursuit. He was a passenger in the vehicle and was recording a live video on Instagram while police were chasing him, "knowing full well that he was running from the cops, knowing full well he was going to be arrested at any given time," Salazar said.
"This is how much of a joke it is to these guys," Salazar said.
Gonzales was shooting a Facebook Live video when he was arrested, Salazar said.
"And I believe he was on the phone with somebody saying, 'Hey, watch or put me on' or whatever it was, letting people know that he was about to be arrested on social media," Salazar said. "And then, of course, you saw his attitude as we walked him out, completely taking the whole thing as a game.
"They killed an innocent young lady, a 25-year-old woman that was just living her life, pursuing her degree. And these two jack wagons took her life," Salazar said.
A GoFundMe page said Brazil was from Indonesia, living in San Antonio with her husband of three years. Salazar said her husband was in the military stationed there.
The GoFundMe page described Brazil as "the sweetest person you would ever meet."
"She was kind, selfless, funny, loving, adventurous, and had a heart of gold," it said.
Have a tip we should know? [email protected]