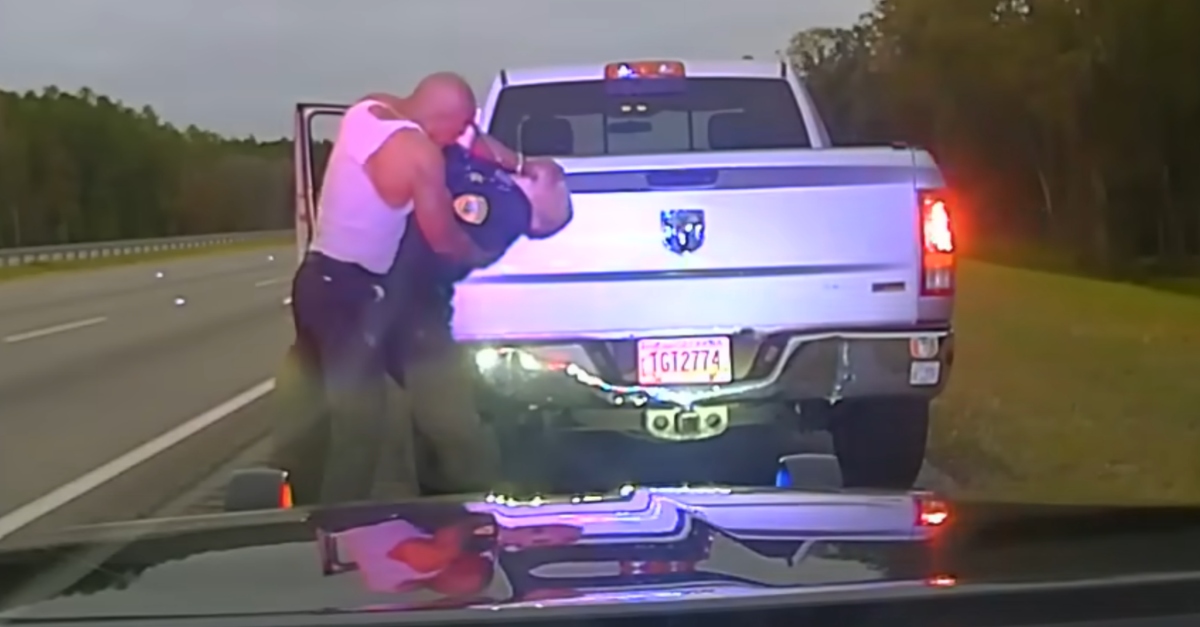 A mere moment before Camden County Sheriff's Staff Sgt. Buck Aldridge shot and killed Leonard Allen Cure. (Screenshot: Camden County Sheriff's Office)
Police have released body camera video of a man, who served 16 years for an armed robbery he did not commit, fighting a sheriff's deputy during a traffic stop in which the officer shot and killed him.
As Law&Crime previously reported, Leonard Allen Cure, 53, was on his way back home after visiting his mother in South Florida when a deputy — now identified as Camden County sheriff's Staff Sgt. Buck Aldridge — pulled him over for speeding. That traffic stop escalated into a violent encounter that ended with Aldridge fatally shooting Cure.
The sheriff's office released body and dash camera footage which shows Aldridge pulling Cure over and yelling at him to get out of the pickup truck.
"I ain't doing s—," Cure said.
Cure initially refused his demand to step to the rear of the vehicle, instead asking the officer, "in the name of who?"
"In the name of the law in the state of Georgia," Aldridge said.
Cure went to the back of the truck, and with some prompting, put his hands on the back of the truck. He asked Aldridge if he had a warrant.
Aldridge told Cure he was going 100 miles per hour.
"Okay, so that's a speeding ticket," Cure said.
Aldridge answered that speeding tickets in Georgia are a crime. The staff sergeant repeatedly demands Cure put his hands behind his back, but Cure refuses to comply.
After repeatedly ignoring commands to put his hands behind his back, Cure pointed up, and Aldridge then tased him. Cure then turned around and attacked the officer.
"Yeah, b—-," Cure said during the struggle with Aldridge. "Yeah, b—-."
The gunfire appears to happen between 2:15 and 2:25 in this body camera footage. Cure has his hand pushing against Aldridge's face and is continuing to struggle with the officer when the shot is fired.
You can also see Part 1 and part 2 of the sheriff's office dash cam. A third-person view of the shooting happens at about 4:00 of part 1 of the dash cam.
Please note that the footage is disturbing.
"Too late," Cure said, having been shot, blood visible on his tank top. "Too late."
Cure had spent 16 years in a Florida prison, sentenced to life in a 2003 armed robbery in Broward County. Years later, prosecutors relented and worked with the Innocence Project of Florida to get him out. An ATM receipt showed Cure was miles from the crime scene during the incident. The Innocence Project of Florida also said the photo array was "an unreliable, suggestive identification procedure" because it featured multiple pictures of him when shown to one of the victims.
Florida Gov. Ron DeSantis signed a claims bill awarding Cure $817,000 and 120 hours of college tuition and fees. When news of his death emerged, the Broward County State Attorney's Office remembered Cure as  "smart, funny and kind."
"I believe there were possibly some issues going on, some mental issues with my brother," the slain man's brother, Michael Cure, said, according to The Associated Press in a Wednesday report. "I know him quite well. The officer just triggered him, undoubtedly triggered him. It was excitement met with excitement."
Have a tip we should know? [email protected]