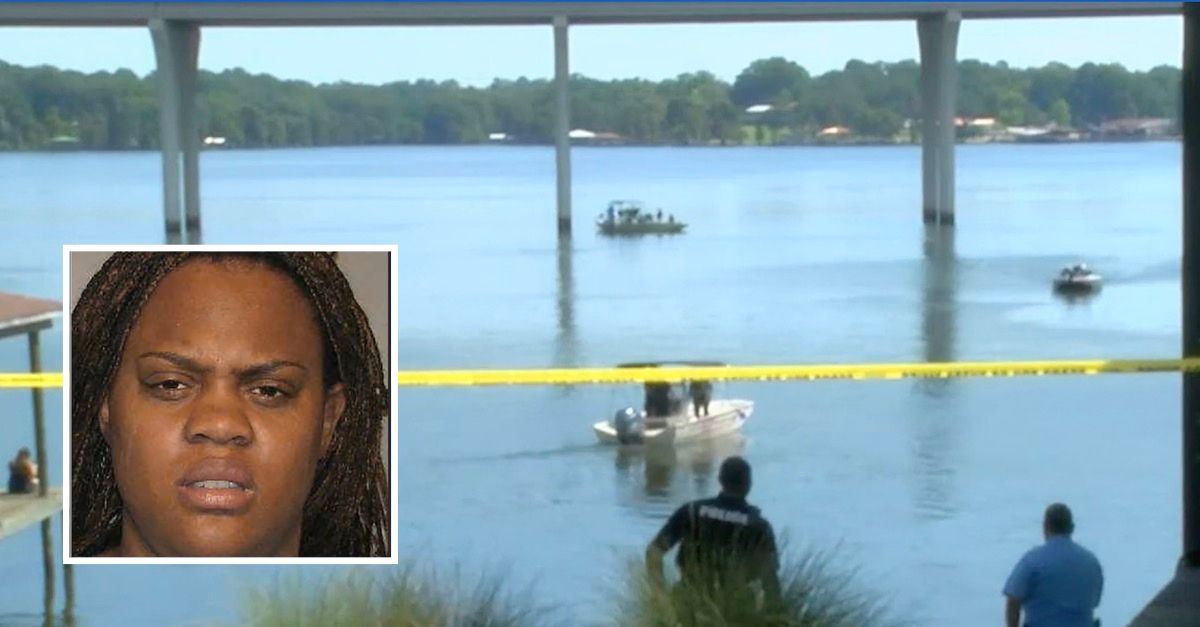 Ureka R. Black (Caddo Correctional Center) and authorities searching the area beneath the Cross Lake Bridge after she allegedly threw her kids from the bridge (KSLA screenshot)
A 34-year-old mother in Louisiana will spend the remainder of her days behind bars for throwing her two young children off a bridge, killing her infant son and severely injuring his 5-year-old brother two years ago.
District Judge Donald E. Hathaway Jr. ordered Ureka R. Black to serve a sentence of life in a state correctional facility without the possibility of parole for the 2021 slaying of young Joshua Black, authorities confirmed to Law&Crime.
Earlier this month, a jury of three men and nine women in Caddo Parish, Louisiana, needed only about two hours of deliberation before finding Black guilty of one count of murder and one count of attempted murder over the horrific incident.
In addition to the state-mandated sentence of life in prison, Hathaway also ordered Black to serve a sentence of 50 years for the attempted murder charge, with the sentences to be served simultaneously.
Black represented herself in the proceedings with Elizabeth Gibson of the Caddo Parish District Public Defender's Office on standby. During the trial, she did not testify, nor did she call any witnesses or cross-examine the lead detective in her case after he was called to testify by prosecutors, Law&Crime previously reported.
Hathaway was not impressed with her performance, telling the now-convicted filicidal killer that she did an "abnormal" job acting as her advocate in court.
Law enforcement authorities said Black threw her children, 5-year-old Elijah Black and 10-month-old Joshua Black, off the Cross Lake bridge on the morning of Sept. 24, 2021.
Officers with the Shreveport Police Department responded to a 911 call at about 11 a.m. concerning a child seen floating in the lake near the bridge. An individual working on a yard crew nearby reportedly spotted the infant floating face down in the water and called the police.
Marine patrol officers were dispatched to where they first found baby Joshua, who was unresponsive when he was pulled from the water. Emergency Medical Services personnel tried resuscitating the baby, but he died there.
Elijah was found floating on his back and was pulled from the water a short time later. He was responsive but severely injured. The surviving boy was rushed to LSU Oschner Health Shreveport with life-threatening injuries, police said.
Investigators reportedly said that the surviving child provided police with evidence that was critical in identifying his mother as the person responsible for throwing him and his little brother off the bridge.
Prosecutors filed a motion on Sept. 5 for discovery, revealing additional information about the events that preceded Black allegedly throwing her kids from the bridge.
The Shreveport Times reported that Elijah told investigators that Sept. 24 was his 5th birthday. That morning, his mother drove him and his baby brother to the bridge. In his account, Elijah reportedly said his mother told him he had "germs" and that the water below the bridge was "good water." She then "rolled" him off the top of the bridge.
Authorities say Black tossed the kids into the lake so they could "meet with God," Shreveport ABC affiliate KTBS-TV reported.
During the trial, jurors were shown footage of Elijah's interview with authorities after he was rescued, KSLA reported. During the interview, he reportedly told the forensic investigator that he did not want to "go with God ever again."
Have a tip we should know? [email protected]