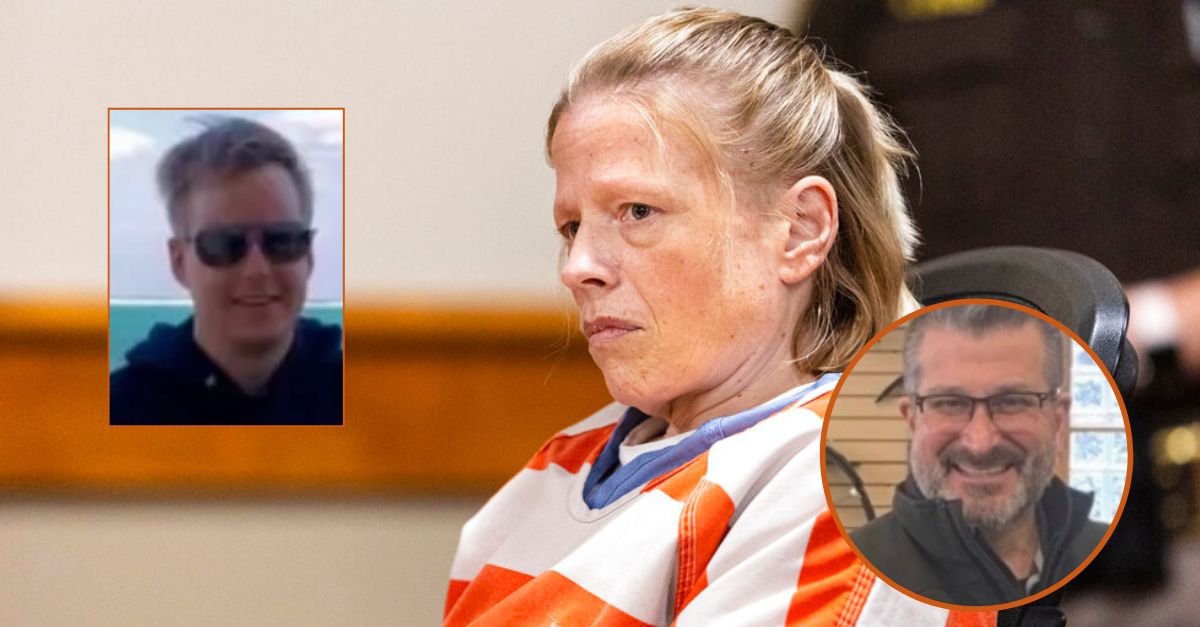 Mandy Benn appears for her preliminary examination on charges of second-degree murder at Ionia County Courthouse in Ionia, Mich., Thursday, Nov. 10, 2022. Benn was convicted of second-degree murder and other charges after five bicyclists were struck by her vehicle as they rode in a charity event. Edward Erickson, 48, of Ann Arbor, left inset, and Michael Salhaney, 57, of Bloomfield Hills, right inset, were killed. Three other men were hurt. (Joel Bissell/MLive.com/The Grand Rapids Press via AP; Erickson photo from GoFundMe; Salhaney photo from his obituary)
A woman accused of being intoxicated on prescription medications when she struck and killed two bicyclists and injured three others taking part in a Make-a-Wish charity ride in Michigan was convicted on Friday.
A jury found Mandy Benn, 43, guilty of second-degree murder and operating a vehicle while under the influence. She was accused of killing Edward Erickson, 48, and Michael Salhaney, 57. A sentencing date has not been set. She faces up to life in prison.
She was accused of hitting the bicyclists when she crossed a center line trying to get around a UPS truck during the charity ride north of Grand Rapids in June 2022 that was cut short due to the tragedy.
A witness saw a body flying through the air from her window, she testified in court, local ABC affiliate WZZM-TV reported.
Timothy Kolanowski, who rode in the event, described the collision in court.
"I went to reach for my face, and my hand came back with blood all over it. We've been hit by this car, and I realized then we need to call 911. There are injuries … the other guys definitely got hit," he said.
An Ionia County sheriff's detective testified Benn was disoriented at the crime scene, making an observation to the detective about the carnage.
"She looked right at me, and she says, 'Wow, officer, that almost looks real.' I was really taken aback by that. It was like she was on a different planet," said Detective Sgt. Phillip Hesche, Grand Rapids ABC affiliate WZZM reported.
A judge at her preliminary hearing said she had acted with a "wanton and willful … disregard of life," MLive reported.
Her defense attorney, Walter Downes, argued she had only "therapeutic" amounts of medication.
The victims were remembered fondly. A fundraiser was set up in Erickson's honor to help his two young children go to college.
"It has been wonderful to see so many people come out to support his family in this terrible time," family friend Scott Fitzpatrick told MLive. "Yukari (his wife) and the rest of the family are still trying to process what happened but are very grateful for the support."
His GoFundMe page said he loved his family, friends, and cycling.
"Ed especially loved helping others in need and would ride thousands of miles annually in pursuit of helping families in need," the page said.
MLive reported that Erickson wrote on his donation page that a "wish shifts the focus from hospital stays, treatments and surgeries.
"It opens up a world of possibilities — where the exciting anticipation of a wish-come-true helps wish kids believe in better days ahead. A wish replaces fear with confidence, sadness with joy and anxiety with hope. And hope is essential for these courageous children, now more than ever."
Salhaney's obituary said the father to seven children was "a pillar in the community and at home."
"Our lives lost the brightest glimmer of light," it read. "Mike dedicated his life to not only the rule of law but fiercely protected his family and those around him.
"Love, kindness and integrity is only the beginning to describe Mike. Words cannot and will not describe this immense tragedy and pain felt in the community but, more importantly, at home."
Have a tip we should know? [email protected]