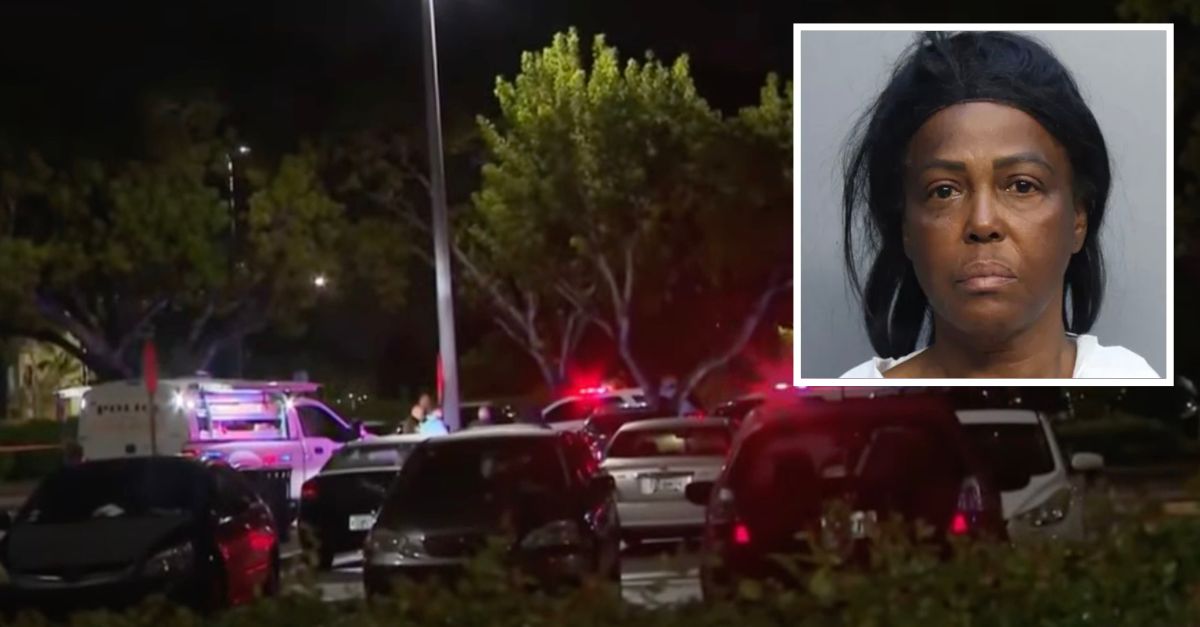 Joyce Ann Small and authorities at the North Dade Regional Library where she allegedly executed a woman she knew (Miami-Dade Corrections, YouTube: WPLG screenshot)
A 64-year-old woman in Florida was arrested this week for allegedly killing a perceived romantic rival, fatally shooting the other woman from point-blank range as the victim begged for her life.
Joyce Ann Small was taken into custody on Thursday and charged with one count of first-degree murder, court records reviewed by Law&Crime show.
According to a report from Miami NBC affiliate WTVJ, officers with the Miami Gardens Police Department and Miami-Dade Fire Rescue personnel responded to a 911 call at about 5:30 p.m. on Wednesday regarding a woman being shot in the parking lot of the North Dade Regional Library, in the 2400 block of Northwest 183rd Street.
Once there, first responders found the victim suffering from what appeared to be multiple gunshot wounds. She was not identified.
Investigators quickly picked up Small, who was still in the area, saying she matched the description of the shooter provided by a witness who watched the execution unfold.
"The witness observed the victim turn toward the offender and beg for her life. The offender continued to shoot the victim," police wrote in a probable cause affidavit obtained by WTVJ. "The witness stated the offender stood over the victim and shot her in the head. The offender then walked out of the parking lot."
Surveillance footage from the public library reportedly showed a woman who appeared to be Small hiding in bushes as the victim approached the area, Miami ABC affiliate WPLG reported. Small then ambushed the victim and fired multiple shots at her, authorities said.
While Small initially refused to answer authorities' questions, police say she eventually disclosed she knew the victim, identifying her as "Sarai," Miami CBS affiliate WFOR reported. Small reportedly told police that Sarai was homeless. She allegedly said she would let her stay at her home to eat, sleep, and shower.
However, according to WTVJ, Small said that she had recently begun to suspect that Sarai was sleeping with her boyfriend, a man married to another woman. Small allegedly claimed she began following her boyfriend, only to find him with his wife, not Sarai.
Small then claimed that Sarai had been abusive towards her for several months, claiming the victim "began to mistreat her and beat her up," WFOR reported. She further claimed that when she saw Sarai at the library on Wednesday, Small believed the other woman was "purposely agitating her."
Small is being held in custody without bond.
Have a tip we should know? [email protected]