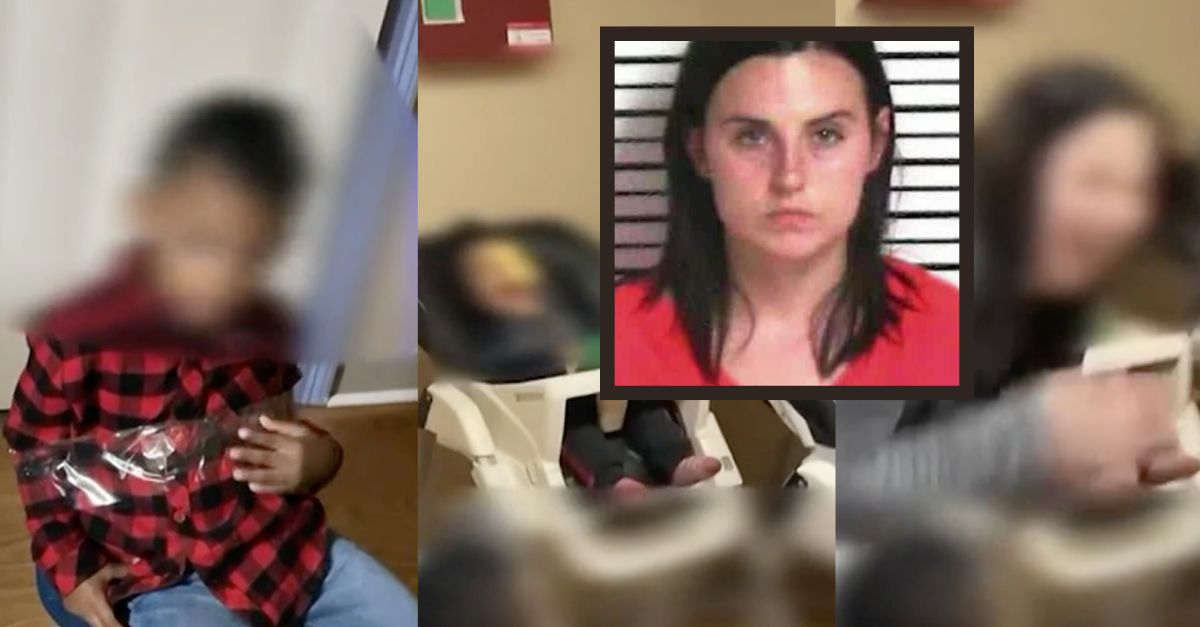 Alyssa Eve Dupre, on the right, appears in a mugshot, inset, against several filmed child abuse and cruelty incidents. (St. Landry Parish Sheriff's Office; Screengrabs via KLFY)
A Louisiana woman was arrested over the weekend for her alleged role in a series of taunting humiliation and abuse incidents at a day care in the small city of Eunice, authorities say.
Alyssa Eve Dupre, 23, stands accused of six counts of cruelty to juveniles. She was arrested Sunday night and booked into, and then quickly released from, the St. Landry Parish Jail on $18,000 bond, according to Lafayette-based CBS affiliate KLFY.
Police in the area say more arrests are coming.
The investigation into the Pumpkin Patch Daycare of Eunice – a city located within both St. Landry and Acadia parishes; the heart of the Pelican State region that has long served as the ancestral home of Cajun communities – appears to have been a long time coming.
"It's by our understanding this could possibly be quite old," Eunice Police Chief Kyle LeBouef told KLFY in reference to the child abuse. "But that really doesn't matter when it comes to criminal charges."
The inquiry was prompted by a former day care employee supplying footage of several disparate incidents to the TV station.
That footage is shocking and graphic.
In one video clip, a dark-haired woman can be seen throwing a slice of what appears to be cheddar or American cheese on the face of a baby strapped into a car seat, but not in a car, sitting next to a group of other children similarly confined. The single piece of cheese lands and stays on the child's face and the woman doubles over in laughter.
In another video clip, an older boy is taped to a chair with what looks like clear packing tape. Additional footage of children scared and crying was aired by KLFY last week – an apparent response to employees intentionally using masks to frighten the youngsters.
"We do have the videos. They're very disturbing to watch. An innocent child shouldn't have to go through that," LeBouef told Lake Charles-based NBC and CW Plus affiliate KPLC on July 28. "Especially when someone puts little children in someone else's care."
More Law&Crime coverage: Georgia home daycare owner arrested for second time in 2 weeks on over 30 child abuse allegations
"There was a lot of mistreatments of kids. The workers, the staff would put their hands on people's kids, and she worked there years ago," Adriana Rasmussen, a family member of a former employee told the TV station in late July. "They should be ashamed of their selves and they should look at their kids and wonder what they would do if that would have happened to their child. If their child was taped to a chair, getting slapped in the face with a piece of cheese, or being scared with a mask."
"I don't think the cops were involved, because if they were involved, this would have been come out since years ago," Rasmussen added.
That guess appears to be right.
"We were made aware of the video on Friday and will conduct an investigation as soon as the center reopens," Louisiana Department of Education spokesperson Ted Beasley told KLFY this week. "They are temporarily closed until Aug. 4 due to staffing shortages."
Law&Crime reached out to the St. Landry Parish District Attorney's Office and the EPD for additional details on this story but no response was immediately forthcoming at the time of publication.
Have a tip we should know? [email protected]