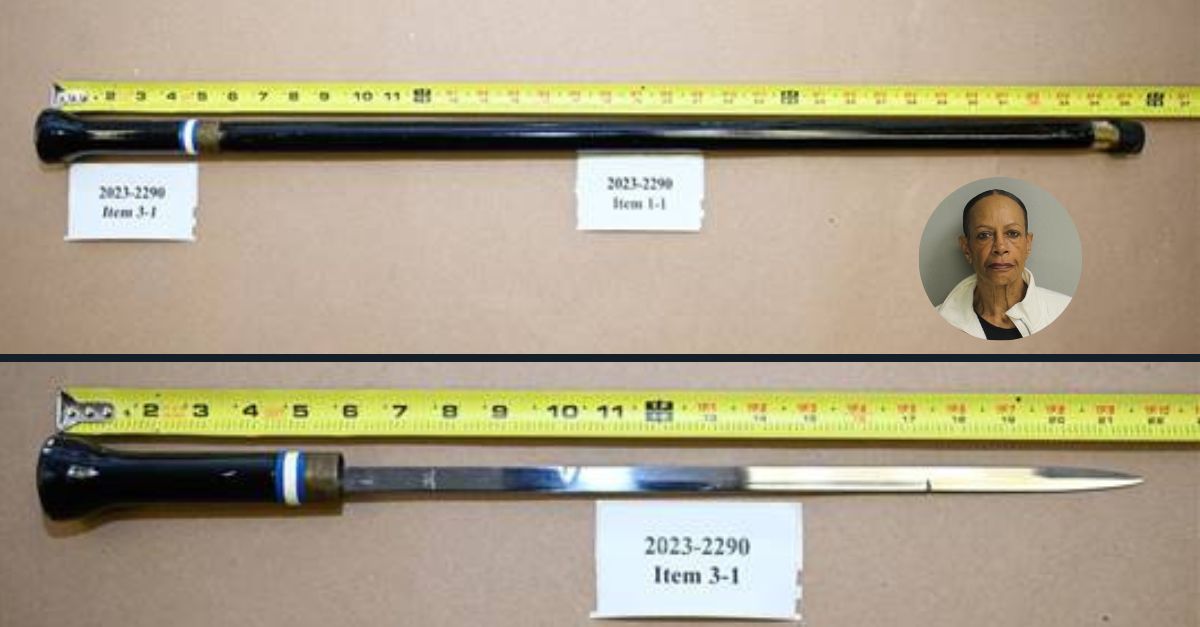 Renee DiPietro, 70, is accused of stabbing a man to death with a 16-inch blade that was concealed in a walking cane. (Montgomery County District Attorney's Office)
A 70-year-old Philadelphia woman who stabbed a man to death with a 16-inch blade hidden in her cane earlier this year can stand trial, a judge ruled.
The Mercury newspaper reported Friday that Montgomery County District Court Judge Todd N. Barnes determined that prosecutors presented sufficient evidence during the preliminary hearing to move the case forward to trial. An initial trial date will be scheduled Nov. 8.
Renee DiPietro is charged with third-degree murder, involuntary manslaughter and possession of an instrument of crime with intent, according to court records.
Testimony from a Montgomery County detective and surveillance footage from a nearby business that captured the alleged stabbing were key to the case moving forward. DiPietro's defense attorney tried to get the murder charge tossed for lack of evidence to no avail, The Mercury noted.
As Law&Crime previously reported, officers from the Lower Marion Township Police Department were called around 1:30 a.m. on June 10 for a stabbing at the intersection of Cricket Avenue and Cricket Terrace, an arrest affidavit obtained by Law & Crime said. They found a victim, Michael Thomas Sides, 31, bleeding profusely from his upper torso. He was rushed to the hospital where he died about an hour later.
Dan Rogers, one of Sides' friends, told detectives Sides was "sucker punched" earlier in the night by a mutual friend later identified as Jason DiPietro, the affidavit says. Sides said he was "going to seek [him] out." During the altercation, the victim was preventing Jason DiPietro from getting into a white car when his parents Renee and Michael DiPietro, got out out of the car, according to the affidavit.
Rogers saw Renee DiPietro "lunge" toward the victim, causing him to fall to the ground bleeding with what appeared to be a black cane that fell apart, the affidavit said. She then struck the victim while he was on the ground, detectives wrote.
"Rogers stated it was then apparent to him that the female stabbed the victim," the affidavit said. "Following the stabbing, Rogers stated the female was attempted to remove the license plate from the vehicle and the older white male, the female and Jason DiPietro departed from the scene in the white sedan, believed to be a Nissan."
The surveillance video also shows Renee DiPietro bending the license plate upward in an attempt to obscure any witnesses from identifying it, the charging document said.
A few hours later, detectives went to the DiPietro home in Philadelphia.
"It was self-defense, he came looking for trouble and he got it," Michael DiPietro said, according to the affidavit.
Renee DiPietro told detectives she got a call earlier in the night from her son who was "upset and crying" so she took her baseball bat and walking cane and, along with her husband, drove to his location. She told detectives when her son tried to get into a car a "big" man prevented him from doing so and was assaulting him, the affidavit said. She got out of her car to "defend her son" and said when the man came at her she "poked him" and he fell to the ground before driving away with her husband and son, detectives wrote.
Renee DiPietro is out of jail after posting her $50,000 bond, records show.
In his obituary, family described Sides as "a beautiful person who never saw the bad in anyone."
"He was a kind soul that loved animals and would take the jacket off his back for someone in need. Mike lived life to the fullest and would enjoy having a good conversation with anyone at any time. He is loved, and will be missed, by all that knew him, forever," the obituary said.
Read the affidavit, below.
Have a tip we should know? [email protected]