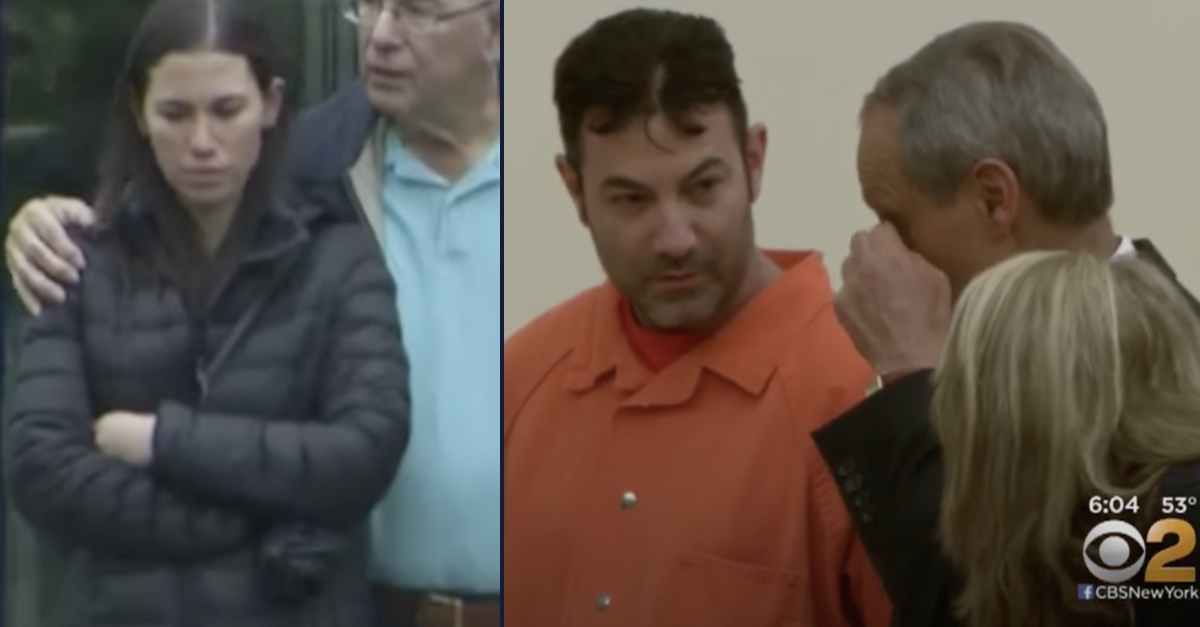 Jaclyn Goldberg (L) pictured in 2016 alongside her parents after her brother made bail in the initial criminal case against him, (R) Ira Bernstein appears in court (CBS New York/screengrab)
A New York podiatrist who served prison time for a murder-for-hire plot targeting his estranged wife now faces a civil lawsuit in Rockland County.
Susan Bernstein filed the lawsuit against Ira Bernstein, 49, the doctor's 40-year-old sister Jaclyn Goldberg, and Keane & Beane, the law firm that employs Goldberg as a partner.
According to the lawsuit, which raised 19 causes of action alleging negligent and intentional infliction of emotional distress, Ira Bernstein in March 2022 solicited Antonio Matias — a landscaper and witness for the state in an ongoing criminal case against defendants Bernstein and Goldberg — to plant drugs in Susan Bernstein's car and, months later, to "perform conduct that was intended to cause the death of Plaintiff."
The suit claimed that Goldberg and Bernstein "attempted to leverage a business," reportedly Dreamscapes, "in exchange for audio recording which confirmed the solicitation of the performance of conduct that would cause the death of Plaintiff Susan Bernstein."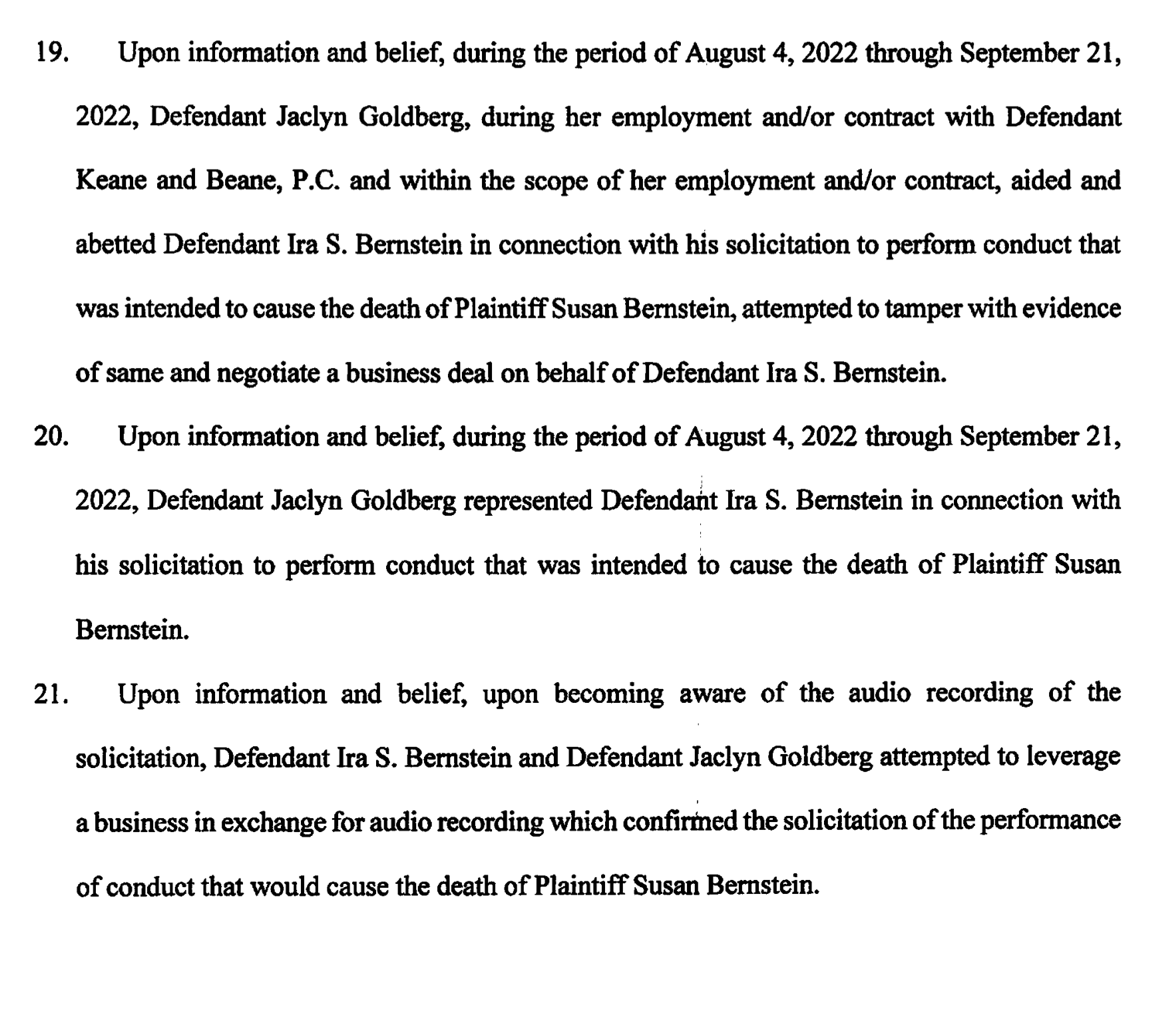 Notably, the Keane & Beane law firm and Goldberg represented Albert Bernstein — her father — against Matias and Dreamscapes in a civil case.
Susan Bernstein claimed that Goldberg engaged in "extreme and outrageous" behavior by allegedly seeking to destroy evidence of the plot rather than reporting such evidence to authorities.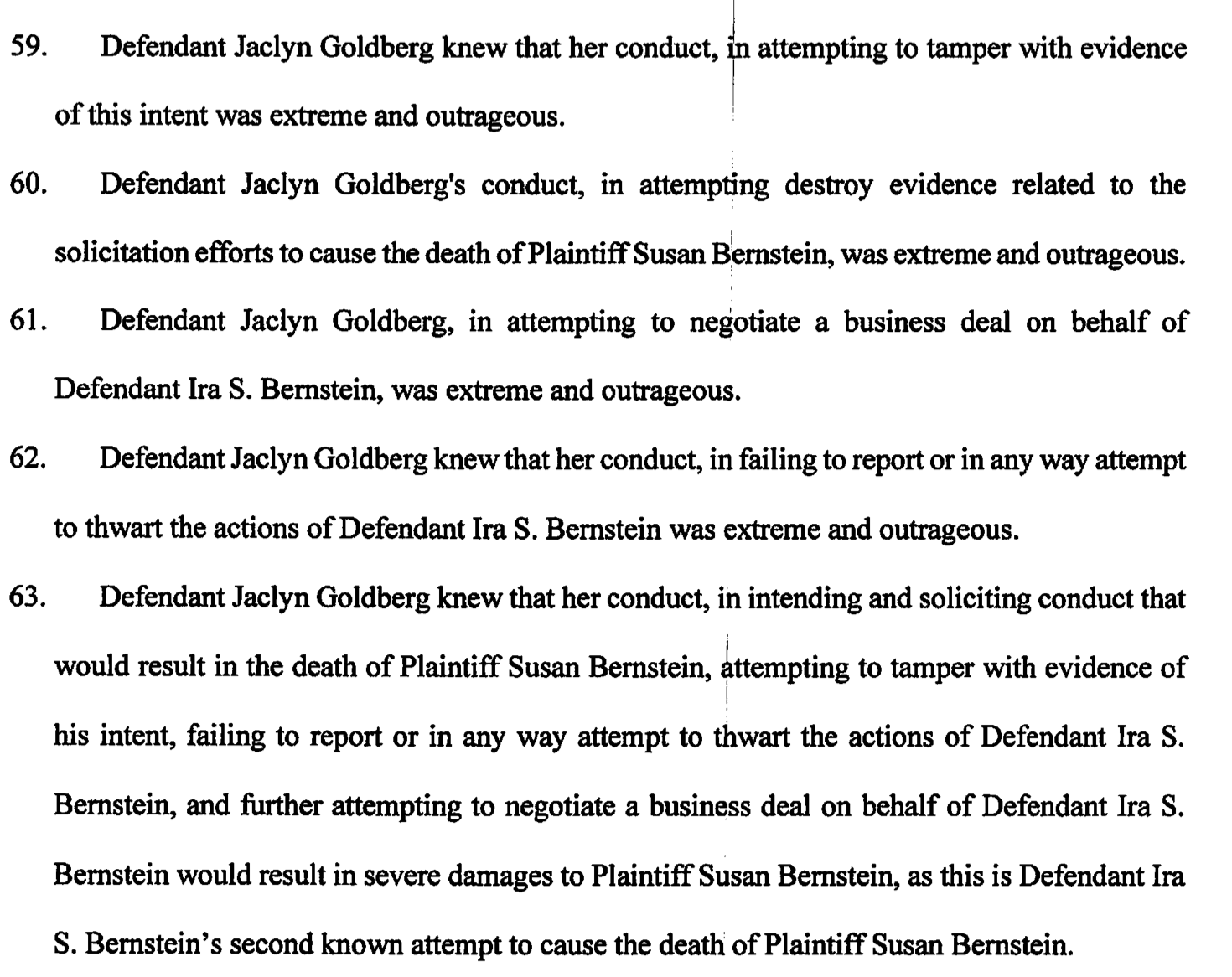 Susan Bernstein alleged that the firm was negligent in its hiring and retention of Goldberg as a partner, and more:
Defendant Keane and Beane, P.C., their agents servants and/or employees and each of them, were negligent, grossly negligent, reckless, wanton and careless in failing to supervise with reasonable care; in failing to adopt proper policies, procedures and protocols; in failing to follow proper and adequate policies, procedures and protocols to ensure the proper and adequate supervision of their employees; in failing to warn; in failing to remove or otherwise address the dangerous conditions existing therein; in failing to take those steps necessary to avoid the contingency which occurred herein; in failing to use that degree of caution, prudence and care which was reasonable and proper under the controlling circumstances; in hiring inept, inadequate, dangerous and/or incompetent employee; in acting with the reckless disregard for the safety of others in taking no steps, on and prior to the incident complained of herein, to prevent the conduct of Defendant Jaclyn Goldberg; in failing to take actions to stop, remedy or alleviate the foregoing conduct in any manner did ratify same; in failing to take any actions to prevent the conduct of Defendant Jaclyn Goldberg, and/or in ratifying same, and the defendants, their agents, servants and/or employee were in other ways negligent.
Law&Crime sought comment from Keane & Beane through their principal member Lance Klein, listed on the firm's site as the contact for media inquiries (Klein was also one of the attorneys listed on the Keane & Beane suit against Matias).
The Rockland/Westchester Journal News, which first reported the existence of the late July lawsuit on Tuesday, said that Keane & Beane released a statement in support of Goldberg and in defense of the firm.
"Based on our experience representing clients, we often come across lawsuit complaints loaded with allegations but short on facts," the statement reportedly said. "While we understand the difficult situation involving Ms. Bernstein, we deny her charges and any attempt to bring us into this matter will be met with a vigorous defense of our firm and its sterling reputation."
"Jaclyn deserves the full measure of presumed innocence concerning the charges filed by the Rockland County DA and the allegations set forth in Ms. Bernstein's newly filed civil lawsuit," the reported statement continued. "She has requested time to address this difficult and unexpected situation, and she has the support of our firm."
The statement reportedly added that the firm had not yet been served the lawsuit.
Ira Berstein and Goldberg were indicted months ago in connection with a second alleged attempt by Bernstein to solicit a hitman. As Law&Crime reported previously, Ira Bernstein exited New York state prison in 2021 and allegedly proceeded to plot against Susan Bernstein's life — again.
An initial 2016 conspiracy case against Ira Bernstein and Kelly Gribeluk, 42, ended in 2017 with the lovers' imprisonment. That same year, Bernstein and Gribeluk, a former mortician-turned-orthotics saleswoman and mother of three young boys, spoke out about how she and the father of three fell for one another.
"She completely understood me," Ira Bernstein told NBC's Dateline. "Like, I found someone who actually got me — and she has a sexy kind of look to her."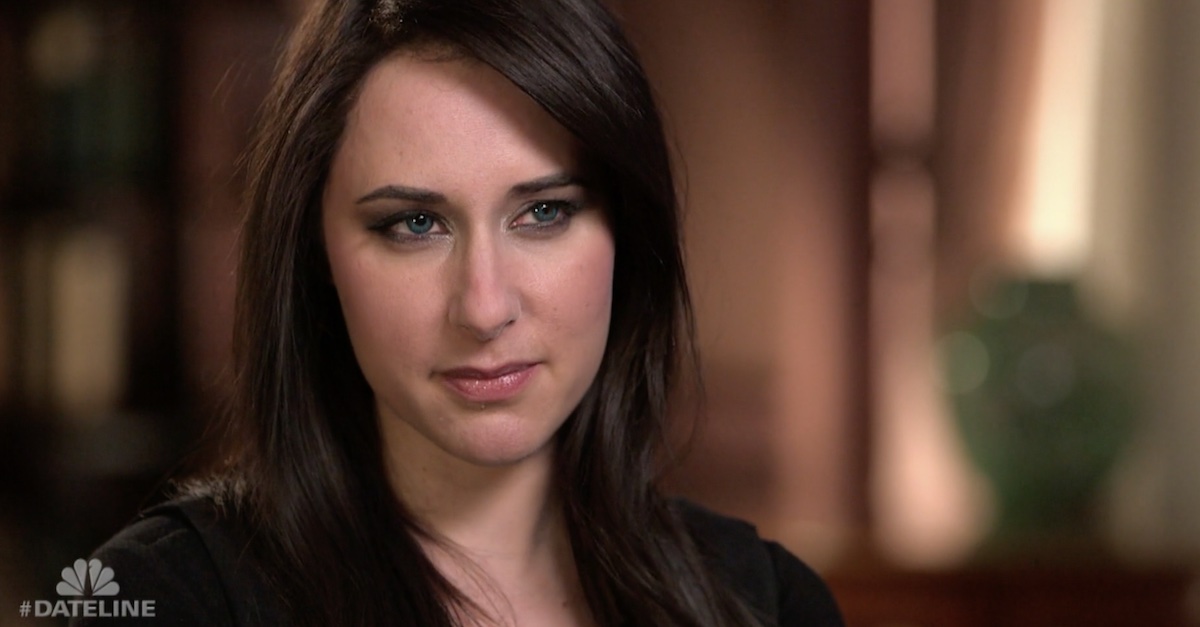 Kelly Gribeluk (NBC Dateline screengrab)
Asked during the Dateline interview if they were physically attracted to one another, Gribeluk replied, "Of course."
She said that the doctor had opened up about his separation and ongoing divorce from Susan Bernstein and the two found they had relationship trauma in common.
"I wanted them to do what was best for their family," Gribeluk said.
Instead, Gribeluk approached a car salesman who once sold her a vehicle to help find a potential hitman who would be paid to kill Susan Bernstein. Kelly was sentenced to four to 12 years for that crime, while Ira was sentenced to five to 15 years behind bars. Both were paroled in 2021, however, New York Department of Corrections records show.
In early June, the office of Rockland County District Attorney Thomas E. Walsh II alleged that Bernstein — "From July 29, 2022 through September 21, 2022" — "solicited the murder of his wife Susan Bernstein and subsequently conspired to destroy evidence of the solicitation with his sister, Jaclyn Goldberg."
New York court records show that Bernstein and Goldberg both appeared in court on June 1 and pleaded not guilty to all charges.
Bernstein is charged with second-degree criminal solicitation, tampering with physical evidence, fourth-degree criminal solicitation, and fifth-degree conspiracy. Goldberg is accused of tampering with physical evidence, third-degree hindering prosecution, and fifth-degree conspiracy.
Both defendants currently have a conference scheduled for the afternoon of Sept. 29 in Judge Robert J. Prisco's Rockland County courtroom. A July 7 conference was adjourned and a Sept. 1 conference was pushed to the end of that month.
Have a tip we should know? [email protected]