An Alabama woman was threatened with legal action by a big-box retailer after a trip to the neighborhood Walmart had gone wrong. Eventually, there was a legal case, and many years after the incident unfolded the woman was the one awarded $2.1 million, much to the astonishment of the superstore!
According to a complaint that would be filed years later, in November 2016, Lesleigh Nurse of Semmes, Alabama, had no idea that she would later be jailed on suspicion of shoplifting groceries. The nurse never had imagined what she would end up with.
Lesleigh requested employee assistance because the barcode scanner she was using allegedly froze while self-checking out in a local Walmart together with her husband Ed and three children. However, an asset protection manager stopped Lesleigh as she was leaving the store after she thought she was done and had paid.
"I remember going in that little room and I was like, 'This will be resolved, this was an accident, this wasn't on purpose," she said.
She was accused and even arrested on warrants for shoplifting $48 worth of groceries – 11 items total, including Christmas lights, a loaf of bread, and Captain Crunch cereal. At one point, when she tried to explain to workers that "she had used the self-service checkout, but that the scanner froze and an employee had helped her," they refused to believe her and she was arrested for shoplifting.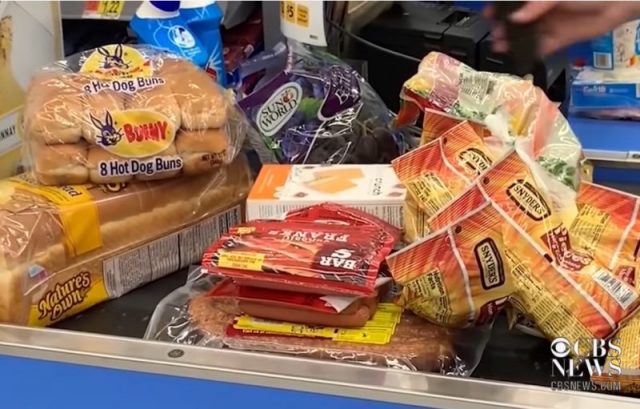 Lesleigh Nurse was brought into custody after being accused of shoplifting; however, the criminal charge was withdrawn when no one from Walmart appeared in court. The case against Nurse was dropped a year later, however as they thought it was over, Lesleigh continued to receive letters from a Florida law firm, Palmer Reifler which was tapped by the superstore to threaten the mother-of-three with a civil suit unless she paid $200 which was more than the value of the alleged "stolen goods."
But things weren't finished yet, the firm didn't stop bombarding Lesleigh with their alleged suit even though the criminal charges were dropped, the superstore allegedly instructed the law firm to still deliver the letters, leading Lesleigh to ultimately take action herself and refused to comply, and maintain her innocence.
Lesleigh filed a complaint against Walmart, claiming that she was wrongfully accused and detained. She claimed that the criminal accusation had already damaged her reputation, prevented her from earning a living, and caused her to continue to receive demand letters from a law firm connected to Walmart.
"At first you think, 'Well, I'll pay it and it will all go away, but then I'm like I didn't do anything wrong. Why would I pay for something I didn't do?" Lesleigh recalled.

In the lawsuit, Nurse alleged that "The defendants have engaged in a pattern and practice of falsely accusing innocent Alabama citizens of shoplifting and thereafter attempting to collect money from the innocently accused."
Walmart was accused of "abuse of process" in the complaint [Lesleigh] Nurse brought against it, which refers to the use of criminal charges to increase the likelihood of a civil recovery. "Exactly, they prosecute her solely for the purpose of getting what they call civil recovery or money," said her attorney Vince Kilborn.
Walmart reported $559 billion in profits for the fiscal year 2021. The Walton family owns the publicly traded business, and founder Sam Walton's heirs hold a majority of the shares.
Lesleigh said that Walmart even refused to show her the surveillance video of her supposedly "stealing."
Walmart unjustly accused Lesleigh Nurse of stealing, and to Walmart's dismay, a Mobile County jury unanimously found in the woman's favor, awarding Lesleigh Nurse $2.1 million.
The big-box retailer received more bad news than just that. The case was expensive, but it also revealed Walmart's alleged "malpractice of using an obscure state law to collect millions of dollars from people who shoplifted from the store."
Watch the video below for more details:
Sources: Taphaps, The-sun, Nypost