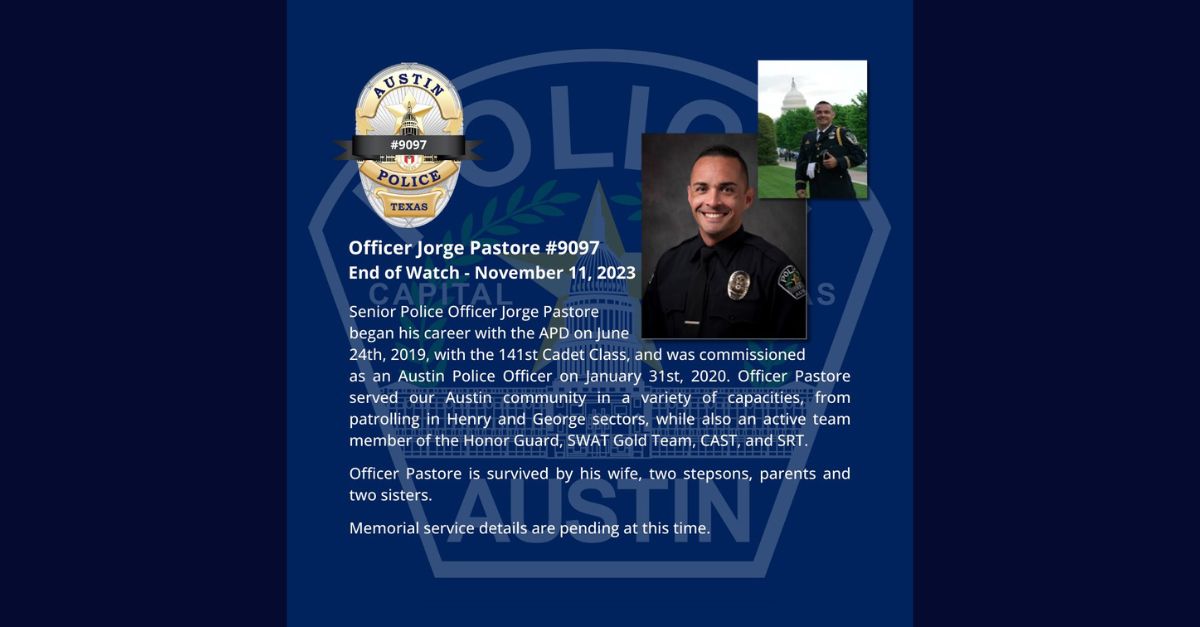 Special Police Officer Jorge Pastore of the Austin, Texas, Police Department was shot and killed during a shootout with a suspect who held two hostages at a home early Saturday. (Austin Police Department)
A suspect who had taken hostages opened fire on Austin, Texas, police officers early Saturday, killing one and injuring another in a shootout with SWAT. After the firefight stopped, police found the suspect shot to death and two people suffering "fatal injuries," authorities said.
Austin police Interim Chief Robin Henderson said during a press conference the incident began at 2:49 a.m. when a woman frantically called 911 to say someone was stabbing her at a home on the city's south side. Officers arrived a few minutes later and learned there were two hostages inside from a woman suffering from stab wounds who managed to escape. First responders took her to the hospital, where she is expected to survive.
After announcing themselves, the officers made forced entry into the home at 3 a.m. in an effort to rescue the hostages, Henderson said. They then were fired upon by the suspect. The officers, who were not injured and did not return fire, retreated and called SWAT.
SWAT barged into the home at 4:11 a.m. and the suspect once again started shooting. Two officers were hit. SWAT officers fired back and hit the suspect, according to Henderson. Paramedics rushed the officers to the hospital where one of them was listed in stable condition. But they could not save the other one, later identified as Senior Police Officer Jorge Pastore.
"I'd like to say this has been a very tragic day, a very tragic incident for all involved," Henderson said, fighting back tears throughout the press conference.
Police did not identify the two other victims nor state their relationship to the suspect, who also has not been named.
Henderson thanked all the officers and first responders who displayed "incredible bravery" as well as "the medical staff who treated our officers and worked so hard to save our officer's life."
"It's very much appreciated," she said.
Neighbors told the Austin-American Statesman that they were told to shelter in place.
Marion Hailey, who lives just behind the house where the shooting happened, told the newspaper several officers banged on her door.
"They said there's a gunman in the area, and we would like you to leave," Hailey said.
She said she changed quickly and put her cat in the garage before sitting in a police car for about three hours.
Henderson said Pastore joined the police academy in 2019 and became a full-time officer on Jan. 31, 2020. He was a patrol officer and a member of the honor guard and SWAT Gold Team, she said. He is survived by his wife, two stepsons, parents and two sisters.
Dennis Farris, a former Austin police officer and president of the Austin Police Retired Officers Association, told the American-Statesman Pastore had a "big personality."
"His whole career, his whole life was ahead of him," Farris said. "We truly are worse off today because he's not with us anymore. Austin has lost a true hero."
Condolences came in throughout Texas, including from Gov. Greg Abbott.
"We pray for this hero's family, the injured officer undergoing surgery, & the entire Austin Police Dept during this difficult time," he wrote on X, the website formally known as Twitter. "Texas owes a tremendous debt to those who protect & serve."
Have a tip we should know? [email protected]