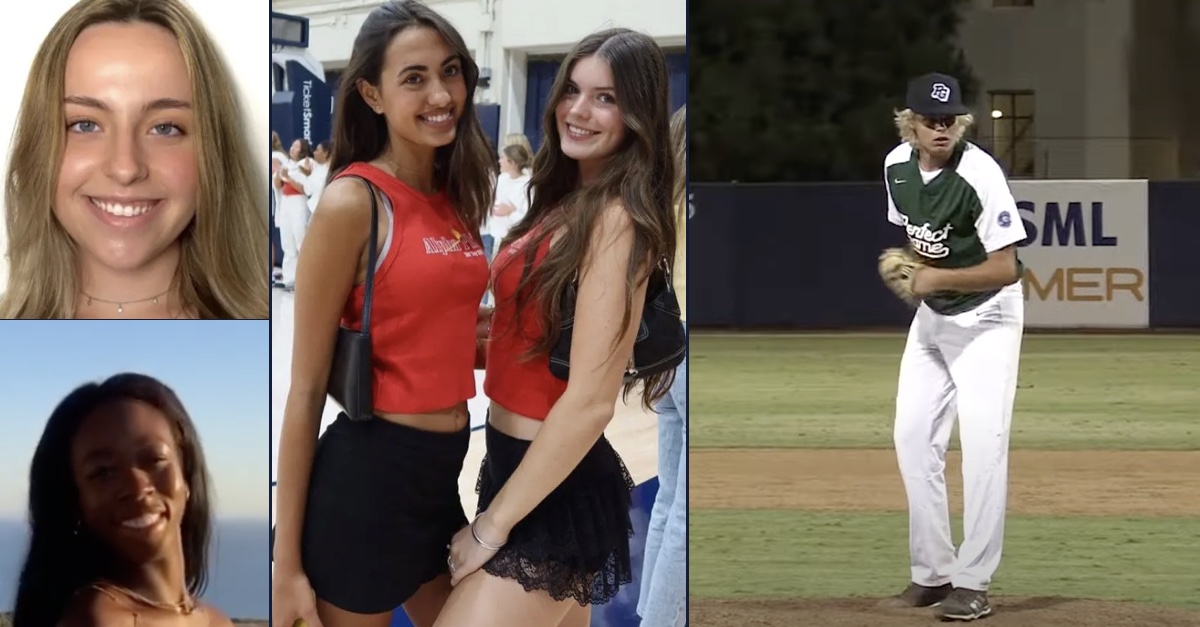 Peyton Stewart (top left) via LinkedIn; Deslyn Williams (bottom left) pictured from video on her Instagram @desyln.williams; (center) Asha Weir and Niamh Rolston pictured via Instagram/@niamhrolston; Fraser Michael Bohm (right) pitching in Perfect Game Underclass All American Games in August 2018 via YouTube/SkillShowVideos
The lives of four college seniors and sorority sisters were tragically cut short Tuesday night in Malibu, California, after a 22-year-old driver allegedly sped down Pacific Coast Highway in a BMW, "lost control of his vehicle," and crashed into the young women as they walked.
The Los Angeles County Sheriff's Department said at a press conference that Fraser Michael Bohm was arrested on suspicion of vehicular manslaughter with gross negligence following a preliminary investigation into the crash that rocked the Pepperdine University community and broke the hearts of multiple families.
The university, in a statement on the crash, identified the victims as Niamh Rolston, Peyton Stewart, Asha Weir, and Deslyn Williams, each a senior studying at Seaver College of Liberal Arts.
Pepperdine University President Jim Gash, a parent himself, called the student deaths "an unimaginable tragedy."
"No words can appropriately convey the depth of my sympathy to the families who are living through a reality no parent would ever want to endure. You are not alone. Pepperdine stands with you as you traverse these challenging waters," Gash said. "To the students who loved, lived with, and were in community with the departed members of our Pepperdine family, my heart is broken with yours. I join you in your grief as we process this profound loss."
More Law&Crime coverage: Bodycam shows deadly aftermath of ex-NFL star's DUI crash that killed woman and her dog
According to authorities, the crash occurred around 8:30 p.m. on Tuesday in the 21600 block of Pacific Coast Highway and the victims died at the scene. Los Angeles Sheriff's Department Capt. Jennifer Seetoo said at a Tuesday press conference that Bohm was traveling westbound when he "lost control of his vehicle and swerved towards the shoulder of the north side of Pacific Coast Highway," hit three parked vehicles, then struck and killed Rolston, Stewart, Weir, and Williams.
"The suspect was arrested for vehicular manslaughter with gross negligence," the captain said. "The identity of the deceased will be released by the coroner's office once the identities have been determined."
Seetoo pleaded with the community and elected officials to prevent more fatal tragedies on Pacific Coast Highway, saying "Too many people on this stretch of the highway […] have been killed."
"We have to look at law enforcement differently. We have got to change with the times," the captain said. "That's my call to action, to the community. Let's partner together to save lives. Elected officials, I need your help. Let's partner together and save lives."
Video from the crash scene KTLA showed the suspect seated during an apparent sobriety test.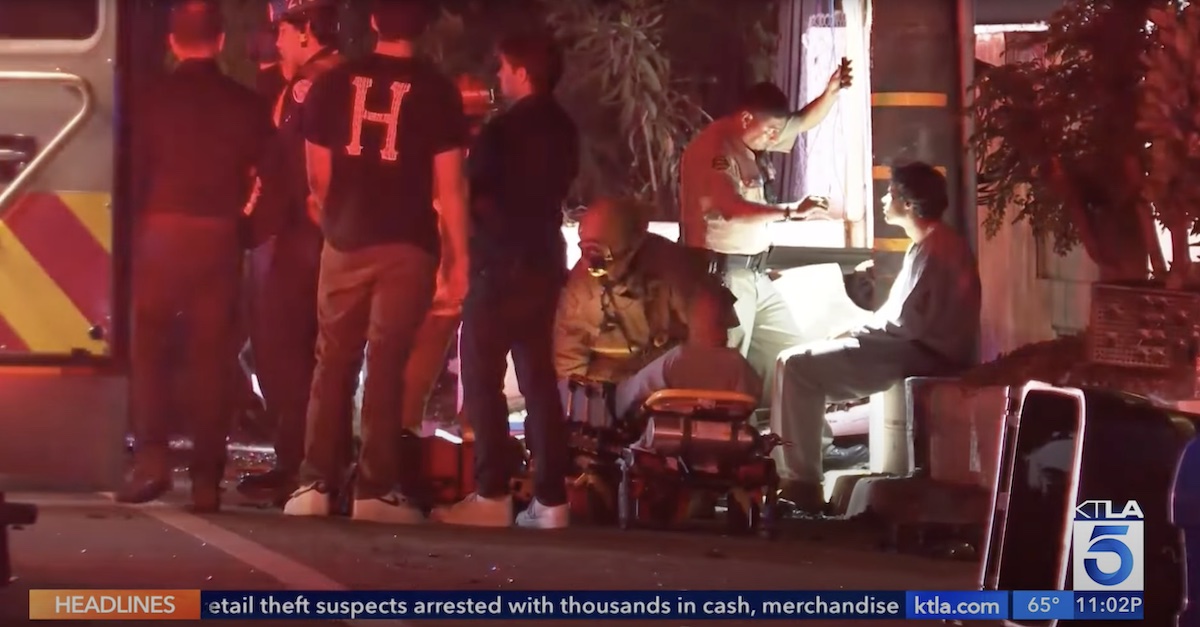 Fraser Bohm investigated by authorities after crash (KTLA/screengrab)
Law enforcement said at the ensuing press conference, however, that Bohm is out of jail custody — and LASD booking records at the Malibu/Lost Hills Sheriff's Station reflect this.
Those jail records show that Bohm was booked in a felony case at 2:30 a.m. Wednesday on $50,000 bail and released at 7:20 a.m. the same day pending further investigation. The cited reason for the release was 849(b)(1).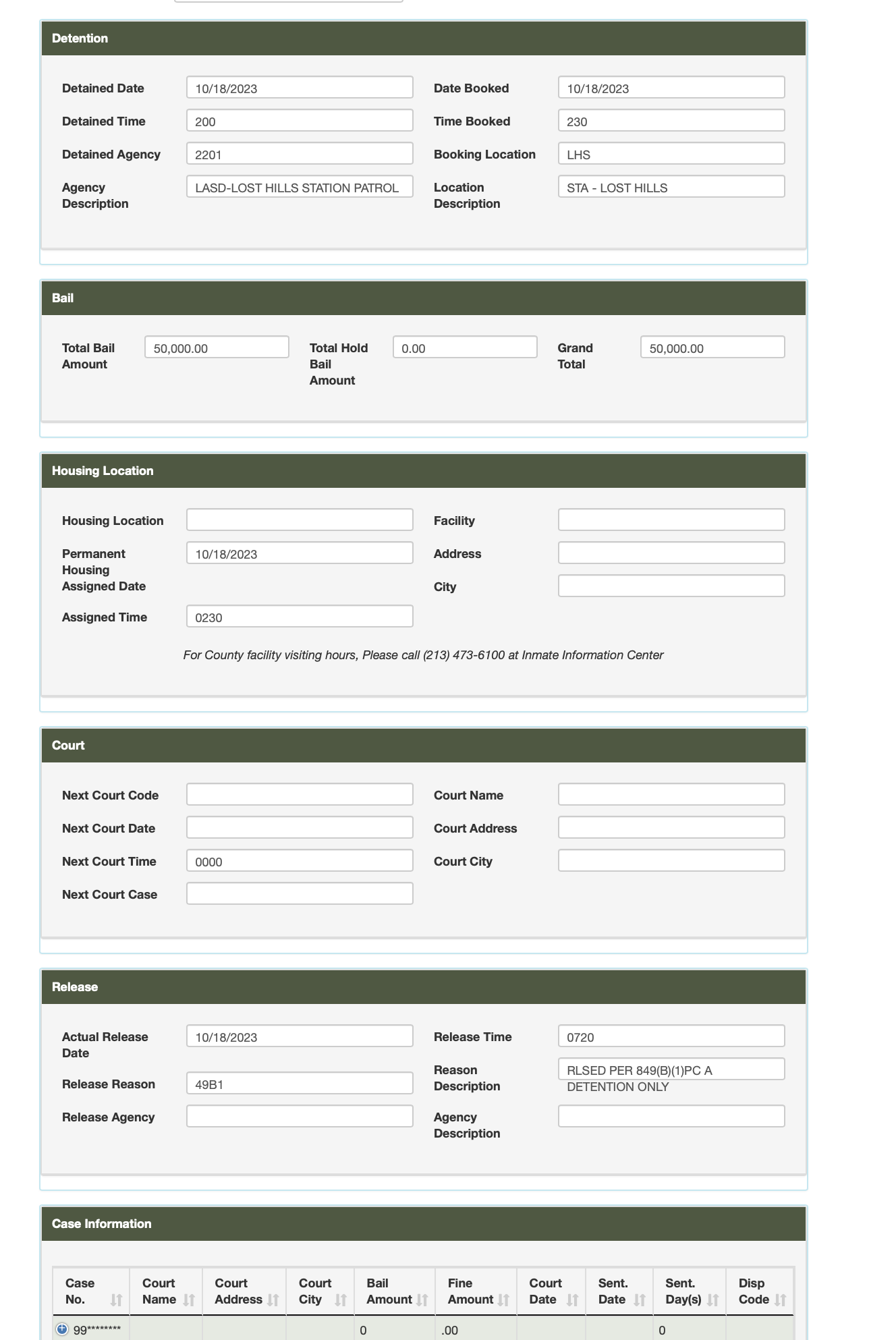 That part of the California Penal Code focuses on the arrest of individuals without a warrant as follows:
A peace officer may release from custody, instead of taking the person before a magistrate, a person arrested without a warrant in the following circumstances:

(1) The officer is satisfied that there are insufficient grounds for making a criminal complaint against the person arrested.
"In this time of immeasurable grief and heartache, we stand together as a community and turn to our faith and each other to find hope and healing in the midst of this tragedy," Pepperdine University said in a statement. "Each departed student brought a unique gift and spirit to the University, and we deeply grieve the unfulfilled hopes and aspirations of our precious community members."
Fraser Bohm, of Malibu, was a baseball player at Oaks Christian High School and pitched in the 2018 Perfect Game Underclass All-American Games.
Perfect Game's website notes its mission is to host the "highest quality amateur events while providing meaningful opportunities and information to players, families, MLB organizations, college coaches, and fans."
Have a tip we should know? [email protected]