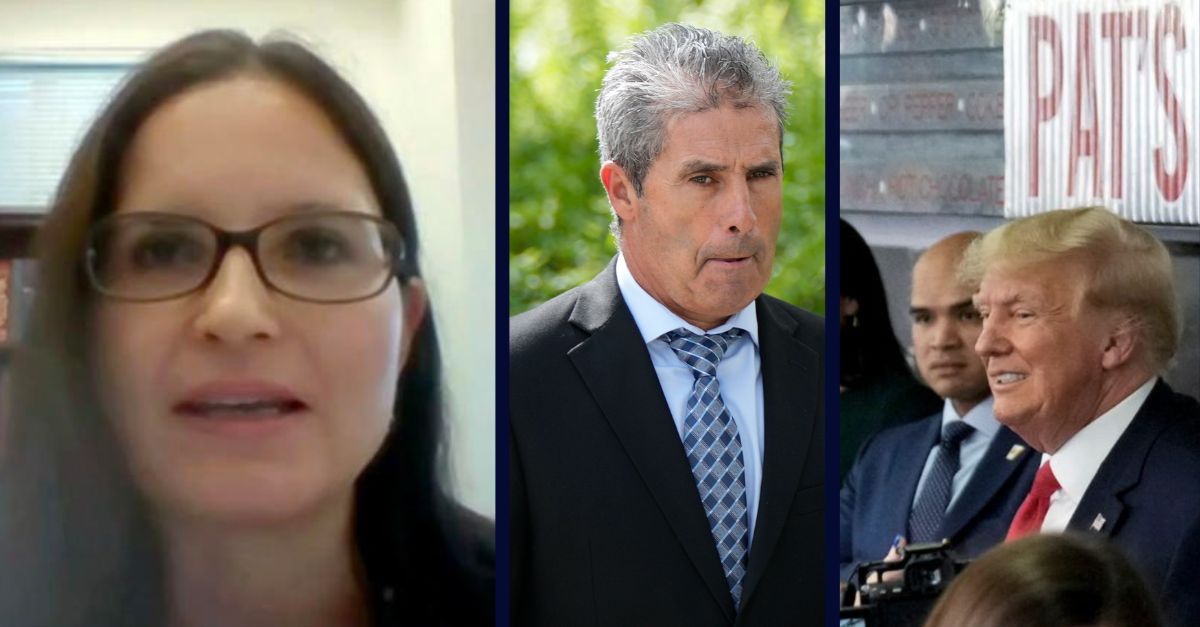 Judge Aileen Cannon; Carlos de Oliveira; Waltine Nauta; and Donald Trump. (U.S. Senate; AP Photo/Rebecca Blackwell; U.S. Department of Justice)
The judge overseeing the Mar-a-Lago classified documents case set two special hearings for two co-defendants not named Donald Trump – at the request of special counsel Jack Smith.
In a paperless order released on the Southern District of Florida docket on Monday morning, U.S. District Judge Aileen Cannon, who was appointed to the bench by the 45th president, set so-called "Garcia hearings" for Waltine Nauta, 41, and Carlos de Oliveira, 56.
Such hearings are an aspect of federal criminal procedure intended to make sure defendants represented by the same attorney in the same case are aware of their rights – specifically the potential conflict of interest that comes with sharing a lawyer under such circumstances.
The principle, and the name, come from a 1975 Fifth Circuit Court of Appeals case that allows defendants to acknowledge the inherently problematic nature of shared representation – after consulting and discussing with a judge – and maintain the lawyer of their choosing. The criminal procedure hearing is considered both a waiver and vindication of various 6th Amendment rights to counsel.
Nauta and De Oliveira, however, are not represented by the same attorneys in the Espionage Act case against them.
Nauta, Trump's longtime butler, is represented by Sasha Dadan and Stanley E. Woodward. De Oliveira, Mar-a-Lago's property manager, is represented by Larry Donald Murrell, Jr., and John S. Irving.
Rather, in two separate motions, Smith said Woodward previously or currently represents three people the government intends to call as witnesses in the upcoming trial, and that Irving currently represents three people the government intends to call as witnesses.
Under the rules laid out by Cannon, "De Oliveira and Nauta, associated defense counsel, and attorneys for the Office of Special Counsel must be present," but potential witnesses cited in the special counsel's two separate motions for Garcia hearings do not have to appear.
"The Office of Special Counsel shall be prepared to articulate the nature and scope of the potential conflicts identified," Cannon's order continues. "Defendants shall be prepared to respond. At its discretion, the Court may elect to hold a portion of each hearing sealed and ex parte to protect privileged communications."
Smith had requested that most of the individuals – who are variously identified as Witness 1, Witness 2, Trump Employee 3, and Trump Employee 4 – cited as would-be witnesses appear for the Garcia hearings as well. That request was denied without prejudice.
It is unclear how many potential witnesses are impacted by the issues raised in the government's two motions – due to the naming conventions and how they are referred to in each filing. That's unlikely to change.
"References during the hearing to the identified potential witnesses are to be made in accordance with the witness designations as stated in the Motions," Cannon's Monday order continues.
The government's motions shed a small amount of light on some of the individuals they raised red flags about.
"Trump Employee 3 told Nauta that Trump wanted to speak with him (Nauta), and Nauta abruptly changed his travel schedule to fly to Florida, where he coordinated with De Oliveira to approach Trump Employee 4 about deleting the Mar-a-Lago security footage," the motion related to De Oliveira alleges.
"Witness 1 was a maintenance worker at Mar-a-Lago who served as head of maintenance before De Oliveira took over that position in January 2022," the De Oliveira motion goes on. "Witness 3 worked as a receptionist and assistant for Trump during and after his presidency. Witness 3 has information about the movement of boxes from the White House to Mar-a-Lago and their eventual placement in the storage room."
At least one could-be-called individual is described similarly.
"Witness 1 worked in the White House during Trump's presidency and then subsequently worked for Trump's post-presidential office in Florida," the Nauta motion reads. "Witness 2 worked for Trump's reelection campaign and worked for Trump's political action committee after Trump's presidency ended."
Nauta was originally indicted alongside Trump and currently stands accused of 14 counts – he was originally charged with six counts. Eight other counts were added later on. De Oliveira was indicted on four counts in a superseding indictment filed in late July.
The hearings are scheduled for the afternoon of Oct. 12 – spaced two hours apart at 1:00 p.m. and 3:00 p.m.
Both government motions are available below:
Have a tip we should know? [email protected]