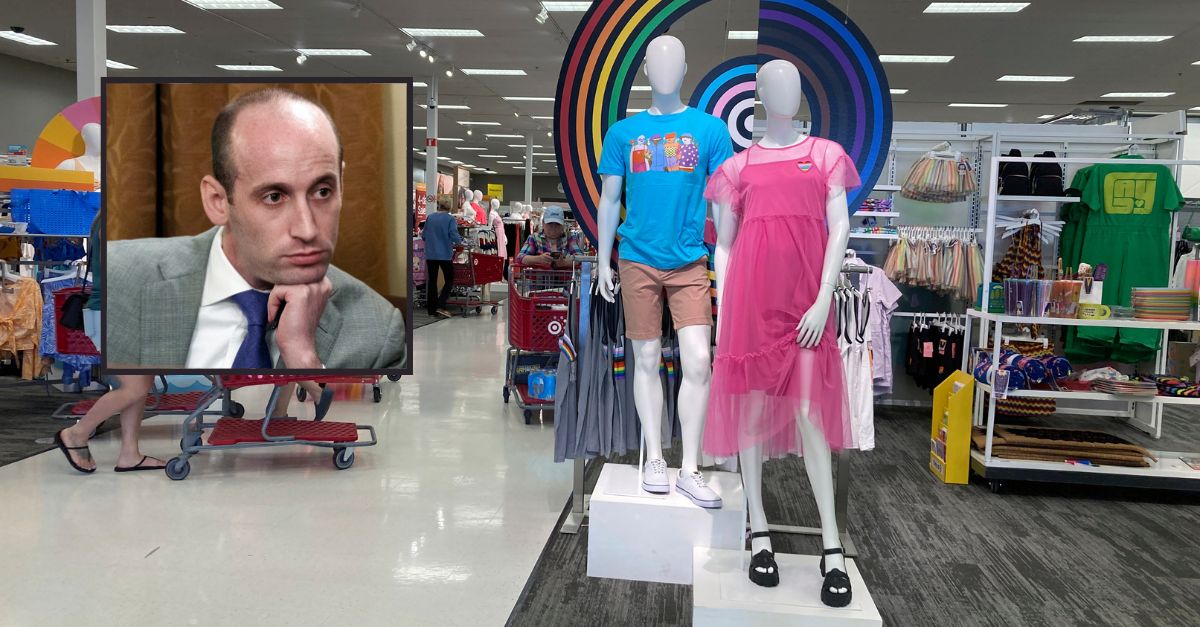 A Pride month merchandise display is at the front of a Target store in Dickson City, Pennsylvania, on Friday, May 26, 2023. (AP Photo/Ted Shaffrey). Inset: FILE – White House senior adviser Stephen Miller listens as President Donald Trump speaks during a cabinet meeting at the White House in Washington, June 21, 2018. (AP Photo/Evan Vucci, File)
A legal group headed by longtime conservative Donald Trump ally and adviser Stephen Miller has filed a lawsuit against Target over a drop in the company's stock price that allegedly stemmed from anti-LGBTQ boycotts.
In a complaint filed Aug. 8 — months after saber-rattling from a red-state governor over Target's June displays in support of Pride month — the conservative America First Legal law firm accuses the superstore of misleading investors and stockholders as to its risk assessment of potential backlash and boycotts over the company's support of inclusivity efforts regarding LGBTQ employees and shoppers.
The defendant "betrayed both Target's core customer base of working families and its investors by making false and misleading statements concerning Target's Environmental, Social and Governance (ESG) and Diversity, Equity, and Inclusion (DEI) mandates that led to its disastrous 2023 children-and-family themed LGBTPride campaign," the complaint says.
The plaintiff is a shareholder named Brian Craig, who says he lost thousands in Target stock value between April 2022 and June 2023.
According to the complaint, Target issued "proxy statements that falsely and misleadingly stated that Target's Board and its committees (i) oversaw social and political issues and risks arising from Target's pursuit of ESG and DEI mandates, (ii) adopted Target's ESG and DEI mandates in order to advance shareholders' pecuniary interests in the value of Target's stock, and (iii) proposed executive compensation plans that were aligned with shareholders' pecuniary interests in the value of Target's stock."
"These false and misleading statements caused Target's shareholders to unknowingly support Target's Board and management in their misuse of investor funds to serve its divisive political and social goals — and ultimately lose billions," the complaint says.
The complaint also accuses the billion-dollar company of having a left-wing political agenda and tricking shareholders into supporting that agenda.
"Target portrays itself as the store of working families," the complaint says (citations omitted). "But as Target's formerly loyal customer base now recognizes, Target's Board and management for years spent Target's valuable financial and reputational capital on the pursuit of ESG and DEI mandates behind the facade of Target's classic middle-class brand—all the while falsely and misleadingly portraying the risks of its strategy to Target's shareholders in order to secure its re-election and insulate itself from accountability."
The complaint says that Target's Board of Directors only considered the potential drawbacks of not going far enough in inclusivity and equity efforts, but not the potential financial fallout from a backlash.
"Even if these 'stakeholder'-driven risks could be defined as 'social and political' risks to ESG and DEI mandates, the Board still misrepresented its oversight because the Board monitored only one side — i.e., whether it would face backlash from having too little ESG and DEI, and not whether its divisive ESG and DEI mandates would create social and political risk, such as customer backlash," the complaint says. "Defendants knew their ESG and DEI mandates were a double-edged sword that risked backlash. After all, Target itself experienced significant backlash from its customers after Target became the face of corporate opposition to North Carolina's transgender bathroom law in 2016. Defendants knew companies like Walt Disney and Anheuser Busch experienced immense backlash to similar LGBT initiatives. Defendants knew that peer companies included the risk of backlash in their oversight of the social and political risks to their ESG and DEI mandates."
Citing examples of anti-diversity and anti-LGBTQ responses to several companies expressing support for gay, lesbian, and transgender people — including Bud Light, WalMart, Kohl's, and Cracker Barrel — the complaint says that Target "would have been on notice that Target faced risk of backlash because of Target's customer base of working and middle class families and Target's revenue share from stores located in culturally conservative areas."
As evidence of so-called "backlash" against inclusivity efforts, the lawsuit cites stories almost exclusively from conservative publications such as the National Review, the New York Post, the Wall Street Journal, and Fox News, as well as right-wing websites such as the Daily Caller, Epoch Times, and the Blaze.
Although the lawsuit was ostensibly about the store's displays supporting the LGBTQ community during Pride month, the complaint didn't miss the chance to lash out against Target's efforts to expand racial diversity and representation as well.
"In 2020, Target committed to an expressly race-based hiring plan by pledging to 'increase representation of Black team members across the Company by 20 percent' over three years through changes to its advancement, retention, and hiring plans,'" the lawsuit complains.
The lawsuit seeks a finding that Target violated federal securities law and a declaration voiding the 2023 election of the company's Board of Directors, as well as damages to Craig.
The case has been filed in federal court in the Middle District of Florida. U.S. District Judge John L. Badalamenti, a 2020 Trump appointee, is overseeing the case.
Target did not immediately respond to Law&Crime's request for comment.
Read the complaint, below.
Have a tip we should know? [email protected]