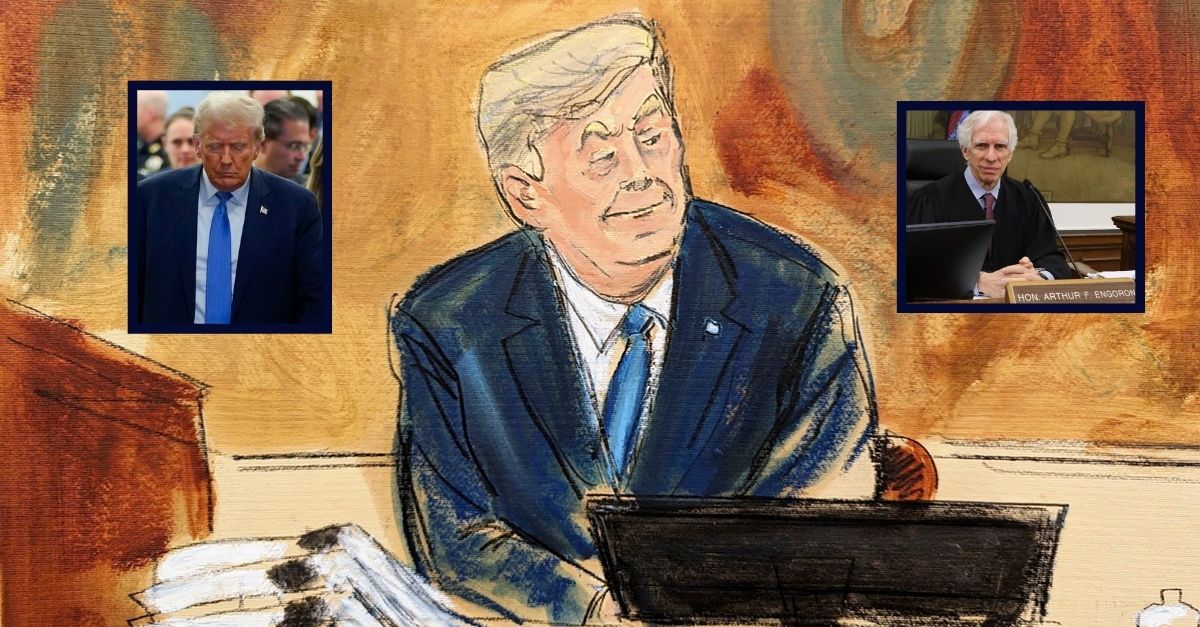 In this courtroom sketch, former President Donald Trump smiles as Justice Arthur Engoron overrules his attorney's objections to the questions by the Assistant Attorney General in New York Supreme Court, Monday, Nov. 6, 2023, in New York. (Elizabeth Williams via AP) Inset left: Trump walks out of the courtroom after testifying. (AP Photo/Eduardo Munoz Alvarez) Inset right: Engoron presides over the trial (Jefferson Siegel/The New York Times via AP, Pool)
Former president Donald Trump took the witness stand on Monday in his ongoing New York civil fraud trial to answer a series of questions about fraudulent financial documents filed over the course of several years in order to keep his namesake business empire humming and flush with cash. During the course of his testimony, Trump frequently took the opportunity to offer his own opinions about the case.
Trump's Monday appearance before the New York State Supreme Court in Manhattan marks his second time in the witness box during the proceedings being overseen by Justice Arthur Engoron. In late October, Trump was asked to testify about prior comments he made on social media about the judge's law clerk. After offering an excuse, Engoron found the witness "not credible" and warned him not to make such comments again.
Here are five takeaways from the 45th president's first foray into giving under-oath answers actually germane to the long-running lawsuit filed by New York Attorney General Letitia James.
1. The judge offered himself as a punching bag
Kevin Wallace led the questioning for the attorney general's office and early on gave Trump a lot of leeway to elaborate on his answers. But that leeway quickly led to a judicial upbraiding.
After one question, Trump downplayed the importance banks paid to his financial statements, saying bankers were typically more interested in securing the overall deals with the Trump Organization.
"They just weren't a very important element in a bank's decision-making process, and we'll explain this as this very crazy trial goes along," the witness said, according to a courtroom report by MSNBC legal analyst Lisa Rubin.
In response to the characterization of the trial, Engoron told Trump not to give speeches during his answers. In response to that, Trump's attorney Christopher Kise complained that the questions were open-ended and arguably called for a narrative response.
After moving on to one of the specific contested financial statements, Trump acknowledged the document in question assigns responsibility for its accuracy to himself – but said if there were any issues, they would have or should have been caught by his accounting firm. Asked further to explain what, if anything, he personally did to ensure the accuracy of such documents in accordance with generally accepted accounting principles, Trump began to speechify again.
Remarking that the financial statements were signed off on too long ago for him to remember, the witness complained that the vintage of those forms also brings them well outside the statute of limitations. Then, he criticized the judge directly, saying: "I'm sure the judge will rule against me because he always rules against me," according to a courtroom report by The Messenger's Adam Klasfeld.
In response, Engoron said it was not true that he always rules against Trump, asked Kise if the criticism was necessary, and then spoke to Trump directly: "You can attack me – you can do whatever you want. But please just answer the questions."
2. The witness concedes the valuations were off
The crux of the matter before the court are inflated valuations of properties owned by Trump and the Trump Organization. In late September, buoyed by thousands of pages of exhibits filed by the attorney general's office, Engoron determined that many financial statements filed by Trump and his family's business empire were fraudulent – deciding a motion of summary judgment in the state's favor.
Several ancillary issues, however, remain – including the amount of the disgorgement, or fine, that the Trump Organization must pay – along with various other potential penalties. And, key to many of the extant legal issues left for the court to determine is the intent and culpability of other named defendants. In other words, the judge is currently assessing who, exactly, was responsible for the fraud – and, the extent to which that fraud was willingly committed in violation of New York State law governing for-profit organizations.
Trump, for his part, conceded that several valuations were incorrect – in both directions – but insisted those weren't material to the deals he was making and, in any event, couldn't be considered fraud.
"Do you remember thinking some of those valuations were off?" Wallace asked the witness.
In response, he said, Mar-a-Lago was "very underestimated." He added that he personally felt his properties on 40 Wall Street and a golf course in Miami were also undervalued but didn't raise an issue with how those values were reflected on the documents because he "didn't care."
Trump also replied that in his opinion, an apartment in the Trump Tower in Manhattan was overvalued, but that it only takes one person to pay the asking price and buy it for the value to be valid.
"I think I was certainly more expert than anyone else, so if somebody would ask me or if I had an opinion, I would give it," he reportedly said.
3. The judge snapped at Trump and his attorneys – and Trump's attorneys snapped back
As for opinions, Trump had a lot to share on the stand – eventually annoying the court by giving longwinded answers to yes-or-no questions.
In response to one question, Trump gave a sarcastic caricature of the attorney general's case against him. That answer was stricken.
Judge Engoron then recommended: "Mr. Kise, can you control your client? This is not a political rally…Maybe you should have a talk with him right now."
Eventually, Kise threw up his hands and replied: "You're in control of the courtroom, not me."
While giving another opinion about his own business acumen, Trump ran over questioning by Wallace and continued to boast about his property management techniques at one Fifth Avenue location in particular. That didn't sit well with Engoron. The judge attempted to interject by saying "excuse me." Trump then told the judge to "hold on" and continued discussing his capitalistic savvy.
Finally, the judge had enough.
Addressing Kise, Engoron instructed the defense attorney to "control your witness" and threatened to dismiss Trump from the stand and, instead, "draw every negative inference" from his absence.
"I beseech you to control him," the judge added.
Kise urged the court against such a course of action.
"I'd urge the court to take in all information possible," Trump's attorney reportedly replied. "You have on the stand a candidate for president of the United States; the most efficient way to get through this is to listen to what he has to say…about what happened and why there's no intent to mislead anyone. I believe that's highly relevant and highly probative."
Another Trump attorney, Alina Habba, then spoke up, somewhat more aggressively defending her client, advising the judge that if the state wants better responses from the witness, they shouldn't ask open-ended questions.
"We are not here to hear what he has to say," Engoron explained. "We are here to listen to him answer questions."
Habba took direct issue with that, telling the judge: "Yes, you are here to listen to what he has to say."
In response, the judge shouted at Habba and told her to sit down – before telling the state to proceed with questioning the witness.
4. Trump complained about the judge's work – and then posted about it
"This is a very unfair trial," the witness said after his lawyer was shouted down by the court. "Very, very unfair, and I hope the public is watching it."
And, during a recess, Trump made sure to highlight the blowup between Habba and Engoron.
In a post on Truth Social, a conservative social media outlet owned by the former president, Trump posted a meme containing an image of the judge and his remark about not wanting to hear what Trump "has to say."
Trump posted this partial quote over the recess.

The judge's fuller quotation is:

"I'm not here to hear what he has to say. He's here to answer questions" — with the clear implication that Trump isn't free to riff on anything to a captive audience. pic.twitter.com/upp8VqrJuL

— Adam Klasfeld (@KlasfeldReports) November 6, 2023
Trump, of course, has also been a voluble critic of James and her office. During his testimony, he opined that the attorney general was essentially targeting him in order to make a name for herself. In the process of this criticism, he suggested she had little personal knowledge of the ins and outs of New York real estate by questioning her basic grasp of geography.
"She doesn't know what 40 Wall Street is worth," Trump said. "She doesn't even know where 40 Wall Street is."
During the lunch recess, James made her own social media post in response to the courtroom antics in lower Manhattan on Monday.
Don't tell, I can see it from my office window. ???? https://t.co/Wl4RnztcQe

— NY AG James (@NewYorkStateAG) November 6, 2023
5. Trump wags his finger and highlights his wealth
A constant theme throughout the testimony provided by the ex-president and current presidential candidate on Monday was the idea that he was being targeted for political reasons.
In support of this argument, Trump repeatedly stressed the end results of what happened between banks and the Trump Organization: everybody made money.
Banks who lent Trump's business money "got all their money back" and loans were always "paid off in full," he testified.
"There was no loss of money," the witness reportedly said during questioning after the lunchtime recess. "They made a lot of money, and everyone is trying to figure out why you're doing it…I understand it. It's called 'politics.'"
Launching into another speech-in-miniature, Trump called Wallace and the state's case against him "a disgrace" and continued to muse about the political origins of the attorney general's complaint.
"It's election interference because you want to keep me in this courthouse all day long," he reportedly complained.
Prosecutors argue that the fraudulent documents were material, however, because the figures included in them often resulted in Trump receiving favorable interest rates on the loans.
"Everybody got their money in full, and now you're assuming the statements are phony," Trump said earlier on.
If anything, Trump testified, the statements of financial condition likely underestimated "how rich" the Trump Organization really was when they were filed
"I became president because of my brand," Trump reportedly said. "If I wanted to build up a statement because of my brand, all I would have to do is add brand value and my financial statement would be very very substantial."
Later on, Wallace repeatedly pressed the witness on various loan agreements that required him to provide "true and correct" financial statements – focusing on language that necessitated certain high-threshold cash reserves.
"The net worth of me was far greater than the financial statements," Trump reportedly said in response. "So I don't know what you're getting at."
Asked point blank, however, whether the financial statements inflated his assets, the witness returned to a favored defense. Trump argued that so-called "worthless clause" disclaimers – clauses that advise caution in interpreting financial data – render any financial misstatements less significant than the state is making them out to be.
Such disclaimers, the witness said, "go on forever."
Perhaps feeling left out from all of the prior drama, the state's attorney then got in a rare zinger of his own.
"That clause isn't the only thing that goes on forever," Wallace reportedly deadpanned.
Have a tip we should know? [email protected]