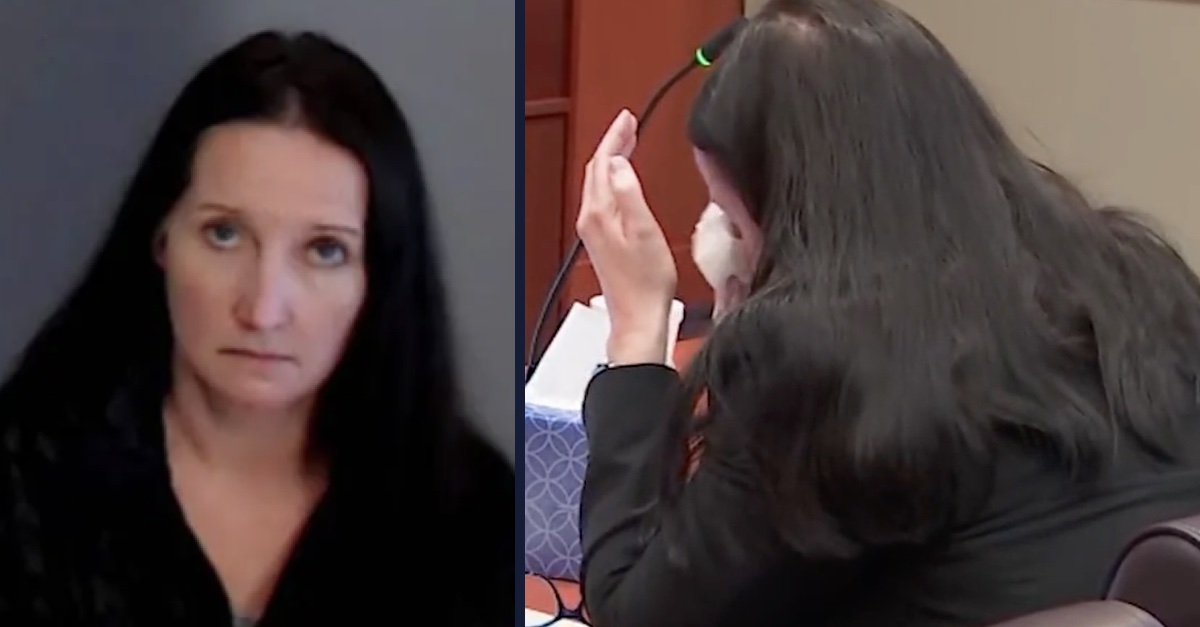 Amanda Hickey (L) in a Dunwoody Police Department mug shot and (R) wiping tears after watching surveillance video in prior court appearance (WAGA/screengrab)
A 48-year-old Georgia woman who ran a day care out of her house and left a 4-month-old baby face down in a Pack 'n Play, with fatal consequences, appeared in court Friday, admitted her guilt and was sentenced to serve three decades in prison.
Court documents reviewed by Law&Crime show that Amanda Harris Hickey entered an Alford plea to second-degree murder, resulting in 35 years of prison time, 30 of which will be served behind bars and the remaining five of which will be served on probation.
The DeKalb County District Attorney's Office specified that Hickey pleaded guilty on Sept. 22 to seven counts of first-degree cruelty to children, seven counts of reckless conduct, three counts of simple battery, and a count of second-degree cruelty to children.
"This is my legacy now," Hickey said in court while expressing "extreme sorrow" for the death of Charles "Charlie" Arrison Cronmiller and abuse of several other children that were in her care, according to the Atlanta Journal Constitution.
The defendant was sentenced by DeKalb County Superior Court Chief Judge LaTisha Dear Jackson.
Hickey was the owner of Little Lovey day care in Dunwoody on Feb. 3, 2021, when police and firefighters in Dekalb County responded that afternoon to a call about an unresponsive baby.
According to the Dunwoody Police Department, cops got to the scene "within minutes" and attempted to resuscitate the baby. Tragically, Charlie Cronmiller was pronounced dead at the hospital.
The baby's parents Stephanie and Eric Cronmiller have said that Charlie was their first-born son. Charlie started at the day care "just up the street from their house" so his mom could go back to work.
More Law&Crime coverage: Delaware Supreme Court upholds sentence of 19-year-old day care worker who murdered a child to 'release her anger' and 'stress' from hearing babies cry
"On February 3, 2021, Stephanie kissed Charlie goodbye on his soft chubby cheek as Eric left to drop him off," said the Charlie's Army website started in their baby's memory to protect other children. "That afternoon, the day care owner placed him down for his nap facedown, against recommended medical guidelines for infant sleep positions, leaving him in distress and unattended for more than 2 hours prior to being found unresponsive."
Hickey went on to face charges of second-degree murder, reckless conduct, and cruelty to children (9 counts) in the death of the 4-month-old boy and the abuse of several more babies, after additional incidents were discovered.
In one incident, Hickey alleged held a 7-month-old baby boy upside-down by one leg and then dropped him on his head into a Pack 'n Play. Next, she allegedly grabbed a 10-month-old by the baby's arm and similarly dropped the infant.
In a third incident, Hickey allegedly grabbed a 14-month-old girl "with a fist full of hair" and pulled her into a playpen. A fourth incident allegedly involved the then-day care operator shaking a 6-month-old twice and leaving the baby crying in a bouncer covered by a blanket.
When the defendant was questioned by cops about the baby who died, she told them that she put the baby "on his back" and claimed that the 4-month-old must have rolled over on his own. But a video, which Hickey watched in court and wiped tears from her eyes upon seeing, showed that the baby was left in the Pack 'n Play for two hours.
The defendant's lawyers attempted to argue that Hickey was not advised of her Miranda rights and was not told she had the "right to refuse to give to the Dunwoody Police Department the surveillance footage or her DVR," video of which proved to be damning for the defendant.
"Today's plea and sentencing put to rest what has been a painful chapter for the families who once trusted Amanda Hickey to watch over what they hold most dear, their children," DeKalb County DA Sherry Boston said in a statement. "While her decision to plead guilty to her crimes will not undo the harm she inflicted, it does spare these families the pain of re-living their worst days at trial. We appreciate the thoughtful sentence handed down by Judge Dear Jackson and hope it brings some measure of peace to everyone who has been impacted."
Have a tip we should know? [email protected]