The rolling prairies of Kansas hide many secrets from America's past, and perhaps one or two of our future. But perhaps the brainchild of former Government contractor Larry Hall bears a little exploration. The utilitarian preparation for the absolute worst-case scenarios of this bunker can only be matched by its impressive luxury and opulence.
This is the Survival Condo. It's a repurposed Cold-War vintage Atlas-F Missile Silo that has been converted from way under the ground up into the ultimate 'low-rise' condominium complex for the wealthy, and the secure. It's 15 floors and 200ft down, protected by  2.5′ to 9′ of steel-reinforced concrete beneath a dome structure covering the original silo built to withstand winds in excess of 500 MPH and will protect 75 very wealthy and prepared people for at least 5 years.
Hall wrote for the complex's website,
"By starting our project with a Formerly Used Defense Site (FUDS), we have a $120 million dollar head start. A competitor has to spend that much just to catch up, we can go dollar for dollar from that point on, but that is one heck of a head start on the value proposition".

"This project has the advantages of letting the members own a piece of history, the coolness of a missile base, the protection of a nuclear hardened bunker, and the features of a luxury condo."
The facilities (yes, they've finished and sold-out one and are building two more) are remarkable in both extreme survivability and luxury by necessity. Hall explained to The Guardian that the psychologist he hired also worked on Biosphere 2.
"She went over everything in meticulous detail. From the acoustics to the textures to the colours on the walls. Even the LED lights in the bunker are set to 3000 Kelvin [a warm white] to prevent depression. People want to know why residents need all this 'luxury' but what they don't get is that this isn't about luxury. This stuff is key to survival. If you don't have all this stuff built in, you start to get varying degrees of depression or cabin fever."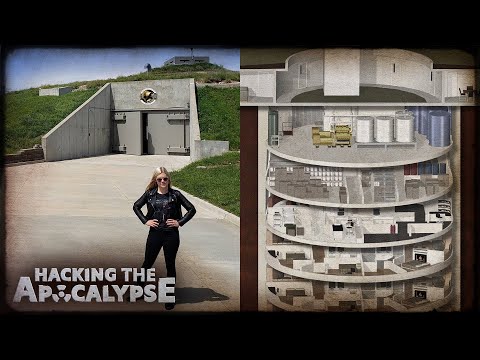 The complex offers every amenity from a 'storehouse' that resembles an ordinary supermarket to a 4k Movie theater complete with 7.4 THX surround sound, an in-ground swimming pool complete with features and waterslide and a beautiful aircraft themed bar complete with 2,600 stock of wine (donated by a resident), Gym facilities, a classroom, library and even LED High-definition 'windows' that project a live view from the outside or whatever the resident would like to customize.
Shared Facility Features
Elevator & Stairwell Access throughout the facility.
Over 20,000 square foot of floor space in the monolithic dome.
Redundant electric sources.
Redundant water supply with minimum of 75,000 gallon reserve tanks.
Redundant air filtration including Nuclear, Biological, and Chemical (NBC) filtration.
Organic hydroponic and aquaculture food production.
General Store.
Indoor Pool & Spa, and a complete workout facility.
Custom theater.
Custom Bar & Lounge.
Library & Classroom.
Command & Control Center.
Medical First Aid Center.
Communication Center complete with on-site Internet subset access.
Digital weather station.
Luxury Condo Features
Full-Floor layout is approximately 1,820 square feet of living space.
Half-Floor layout is approximately 900 square feet of living space.
Maximum occupancy for full & half floor layouts are 10 and 5 respectively.
Full kitchens with High-end stainless appliances.
Full Spectrum LED lighting throughout.
Kohler fixtures throughout.
50-inch LED TV and home automation system with remote off-site access.
Biometric Keyless access.
Each unit is fully furnished and professionally decorated.
Each unit comes with a five-year food reserve per person.
Washer and dryer in each unit.
The security here is still military grade too. "This is one of three armories," Hall announces proudly. "In each one we've got sniper rifles, ARs, helmets, gas masks, first aid kits and non-lethal weapons such as military-grade pepper spray."
He continued, "the armories might not even be needed. Outside is a .223 remote-controlled rifle. You can kill people like it's a video game." Seriously, just behind another keyed door is a bank of screens with a  control panel and joystick, Hall told Bradley Garrett that even with thermal, night, and full-spectrum cameras there is still an automated defense mode that'll put a three-round burst into anything it sees move.
"We can also hit them with three-round bursts of paintballs," he says. "That will make it clear what comes next if they keep moving toward the condo."
If you're like us and this complex has your attention, (and if you're not like us and you can afford it!) Half-floor units at the first, already should complex are $1.5m for 900 square feet; full-floor apartments $3m with 1,820 square feet and a two-level, 3,600 sq ft penthouse has sold for $4.5m. In total, 57 people will be living in 12 apartments, each paying an additional $5,000 monthly residents' association fees.  Well worth it.