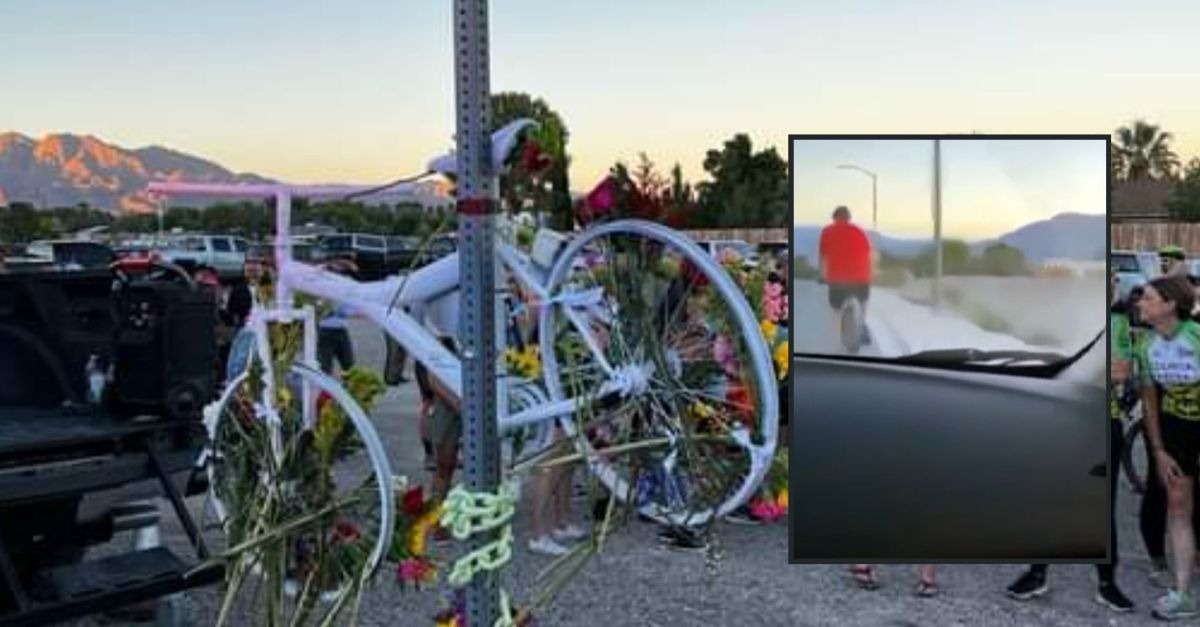 Background: Henderson Police Department Traffic Unit Facebook photo from former Police Chief Andreas Probst memorial on Sept. 7. Inset: YouTube KTLA footage of former California police chief Andreas Probst moments before being struck by vehicle as captured by alleged assailants.
Two teenagers who police say intentionally rammed a stolen car into a retired police chief as he rode his bicycle down a residential street in Las Vegas last month will be charged with murder and tried as adults.
Andreas "Andy" Probst, 64, a retired police chief for the city of Bell, California, was riding his bike around 6 a.m. on Aug. 14 when a 17-year-old and his teenage passenger fatally struck Probst from behind while driving a stolen car. Probst was thrown from his bike, rolled over the car's hood and went skidding onto the pavement where he sustained life-threatening injuries.
In a recorded video of the crash, one of the suspects can be heard laughing and saying "Hit his a–" before honking at Probst and driving into the back of the bicycle at considerable speed. Once hitting him, one of the teenagers could be heard remarking that the man appeared unconscious. Then the other teenager replied: "We need to get out of here."
Las Vegas Metropolitan Police reported that the driver of the stolen car fled the scene with a passenger who later posted a video of the hit-and-run to social media. The driver was arrested the same day of the incident and initially faced only a single hit-and-run charge.
In the weeks after the crash, however, graphic video of the hit-and-run started to circulate online and police upped the charge to open murder for the driver.
Once authorities were able to locate the teenage passenger and determine he was responsible for recording the crash, that suspect was booked and charged with open murder as well. Police were able to track him down because a student at a Las Vegas-area high school notified a school resources officer who then went to police, Las Vegas CBS affiliate KLAS reported.
Police have not yet identified the teenagers by name.
In Nevada, if a minor is eligible to be charged with murder, they are automatically sent to the adult system, Clark County District Attorney Steve Wolfson said on Thursday, local CBS affiliate KLAS reported.
At a press conference following the arrest of the passenger, Las Vegas Metropolitan Police Department deputy police chief Nick Farese called the crime a "cowardly act" unlike any he had seen in his 22 years on the force.
"It left me personally appalled," Farese said.
Las Vegas police said this was not the first time the teenagers had been involved in hit-and-run activity. The passenger in the vehicle that struck Probst was allegedly in the driver's seat not an hour before when he struck a 72-year-old man who was also out riding his bicycle.
Probst is survived by his wife and adult son and daughter.
"We are devastated by the senseless murder of Andy. Andy's life was robbed by two individuals who do not believe that the lives of others matter," Probst's daughter, Taylor Probst, said of her father during a press conference on Tuesday. "We believe Andy's murder is a direct result of decayed family values and the strong effects that social media has on our youth. We as a family in no way feel that Andy's murder was based on race or profession, it was a random act of violence,"
Have a tip we should know? [email protected]