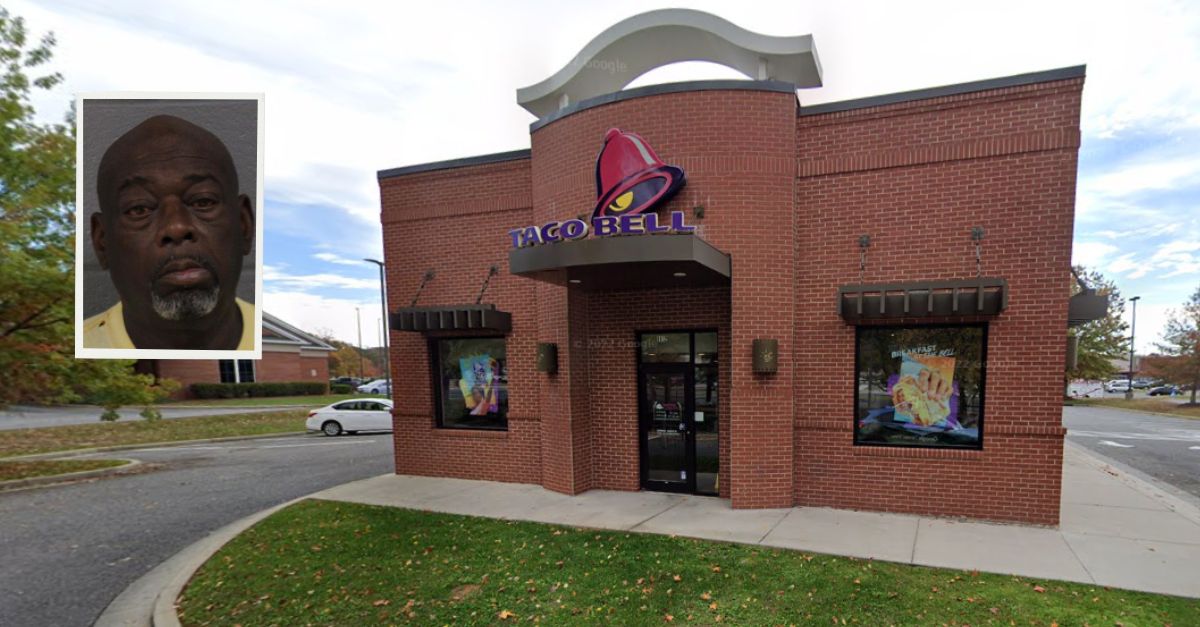 An employee at a Taco Bell in Charlotte was shot multiple times after a customer upset about receiving what he thought was the wrong change opened up fire inside the restaurant. Local ABC affiliate WSOC reported the shooter was Doll McLendon, 67, who was arrested on attempted murder and discharging a weapon in an occupied property charges. (Taco Bell photo via Google Maps; Mugshot from the Mecklenburg County Jail)
A customer at a Charlotte, North Carolina, Taco Bell drive-thru was so ticked after receiving what he thought was the wrong amount of change that he went inside with a gun and opened fire, according to police.
The Charlotte-Mecklenburg Police Department said it received calls around 9:30 p.m. Saturday about a shooting at the Taco Bell on the city's east side. When officers arrived, they found an employee suffering from multiple gunshot wounds.
Witnesses told officers that after ordering food, a customer became upset when he was given what he believed was the wrong amount of change in the drive-thru. He left the drive-thru and came inside where he became more aggressive, police said. He then took out a firearm and started shooting inside the restaurant, hitting the employee multiple times.
The suspect fled the scene while the victim was taken to the hospital with life-threatening injuries, police said.
More on Law&Crime: Jack in the Box responsible for drive-thru worker firing gun at family in fight over curly fries: Lawsuit
Using video footage and witness statements, officers were able to confirm a vehicle description. Officers located what they believed to be the suspect's vehicle later that evening parked at an apartment complex.
A detective confirmed it was the vehicle, which was a "distinctive model," that was used in the shooting and the registered owner matched the suspect description. Officers provided surveillance of the vehicle and property while detectives obtained arrest warrants, police said.
Once warrants were obtained, detectives contacted the suspect and he was taken into custody without incident.
Citing sources, local ABC affiliate WSOC identified the suspect as 67-year-old Doll McLendon who was arrested on charges of attempted murder and discharging a weapon in an occupied property.
Jail records show McLendon remains at the Mecklenburg County Jail without bond. Police have not released an updated condition of the employee.
Taco Bell Corp. released the following statement: "We are shocked to hear that this happened. We understand that the franchise owner and operator of this location is working with the local authorities in their investigation and will be offering support to all team members present."
Have a tip we should know? [email protected]