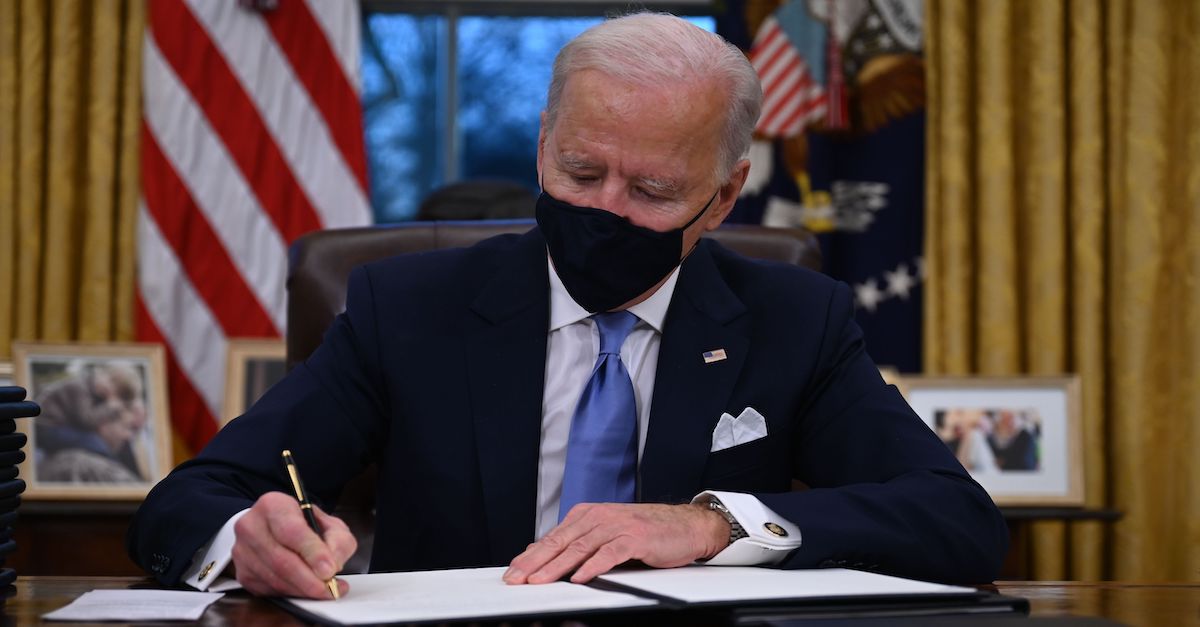 US President Joe Biden sits in the Oval Office as he signs a series of orders at the White House in Washington, DC, after being sworn in at the US Capitol on January 20, 2021. (Photo by JIM WATSON/AFP via Getty Images)
The Supreme Court has denied a request from Louisiana to block a White House policy establishing a task force that analyzes the so-called "social costs" of greenhouse gas emissions when considering new federal regulations.
In a brief order issued Thursday, the justices denied Louisiana's request to reinstate a U.S. District Court's ruling that blocked President Joe Biden's administration from using the cost estimates to inform the federal agencies' decision-making process.
"The application to vacate stay presented to Justice Alito and by him referred to the Court is denied," the order said. No dissents were noted, and no written opinion was issued.
The case stems from an executive order that Biden signed on his first day in office reinstating a Barack Obama-era program calling for several federal agencies to determine the "social costs" of three types of emissions: carbon, nitrous oxide, and methane.
Biden's executive order established the Interagency Working Group on the Social Cost of Greenhouse Gases. The "social costs" of greenhouse cases estimate the "monetized damages associated with incremental increases in greenhouse gas emissions," the order explained. The analysis considers changes in "agricultural productivity, human health, property damage from increased flood risk, and the value of ecosystem services."
"It is essential that agencies capture the full costs of greenhouse gas emissions as accurately as possible, including by taking global damages into account," Biden said in the executive order. "Doing so facilitates sound decision-making, recognizes the…