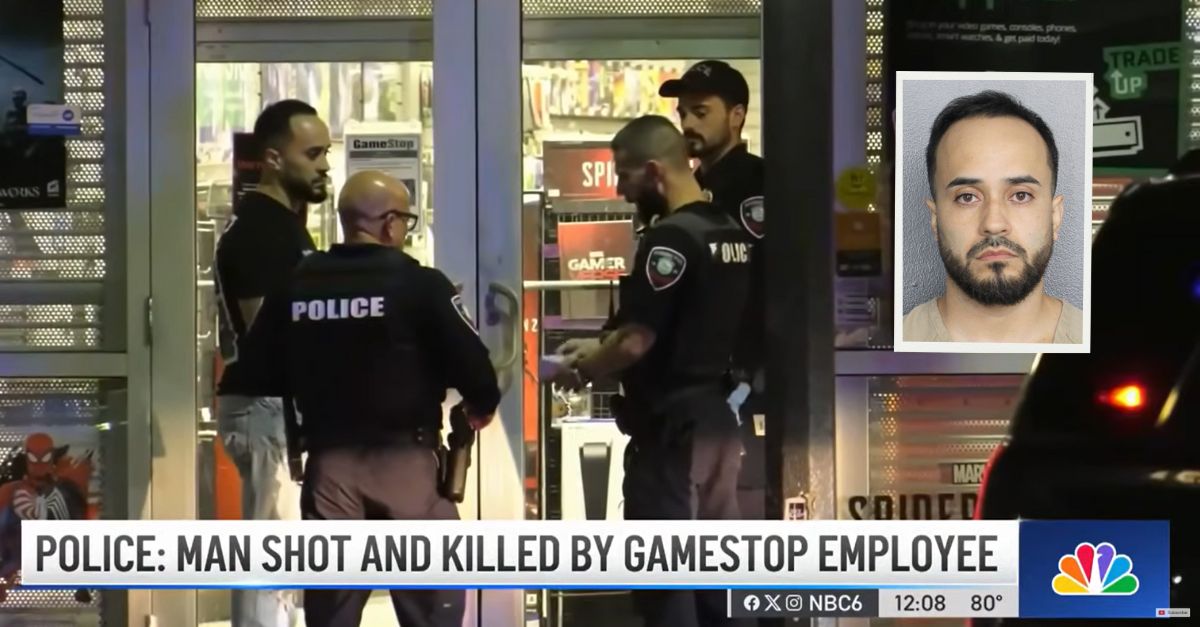 GameStop employee Derrick Guerrero, far left, talks with Pembroke Pines police after he shot and killed a would-be shop lifter who had stolen $600 worth of Pokémon cards. Police arrested Guerrero on a manslaughter charge, saying the shoplifter posed no threat to Guerrero (WTVJ/YouTube). He was taken to the Broward County Jail (Mug shot inset) where he has since bonded out.
A GameStop employee in Florida is facing a manslaughter charge after he shot and killed a man who tried to steal $600 worth of Pokémon cards, an arrest affidavit said.
Pembroke Pines police responded to the store around 8:14 p.m. on Tuesday for a shooting and found the victim in the passenger seat of a Ford F-150 in the parking lot. He was taken to a nearby hospital, where he was pronounced dead. The victim's girlfriend, who was driving the F-150, said she saw her boyfriend running out of the store, suffering from a gunshot wound. She began to drive away but quickly stopped and called 911.
After a "thorough investigation" by detectives, they determined the store employee, Derrick J. Leonel Guerrero, allegedly saw a man shoplifting. The alleged shoplifter then started running toward the door and Guerrero took out a gun from his waistband and fired one shot, striking the victim in the torso, the affidavit said.
"At no time did the victim threaten Guerrero or display any type of weapon," a press release said.
More on Law&Crime: O'Reilly Auto Parts employee allegedly strangles would-be shoplifter: 'It's law enforcement's job to do the policing, no one else's'
According to the affidavit, the victim grabbed both the Pokémon Scarlet & Violet 151 Ultra-Premium Collections, each worth $120, from behind the cash register counter and made a run for it. A camera showed the man dropping the merchandise about 10 feet from the register and running toward the exit, police said. Guerrero was off-camera during the shooting, but was seen walking with his gun in his right hand moments later, the affidavit said.
Police took Guerrero to the police station for an interview but that portion of the affidavit is redacted.
He was taken to the Broward County Jail where he has since posted a $25,000 bond and was released.
"I'm really sorry for the family. I didn't mean for any of this to happen to the family. It wasn't my intention," Guerrero told reporters as he walked out of the jail, according to local NBC affiliate WTVJ.
Police say Guerrero had the gun with him because he was the victim of a recent robbery and wanted it for protection.
His LinkedIn page says he has worked as an assistant store manager at GameStop since May.
Have a tip we should know? [email protected]