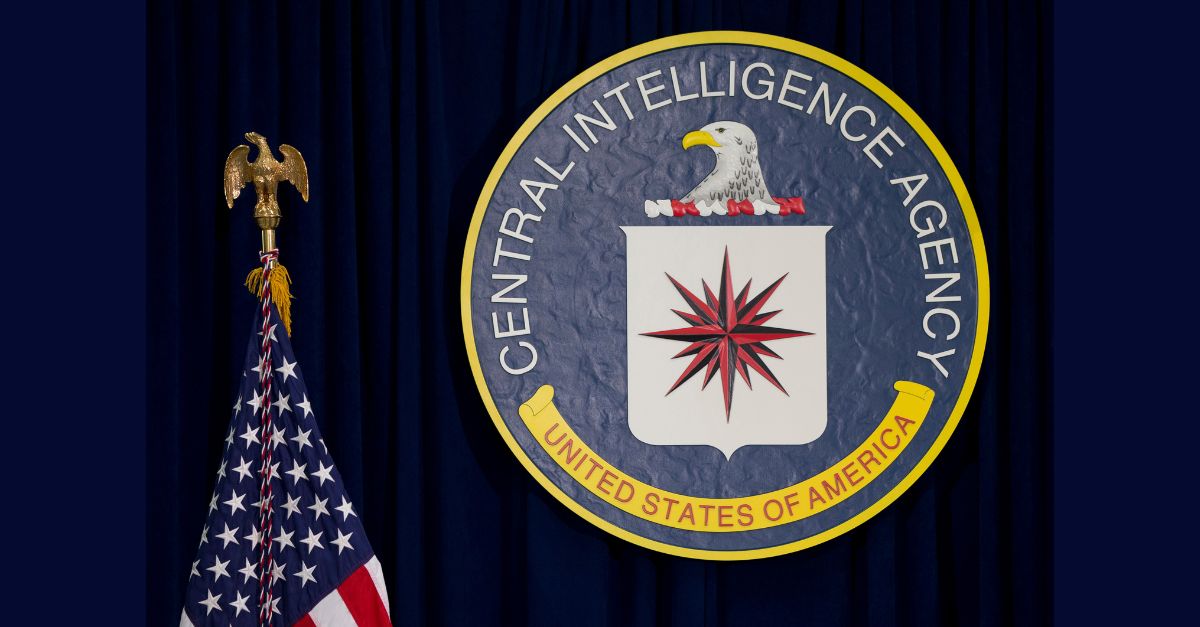 FILE – This April 13, 2016 file photo shows the seal of the Central Intelligence Agency at CIA headquarters in Langley, Va. (AP Photo/Carolyn Kaster, File)
A CIA spy-in-training who was sexually assaulted by a fellow trainee has sued the agency, alleging that leadership tried to intimidate her when she tried to report the attack and retaliated against her for doing so.
The plaintiff in the case, identified only as Jane Doe, says that she was attacked on July 13, 2022, when her assailant snuck up behind her when she was in a stairwell at CIA headquarters in Langley, Virginia.
"[He] wrapped a scarf tightly around her neck, began strangling her with it, made lewd remarks, and tried to kiss her forcibly on her mouth," says a federal complaint filed in the District of Columbia on Tuesday. "Plaintiff struggled, told her assailant to 'stop,' fought him off, and ran. He immediately tried unsuccessfully to wrap the scarf around Plaintiff's neck again, followed Plaintiff to her office, and grabbed and forcibly kissed her."
According to the complaint, Jane Doe, who is hard of hearing, received texts from her attacker just hours later that said: "You good?" The lawsuit notes that Jane Doe had previously received "a series of obscene workplace [instant messages]" from the assailant.
When she reported the attack pursuant to agency policy, she was allegedly met with responses from the CIA that "repeatedly violated the law, professional ethics, and basic human decency."
According to the complaint, the CIA warned Jane Doe that "reporting the attack to any law enforcement organization, or receiving necessary mental health care, would cause her to suffer negative career impacts at CIA, force her to consider a different career, and even make her a counterintelligence threat."
The agency ultimately concluded that the incident did not rise to the level of a violation of CIA policy. Jane Doe was also allegedly told that if she went to law enforcement about the attack, she "must protect her and her assailant's CIA affiliation or else commit a potentially career-ending security violation."
There is no justification for these requests, the complaint says.
"Information may never be classified to conceal crimes or to prevent embarrassment to a federal government agency," the lawsuit says. "No exceptions to these laws exist that exempt CIA."
Nevertheless, Jane Doe pursued criminal charges against her assailant, the lawsuit says. After she went to law enforcement at the end of 2022, her attacker was ultimately convicted of assaulting and battering her in what the complaint says is "the first-ever conviction for workplace sexual violence at the Agency."
According to the lawsuit, that conviction happened despite the CIA's alleged attempts to dissuade her from participating in the criminal case.
"CIA's counsel unlawfully advised Plaintiff that she must not truthfully answer any of law enforcement's questions about purportedly classified matters without advance permission from the Agency," the lawsuit says. "CIA specifically ordered Plaintiff to protect the secret of her and her assailant's affiliation with the Agency. CIA also ordered Plaintiff not to provide law enforcement with the names of any witnesses to her assault without the Agency's express permission."
The agency's own investigation into the matter was lacking, the lawsuit alleges.
"By August 19, 2022, CIA's Office of Security determined inaccurately that Plaintiff's assailant had committed no crime, and that he purportedly posed no threat of further physical harm to Plaintiff," the complaint says. That same day, she "wrote CIA that, 'I still do not feel safe in the building. I have had to devise my own safety plan. This was done informally. As such, I do not want to wear out the kindness of others who have ensured my safety up to this point.'"
On Sept. 29, 2022, she explicitly told the CIA that it did not feel safe for her to be there.
"i just feel that i could keep getting attacked here nothing would ever happen to the attacker like this place does not care," she said [punctuation and spelling in original].
The agency also allegedly discouraged Jane Doe from speaking to a House committee investigating sexual assault within the CIA.
"CIA's Office of Congressional Affairs refused to speak with Plaintiff's attorney, and despite knowing that she was a represented party, instead improperly reached out to Plaintiff directly and warned her that 'there would be consequences' for her statement to HPSCI," the complaint says. "On April 4, 2023, CIA renewed its threat to Plaintiff about discussing her assault, and ordered her to refrain from discussing the Agency's inquiry into the assault."
Jane Doe appeared before the committee nonetheless — and says that the CIA retaliated in response. She says she was the subject of a baseless investigation into nonexistent "time-and-attendance fraud" and that her private information was shared in an effort to discredit her allegations. She also says that a "downgrading of her performance evaluation" was also in retaliation for appearing before the committee.
In addition, Jane Doe says that the CIA public affairs office lied to her about The Associated Press potentially publishing her name in a story about the criminal case against her accused attacker.
"That statement was untrue," the complaint says. "Rather, the AP repeatedly reassured CIA's OPA that, in accordance with its publicly available policies, the AP would not publish Plaintiff's name as a sexual assault victim. OPA could not have been confused on this basic point. The unnecessary interruption of Plaintiff's intensive training with OPA's false statement caused her considerable distress before the AP confirmed the falsity of OPA's statement, and reassured Plaintiff."
As of the filing of her lawsuit, Jane Doe's alleged assailant is still a "security-cleared, serving CIA officer," the complaint says.
"Plaintiff's assailant may well be slated for further clandestine training," the complaint says. "This will expose to him the identities of undercover CIA officers and military Special Mission Unit operators, prepare and encourage his rise through the Agency's ranks, and provide him opportunities to take advantage of others, particularly other female colleagues, and female human intelligence sources in highly vulnerable positions. His continued employment ensures Plaintiff's assailant remains a danger not only to Plaintiff, but to others in CIA."
According to the lawsuit, Jane Doe is being targeted by the CIA for simply being honest about what happened to her.
"Plaintiff bravely spoke the truth about the sexual assault she suffered at the hands of a colleague within that same building, and CIA punished her for it, thereby dishonoring a key principle on which the Agency's mission is based," the complaint says.
The lawsuit alleges violations of federal privacy and civil rights laws. She is seeking an unspecified amount of damages.
The CIA insists that all applicable laws were followed in connection with Jane Doe's case.
"While we are not able to comment on ongoing litigation, CIA protects the privacy of our officers and acts in accordance with the law," a spokesperson said in a statement emailed to Law&Crime. "More broadly, CIA continues to take concerns about our handling of employee allegations of sexual assault and harassment extremely seriously, and we have already taken significant steps in this regard. We are focused on instilling in all officers a culture of duty to act, and ensuring they know they are encouraged to report any incidents of sexual assault to law enforcement authorities. We have also strengthened our response, including making significant organizational reforms and bringing on an experienced outside expert to lead our sexual assault and prevention efforts. We remain strongly committed to ensuring the safe, respectful workplace environment that each of our officers deserves."
Read the complaint, below.
This story has been updated with a statement from the CIA.
Have a tip we should know? [email protected]