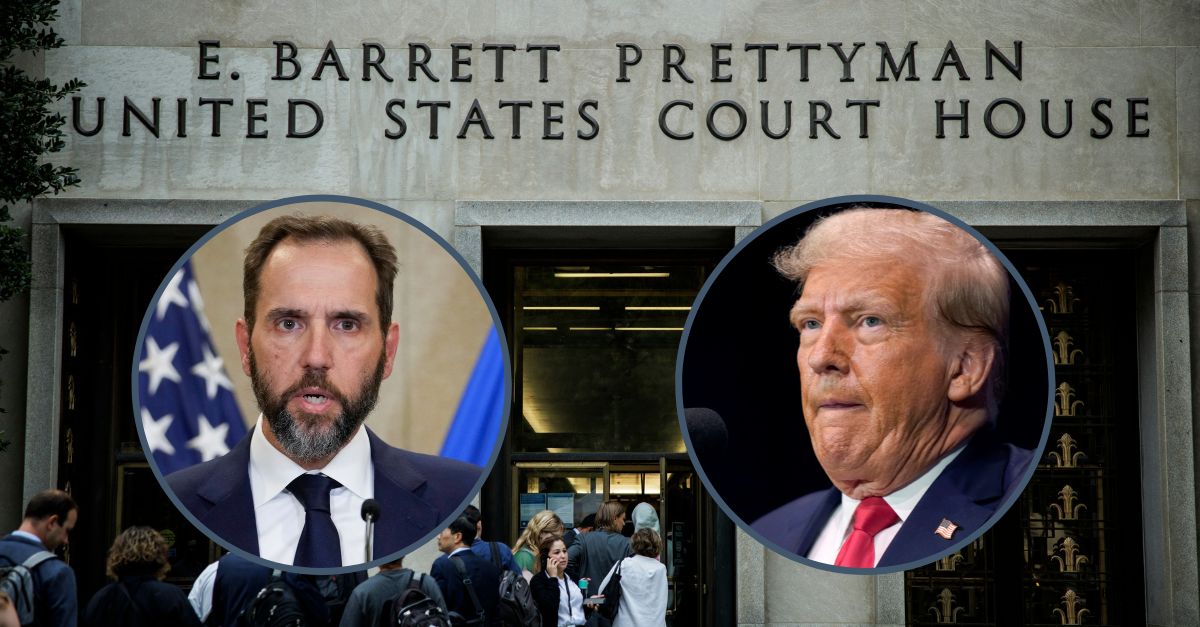 Background: Reporters line up as they enter the E. Barrett Prettyman United States Courthouse ahead of former President Donald Trump's arraignment in Federal Court on August 3, 2023, in Washington, D.C. (Photo by Samuel Corum/Sipa USA)(Sipa via AP Images)/ Left inset: Special counsel Jack Smith speaks to the media about an indictment of former President Donald Trump, Tuesday, Aug. 1, 2023, at an office of the Department of Justice in Washington. (AP Photo/J. Scott Applewhite)/ Right inset: Former President Donald Trump addresses an audience during a campaign event, Monday, Oct. 9, 2023, in Wolfeboro, N.H. (AP Photo/Steven Senne)
Special counsel Jack Smith urged a judge to reinstate a limited gag order on Donald Trump that was lifted while the former president appeals it, arguing that his attacks on potential witnesses in the historic election subversion case pose a danger to proceedings and threaten to encourage violence if left unchecked.
In a 32-page motion, federal prosecutors made an emphatic plea to U.S. District Judge Tanya Chutkan to step in and reimpose an Oct. 20 order that barred Trump in specific ways from making statements targeting prosecutors, members of her staff, potential witnesses at trial —which is slated to begin in March — and the substance of any witness testimony. Notably, Chutkan's order did not prohibit Trump from making statements denigrating the trial venue of Washington, D.C. The gag order also did not restrict Trump's ability to publicly claim his prosecution was unfair.
"The defendant has returned to the very sort of targeting that the Order prohibits, including attempting to intimidate and influence foreseeable witnesses, and commenting on the substance of their testimony," prosecutors Smith and Molly Gaston wrote.
Prosecutors pointed to Trump's Truth Social messages of late that are littered with comments that would have very likely violated the once-standing gag order. For example, Smith and Gaston wrote, after it was widely reported that Trump's former chief of staff Mark Meadows was granted immunity to talk to federal prosecutors about what Trump said to him in the run-up to Jan. 6, Trump lashed out online, writing:
"I don't think Mark Meadows would lie about the Rigged and Stollen 2020 Presidential Election merely for getting IMMUNITY against Prosecution (Persecution) by Deranged Prosector Jack Smith, BUT, when you really think about it, after being hounded like a dog for three years, told you'll be going to jail for the rest of your life, your money and your family will be forever gone, and we're not at all interesed in exposing those that did the RIGGING — If you say BAD THINGS about that terrible "MONSTER," DONALD J. TRUMP, we won't put you in prison, you can keep your family and your wealth, and, perhaps, if you can make up some really horrible "STUFF" a out him, we may very well erect a statute of you in the middle of our decaying and now very violent Capital, Washington, D.C. Some people would make that deal, but they are weaklings and cowards, and so bad for the future of our Failing Nation. I don't think that Mark Meadows is one of them, but who really knows? MAKE AMERICA GREAT AGAIN!!!" Trump wrote on Truth Social just after 9:30 p.m . on Oct. 24. [Emphasis, punctuation, spelling errors original]
This is a "continued targeting of witnesses," the special counsel wrote, emphasizing the use of the word "targeting," which Trump's defense lawyers have recoiled at in their own filings, challenging the very definition of the word.
If Chutkan needed more convincing, prosecutors noted that Trump's remarks about Meadows online were followed by in-person criticisms from outside of his trial in New York where he faces civil fraud charges.
The comments targeting Meadows, a potential witness to the case, clearly demonstrated "why the Court should lift the administrative stay and modify the defendant's conditions of release to protect witnesses from his attacks," Smith argued.
"The defendant's targeting included insinuating that if the reporting were true, the Chief of Staff had lied and had been coerced, and the defendant sent a clear public message to the Chief of Staff, intended to intimidate him," Smith wrote.
Trump's lawyers have dubbed the gag order "breathtakingly overbroad… outside of a handful of narrow exceptions" that had ultimately stopped Trump from "making any public comment regarding a wide and undefined set of individuals and subjects," a 33-page defense motion states.
But to the contrary, the special counsel argues that there has been significant room given to the former president about what he can and should be permitted to say under the broad coverage of the First Amendment. But, they urged Chutkan primarily to consider that the former president should not be permitted to engender violence around the proceedings.
Her original order met that balance, Smith argued.
"The First Amendment does not require such an ineffectual approach to protecting the integrity and fairness of the trial. To the contrary, the Court has both the authority and the duty to prevent trial participants, including the defendant, from engaging in extrajudicial speech that poses a substantial likelihood of material prejudice. The Court correctly entered such an order here," the motion states.
It also prevented "harassment, threats, or violence as a result of [his] words," Smith wrote, highlighting that Trump did "not need to explicitly incite harassment or violence in his public statements, because he knows that by publicly targeting perceived adversaries with inflammatory language, he can maintain a plausible deniability while ensuring the desired results."
Should Chutkan reimpose the gag order and deem Trump in violation of it, prosecutors note he could be detained under a statute readily at the court's disposal, the motion states. In addition to a contempt penalty, Smith writes.
Separately prosecutors entered a flurry of motions addressing other issues, including opposition to Trump's intent to rely on advice of counsel defense and the former president's request for pre-trial subpoenas of records underpinning trial discovery.
Namely, those Trump baselessly claims are being withheld or hidden by the House Select Committee to Investigate the Jan. 6 Attack on the U.S. Capitol.
"The defendant's motion is wholly unnecessary: the government already provided the defendant in discovery the Select Committee records that he identifies with any specificity," prosecutor Thomas Windom wrote of the records Trump has requested in advance of trial.
Smith continued, thrashing Trump's arguments:
"The defendant's motion fails in way to discuss, much less establish the relevancy of requested records. For example, other parts of [his first request] sought committee records identified in the footnote 1 of the [select committee chairman Bennie] Thompson letter, 'intelligence and other law enforcement information available to the Secret Service,' 'records identifying witnesses,' and 'other information the select committee deemed private or operational details pursuant to agreement with the White House and the Department of Homeland Security,"
The former president is going on a "fishing expedition" Smith wrote.
"For instance, the defendant references 'the evidence identified in the [Department of Homeland Security] letter, leaving it to the court to determine what that evidence may be. But…the DHS letter only specifies the transcripts the Select Committee returned to the Secret Service, and the defendant has been provided with those in discovery."
Trump's proposed subpoenas seeking "Missing Materials" [emphasis original] are moot because he can't identify them beyond what he has already been given, including those copies of witness interview transcripts that were "non-public items from the Select Committee," the motion states.
In another brief reply supporting a motion for jury protections, special counsel noted that it appears both Trump's lawyers and the government have agreed on the use of a written questionnaire ahead of in-person jury selection but questions remain over how long it will take. Prosecutors expect 10 weeks from the time the clerk issues random summonses to the surveying. And that, Smith noted Wednesday, is only if the court does not grant Trump's request for multiple rounds of questionnaires.
The government has asked to have juror questionnaires completed roughly by Feb. 9, meaning the drawing would have to take place by Dec. 1 or even earlier, given the impending holiday schedule.
Prosecutors emphasized too that while Trump and his attorneys have said the former president "'has no intention of publicizing the names or other contact information of jurors,' an order spelling it out should be issued..
In the motion opposing Trump's intent to invoke an advice-of-counsel defense, prosecutors wrote over seven pages that it was clear Trump intended to use this method of defense to delay proceedings.
In attempting to defend himself by claiming that he was given bad legal advice, a bevy of records and other materials would be added and then in need of review, logging, or waiving and more, prosecutors note. Trump has said  in recent weeks that he would provide notice to counsel, if he decides to invoke this defense, by Jan. 15, 2024.
"His proposal is unworkable and will risk substantial delay and disruption," the motion states.
Instead, Trump should be given until Dec. 18 to declare how he wants to proceed, the same date that trial exhibits for the case are already due, prosecutors wrote.
Have a tip we should know? [email protected]