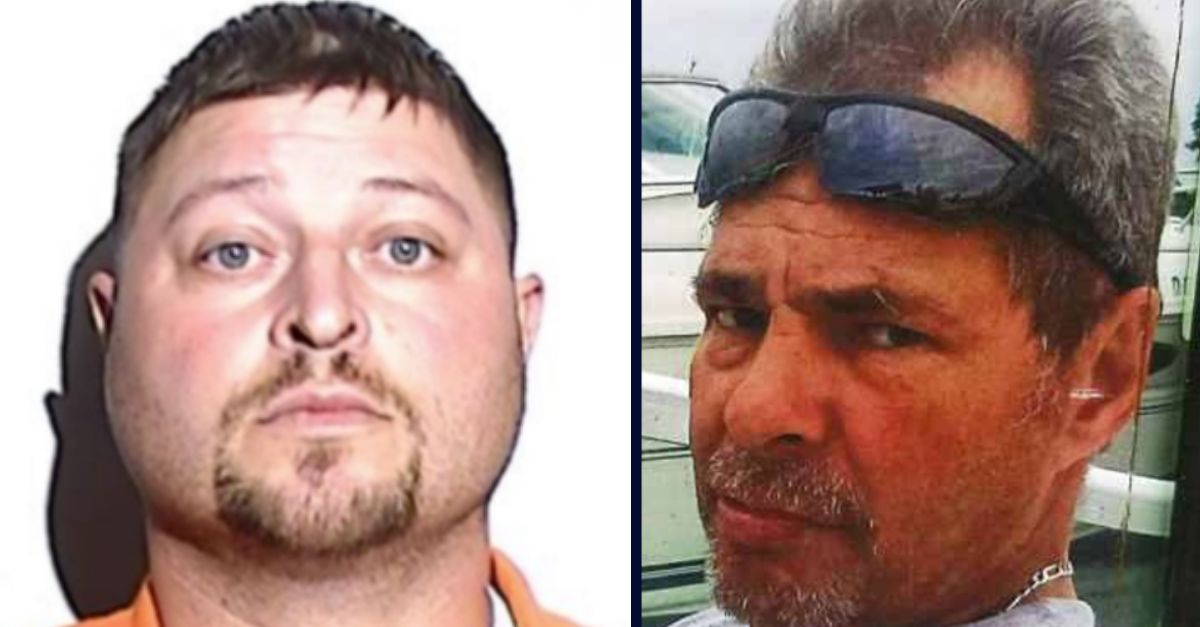 Left: Timothy Darrow. Right: Alvin Darrow, father of Timothy Darrow. The elder Darrow was reported missing from his Toledo, Ohio, home in July 2017 and has never been found. (Toledo Police Department)
A 39-year-old man was indicted for murder six years after his father went missing, according to police in Toledo, Ohio.
Timothy Darrow is accused of killing his father Alvin Darrow, then 63, on July 27, 2017, though the elder Darrow's body has never been found. That day, Alvin Darrow and his other son Jeremy Darrow were at a marina working on their boat when the father left for his home on Toledo's north side to fetch some tools, according to the missing persons report. When he didn't return, his son called him several times but he didn't pick up.
Jeremy Darrow heard from his brother Timothy Darrow, who said he and their father had gotten into an argument while he was on his way home to get the tools. Their father had arrived home where Timothy Darrow was when a "couple of guys" came to look at a motorcycle. The men were upset with the elder Darrow because he had allegedly "stolen one of their bikes," the report said. The two Darrows began running away when they found out the guys looking at the bikes had guns.
Timothy Darrow told his brother that he and their father ran separate ways and the elder Darrow fled the scene on a motorcycle. Timothy Darrow claimed he last saw his father around 7 p.m. Jeremy Darrow told police, however, that "from the beginning his brother's story did not add up" and his brother's story kept changing, according to the report.
Timothy Darrow seemed more concerned with the stolen bike than their father's whereabouts, his brother told police.
Police said Alvin Darrow's personal belongings were left inside the home and he didn't arrange for anyone to take care of his dog which was highly unlike him. Jeremy Darrow reported him missing the next day on July 28, 2017.
Cold case investigators have continued to work the case that led to Tuesday's indictment. Another man, 50-year-old Michael Johnson, has been charged with obstruction of justice. Johnson's indictment lists the date of his alleged crime as between Dec. 17, 2017, and Jan. 1, 2021.
Timothy Darrow was already in jail on an unrelated felonious assault charge, while officers are still looking for Johnson.
Police have not said how they think Timothy Darrow killed his father.
The Darrow family has long suspected foul play in Alvin Darrow's disappearance. His sister Cheryl Bonk said local CBS affiliate WTOL back when he went missing that she feared the worse.
"I was just devastated," Darrow's sister Cheryl Bonk said. "That is totally unlike him. And when all this happened, I realized something really bad has happened because he would never leave in that situation."
Bonk said it was hurtful knowing someone hurt him and finding his body would bring the family closure.
"We want this to end," Bonk said. "We want him found so that we can bury him properly and have a closing to this situation."
Anyone with information is asked to call or text Crime Stoppers at 419-255-1111.
Have a tip we should know? [email protected]