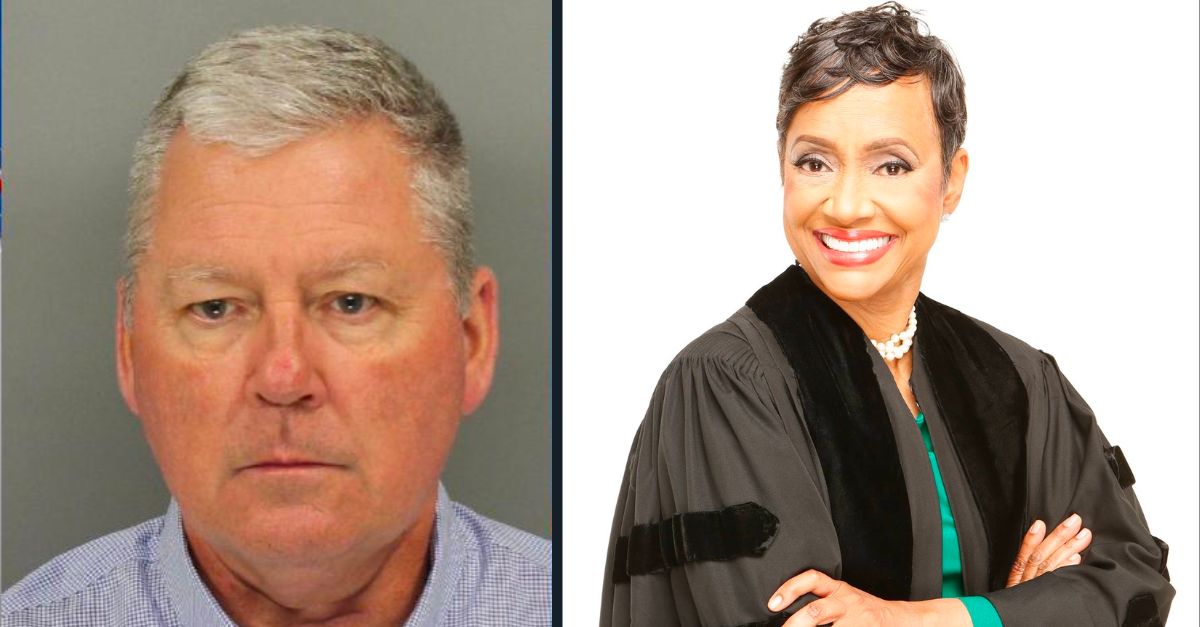 Left: former Bleckley County (Ga.) Sheriff Kris Coody (via Cobb County (Ga.) Jail). Right: TV Judge Glenda Hatchett (via Facebook).
A Georgia sheriff has reportedly retired after admitting he groped an attorney and TV judge during a sheriff's convention.
Kris Coody, the now-former sheriff of Bleckley County, pleaded guilty to sexual battery in Cobb County court on Monday, local CBS affiliate WMAZ reported. He acknowledged that he touched, without consent, the breast of Glenda Hatchett, host of the TV show "Judge Hatchett," during a conversation at the hotel bar during the Georgia Sheriff's Association winter conference.
Coody was sentenced to 12 months of probation, 40 hours of community service, a psychosexual evaluation and a $500 fine, the station reported. He must also complete an alcohol and drug course, which his lawyer reportedly says has already been done.
Coody has resigned from his post, WMAZ reported, citing defense attorney Joel Pugh.
According to an arrest warrant, the incident happened on Jan. 18, 2022, at the Renaissance Atlanta Waverly Hotel, where the law enforcement gathering was being held.
According to Atlanta ABC affiliate WSB, former DeKalb County Sheriff Thomas Brown witnessed the incident and physically intervened.
He told the station that Hatchett was his guest at the conference and that Coody groped her as he was introducing her to some sheriffs in attendance. Brown reportedly said that he turned away from Coody and Hatchett as they were talking, and saw the assault take place as he turned back.
"As I turned to my left to focus back on the two of them, I saw his hand go down on her left breast," Brown said, according to WSB. 'I grabbed his arm threw it off of her chest and basically said, 'What are you (adjective) think you're doing?' and that's basically where it ended."
Hatchett served as chief presiding judge of the Fulton County Juvenile Court, making her the first African American to hold a chief presiding judge role in Georgia state court. She was the host of the syndicated TV show "Judge Hatchett" and, since 2016, has presided over the show "The Verdict with Judge Hatchet."
"Today, justice has been served," Hatchett said in an Instagram post on Monday.
According to local news outlet Atlanta News First, Coody was arrested in February 2022 after returning home early from a preplanned church mission trip. He was reportedly taking the charges "very seriously," and said at the time that he "looks forward to personally expressing his regrets for any offense at the appropriate opportunity."
Coody joined Bleckley County after being terminated from the Georgia State Patrol in 2007, Atlanta News First said. He was apparently let go after two allegations of "improper conduct," including a "domestic dispute" between Coody and a friend that reportedly escalated into violence.
Have a tip we should know? [email protected]