A teenage girl who had been brutally battered entered a police station and claimed to have been the victim of group rape. However, the girl was shocked when she was charged with 7 counts of "perverting justice" after blaming an "Asian sex gang" for the crimes.
19-year-old Ellie Williams was hardly recognizably Police when she entered the Cumbria Police station. The teenager, according to the Daily Mail, who was covered from head to toe in bruises and cuts, reportedly informed police that a group of Pakistani males in northern England had been using her as a sex slave for years while also beating, burning, drugging, and burning her.
Details of horrifying charges of abuse by the "Asian gang", including names and addresses were given by Ellie; and that there are other girls who are still being abused and held captive by the men, she told investigators. However, o Ellie's dismay, none of the alleged rapists were arrested as police made a groundbreaking arrest, months after filing the report.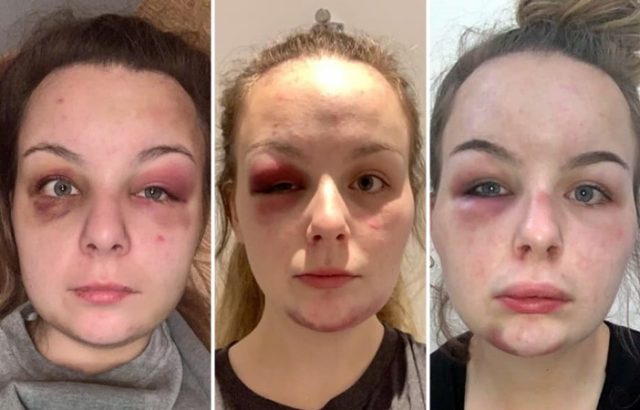 After a year-long investigation into Ellie's allegations, Detective Chief Superintendent Dean Holden came to the conclusion that there was simply not enough evidence to suggest that there is "an organized gang of Asian men" grooming and exploiting girls in Barrow-in-Furness. Cumbria Police confirmed that Ellie has been charged with 7 counts of "perverting the course of justice."
Holden said, "What I would say is, when the question is asked, 'Is there an organised gang of Asian men in Barrow conducting abuse or other exploitation against individuals?' Our investigation has shown that has not been corroborated or otherwise evidenced."
And after posting photos of her injuries to social media in response to what she believes is a miscarriage of justice by the police. Additionally, Ellie was arrested weeks later "for breach of her bail conditions," as the same department believes that there is enough evidence to criminally charge Ellie in an ongoing investigation.
"I am not the only girl in (the area) who has gone through this or is going through this. I know plenty of girls involved – including girls from away. This is local men and men from away. These are mostly Pakistani men and some are business owners. I wish I could name all of those involved, but due to current ongoing investigations I'm not allowed," She claimed.

Ellie Williams was arrested after sharing photos of her horrific injuries
Ellie posted explicit images of the claimed abuse by the grooming gang on social media, including pictures of her bruised face and body and gashes on her fingers and breast. She claims that in an effort to get her to agree, members of the gang tried to hack off her finger, and cut off her breasts and nipples.
She wrote, "They have given me drugs to the point I was nearly addicted to heroin. They have stripped me naked, beaten me and dumped me in the middle of nowhere with nothing…no money, phone, ID, clothes, shoes, nothing. They did this once in winter (when) I got found with bad hypothermia. They have broken my ribs and many bones in my face. They have split my ear, cut my throat, attempted to cut my boobs and nipples off."

She claims that Pakistani men nearly cut off her breasts and nipples and beat her to the point of a brain injury.
Inflicted During one of the beatings, Ellie claimed that she has a "bleed on the brain" from a serious head injury. Aside from being smacked in the eye socket that has caused her to lose partial vision.
The teenager claims that the gang members are still threatening to kill her, and her sister has released images of texts that appear to show Ellie and the suspects exchanging messages. Ellie is determined to expose her alleged abusers despite being charged with a crime. She insists that she will fight for the other girls she claims are still being trafficked, despite the fact that she claims she isn't authorized to reveal names due to the upcoming inquiry.
Ellie said, "These are evil yet clever men. They know how to manipulate, convince and threaten girls into staying. When they can't, they use extreme violence."
After all, however, Ellie Williams came to the conclusion that she is fortunate to be alive and is still appreciative that she didn't become pregnant or harm herself. She believes that sharing her experience will educate others about the global sex trafficking industry that preys on young girls.
But reporting these crimes will only result in their own prosecution and, worse, the fury of their abusers. Her case will undoubtedly deter other grooming gang victims from coming forward.
Sources: TapHaps, DailyMail, TheGuardian