I may be showing my age just a bit with this one, but I could not help myself.
I was never really a country fan until the first time I heard Shania Twain.
And while I still would not call myself a country fan, I have learned to like some aspects solely because of this woman.
She's Back
At 57 years old, Shania can still turn heads with the best of them…
Sadly, her Vegas residency was derailed because of COVID, but that has not stopped her from cranking out a new album.
"Not Just a Girl" is her sixth studio album and it has re-energized this legend of the industry…
Shania has a new sound and it was first introduced during a Harry Styles concert in April.
She hit the stage doing a classic, "Man! I Feel Like a Woman," but she hung for a few other songs to give the crowd a taste of her new sound…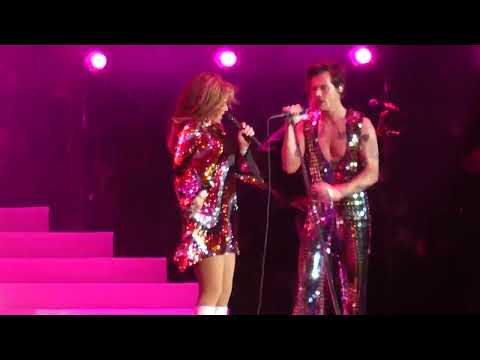 There are a lot of modern singers who owe their fame and success to Twain, as she was truly a breakthrough artist in this Country-Pop Genre.
Author Marrissa R. Moss stated, "When [artists like Morris, Miranda Lambert, and Mickey Guyton] were younger, Twain was a very empowering force."
Twain was also important in terms of working visuals into the show, including her patented leopard-print catsuit.
Twain stated, "I didn't realize it until these kids became young adults and were actually in the public eye, talking about it.
"When I crossed over [from country to pop], they were part of an age group that, on the way to school, had the music on repeat.
"Or maybe it was the music that, as a kid, they wanted on repeat, that sort of annoying, 'Oh no, play that again!'"
The new sound for Twain is a product of necessity, as her voice became fatigued throughout her career.
She eventually had open-throat surgery, then decided to get back into the game…
Twain stated, "Not knowing what I was going to sound like when I was able to speak again was really scary.
"The anticipation was crazy. It wasn't the three weeks of silence, it was the three weeks of waiting to see if it worked."
When she finally heard her voice again, she stated, "I was like, 'Oh, my God, I can yell! I can be loud!' It was so glorious."
Welcome back, Shania… we missed you!
All Photos via Shania Twain Instagram Screenshot.
Source: Bustle