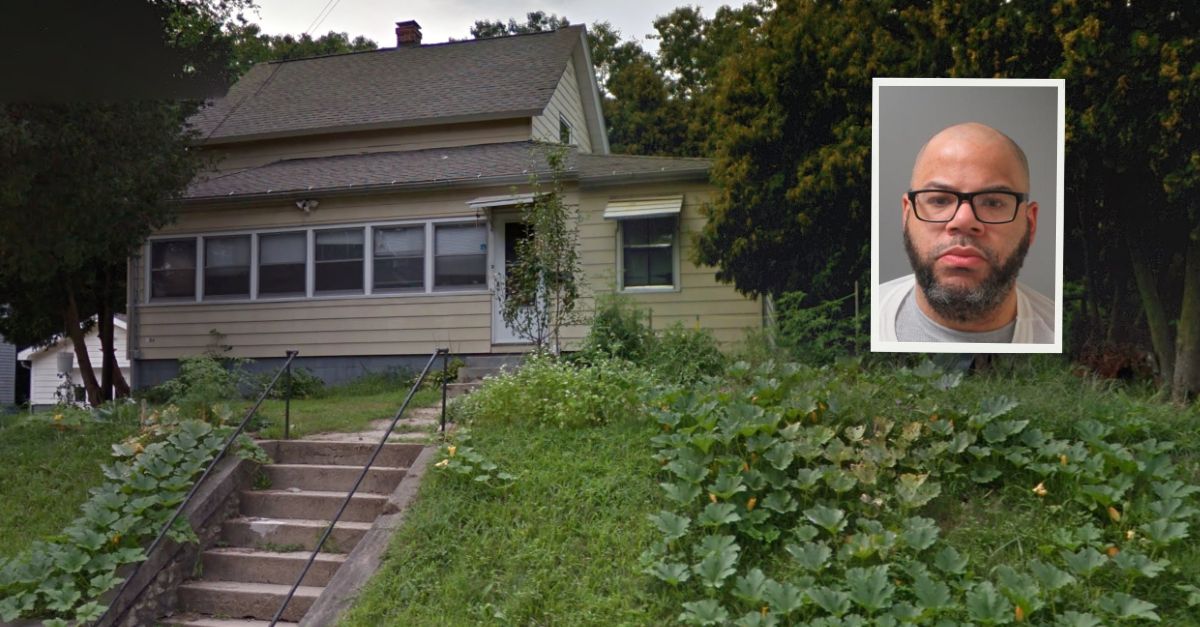 Michael C. Reese, inset, is suspected of killing a visiting nurse who was found dead in the basement of a halfway house where he lived, according to police in Connecticut. (House image via Google Maps, Reese photo: Connecticut Department of Corrections)
A convicted sex offender is the prime suspect in the murder of a visiting nurse who was found dead in the basement of the Connecticut halfway house where he was living, according to authorities.
Michael C. Reese is currently facing drug paraphernalia possession and larceny charges for having the victim's credit cards and car key but soon may face much more serious offenses. Family members of the nurse, who has not been named, called police to report her missing after she failed to return from an appointment with Reese at a halfway house in Willimantic on Saturday morning.
The appointment was only supposed to last eight minutes, but the GPS tracker said her phone was still there nearly four hours later, according to a probable cause arrest affidavit obtained by Law&Crime. Its tracker shut off shortly before noon. The nurse had also missed all her subsequent appointments.
Officers responded to the home but no one answered. The nurse's car also was not there. Police learned Reese, who was on probation and was a sex offender with "violent tendencies," was living at the halfway house, which was designed to reintegrate sex offenders into society. Officers called Reese's probation officer, who told them his ankle bracelet was showing he was located inside the home and hadn't shown any signs of tampering.
Meanwhile, police located the nurse's car at a nearby business and a K-9 dog led officers back to the halfway house. Investigators received a call around 3:20 p.m. from the probation officer who said Reese's ankle bracelet was being tampered with. An officer saw Reese running out the back door and took him into custody. He had a pairing knife, a crack pipe, three of the victim's credit cards and the key fob for her vehicle on him, the affidavit said.
Cops then went into the home and found the nurse's body in the basement. Reese's violation of probation warrant describes him as a "suspect in the murder of his visiting nurse after her belongings were found on his person." It also says GPS data shows he was located where police found the victim's car. Reese remains in jail as police and prosecutors continue to investigate the murder.
"This is a deeply troubling case on many levels, and one of the worst cases I have seen in 27 years in law enforcement," Willimantic police Chief Paul M. Hussey in a statement. "Our condolences go out to the family of the victim."
According to records, Reese was convicted in 2007 of sexual assault in the first degree. He was sentenced to 25 years in prison but the sentence was suspended after he served 17 years. He was released on April 23, 2021. Reese was put on probation until 2031. He violated that probation on March 31, 2022, for failure to comply with treatment and substance abuse. A judge in January revoked Reese's original sentence and sentenced him to six years in prison, but it could be suspended after six months served, along with nine years probation.
Reese was released from prison in March and entered a residential treatment program for "high-risk individuals convicted of sexual offenses." He then transitioned to the halfway house in Willimantic after completing the program on Aug. 2.
Local NBC affiliate WVIT reported Reese missed his initial court appearance on Monday because of concerns about his mental health. A judge set his bond at just over $1 million.
Have a tip we should know? [email protected]