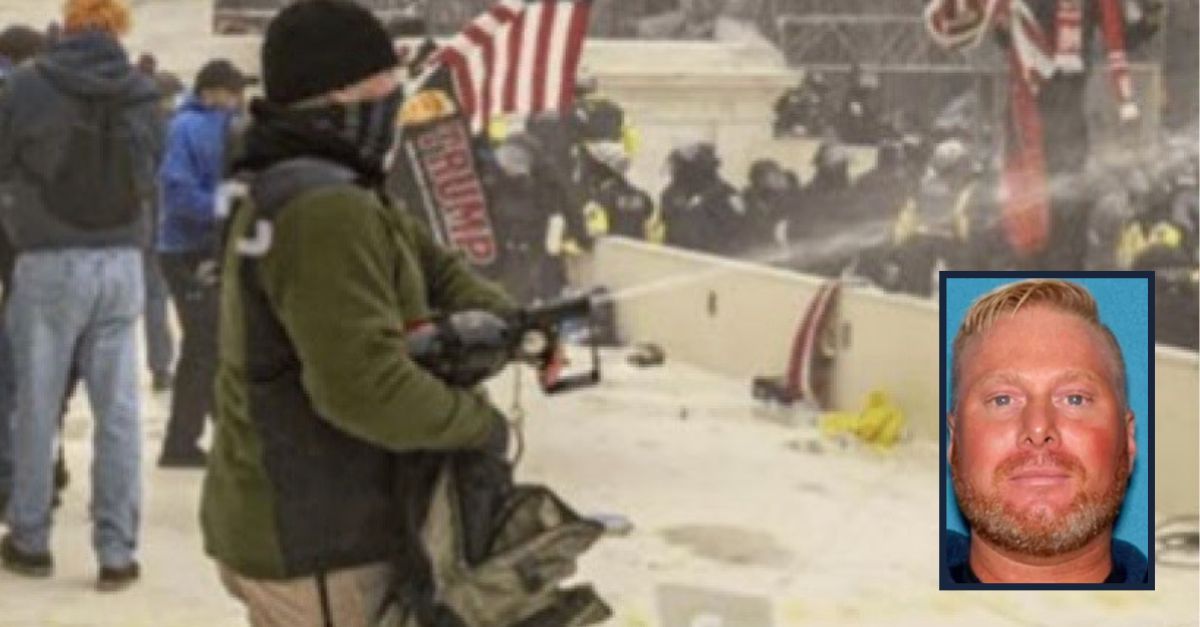 Background: DOJ exhibit attached to complaint against Jan. 6 defendant Gregory Yetman. Prosecutors say Yetman appears in the green jacket and dark hat using a spraying device to douse police at the U.S. Capitol with OC spray. Inset: Gregory Yetman photo provided by FBI.
Prosecutors unsealed charges on Monday against Gregory Yetman, a former military police sergeant and National Guardsman, who appeared in court for the first time since turning himself in after a manhunt for him unfolded in New Jersey last week.
Yetman turned himself in on Friday and remained in detention over the weekend. Police had arrived to arrest him days earlier at his Helmetta, New Jersey, home when they say he hopped a fence and took off into the woods behind his property.
Following his initial court appearance on Monday, prosecutors unsealed the case and confirmed that the 47-year-old faces multiple criminal charges including allegations that he assaulted police using a specialized device that spewed torrents of OC spray on officers defending the Capitol on Jan. 6, 2021.
In addition to the assault charge, an arrest warrant indicates Yetman also faces charges of obstruction of law enforcement during a civil disorder, remaining in a restricted building or grounds, acts of violence on Capitol grounds and a separate charge of engaging in acts of physical violence.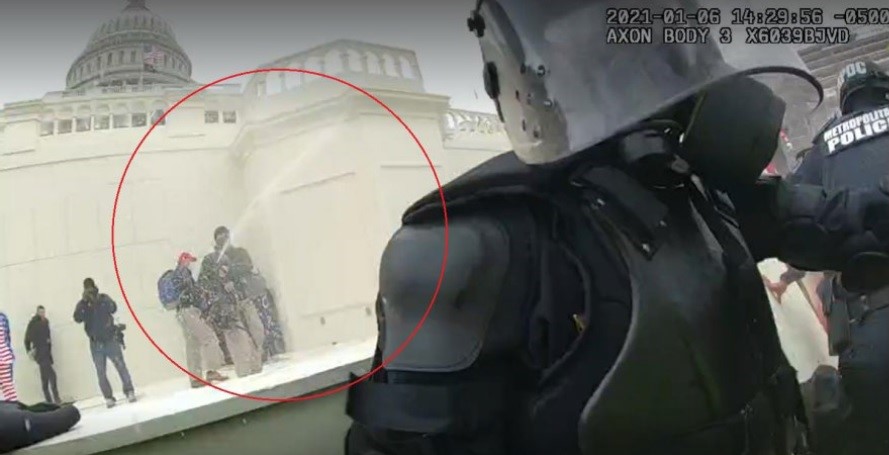 DOJ exhibit photo allegedly showing Gregory Yetman, circled in red, using a spraying device to douse police at the U.S. Capitol with OC and/or pepper spray.
In a 21-page FBI affidavit made public Monday, a special agent notes that Yetman was identified to authorities with the help of online open intelligence sleuths known as "Sedition Hunters" who had pored over footage from Jan. 6. By February 2021, the sleuths had spotted a man in footage appearing to spray a chemical substance at officers on the Capitol's western front. The sleuths gave him the handle, "green heavy sprayer."
The FBI had originally interviewed Yetman on Jan. 22, 2021, roughly a week after the bureau first received a tip from the U.S. Army Criminal Investigation Command. The command noted that Yetman had posted on Facebook about being at the Capitol on Jan. 6.
During that January interview, agents said they spent just 10 minutes chatting with Yetman and he told them that he drove to Washington, D.C., on Jan. 6 but never entered the Capitol. He did tell agents, however, that he helped people clear chemical irritants from their eyes by using water and that he fully supported law enforcement, the affidavit notes.
Yetman also told the agents in January 2021 that "anyone entering the Capitol and assaulting officers should be prosecuted," the special agent wrote, adding that Yetman had also shared some photo and video footage with the FBI that he personally captured on his devices.
Prosecutors said those images only appeared to show part of the story and that Yetman denied partaking in any violence.
It was August 2022 when the FBI said it had sent an email to another agent who had interviewed Yetman more than a year before. The email included a number of photographs that appeared to depict the former National Guardsman. With further investigation, including interviewing one of Yetman's former coworkers, the FBI said they were able to secure a positive ID and the rest was history.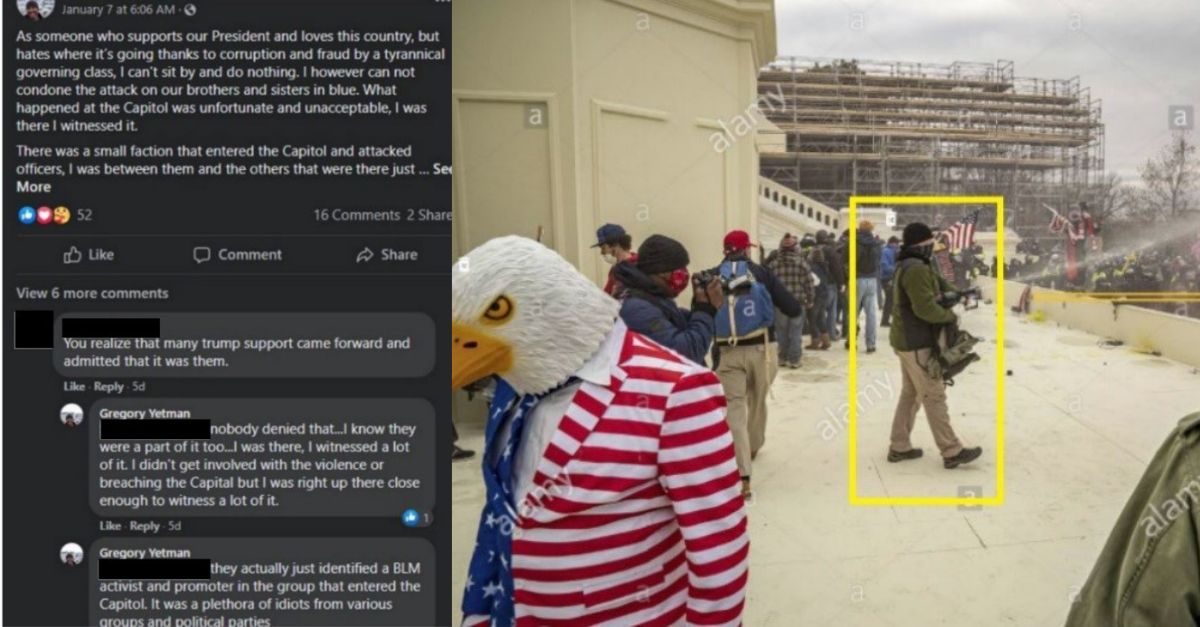 Left: In charging documents, prosecutors included a screenshot of a Facebook post from Gregory Yetman dated Jan. 7 where he claimed to be peaceful. Right: Prosecutors include footage obtained of Yetman that appears to show him spraying a chemical substance at officers.
In the affidavit, the FBI notes that it viewed footage of Yetman appearing to pick up a chemical spray canister specifically known as MK-46H while he was in a restricted area before using it to spray a Metropolitan Police Department officer. Those canisters specifically were stolen from officers by rioters, according to court records.
In the video, Yetman can allegedly be seen using the spray canister for approximately 12 to 14 seconds on officers, then discarding it before walking back behind a wall to take more photos and video.
It is unclear if Yetman entered a plea as of Monday. It is also unclear whether he has retained a private attorney or will be represented by a public defender. A court clerk did not immediately return a request for comment to Law&Crime.
Have a tip we should know? [email protected]