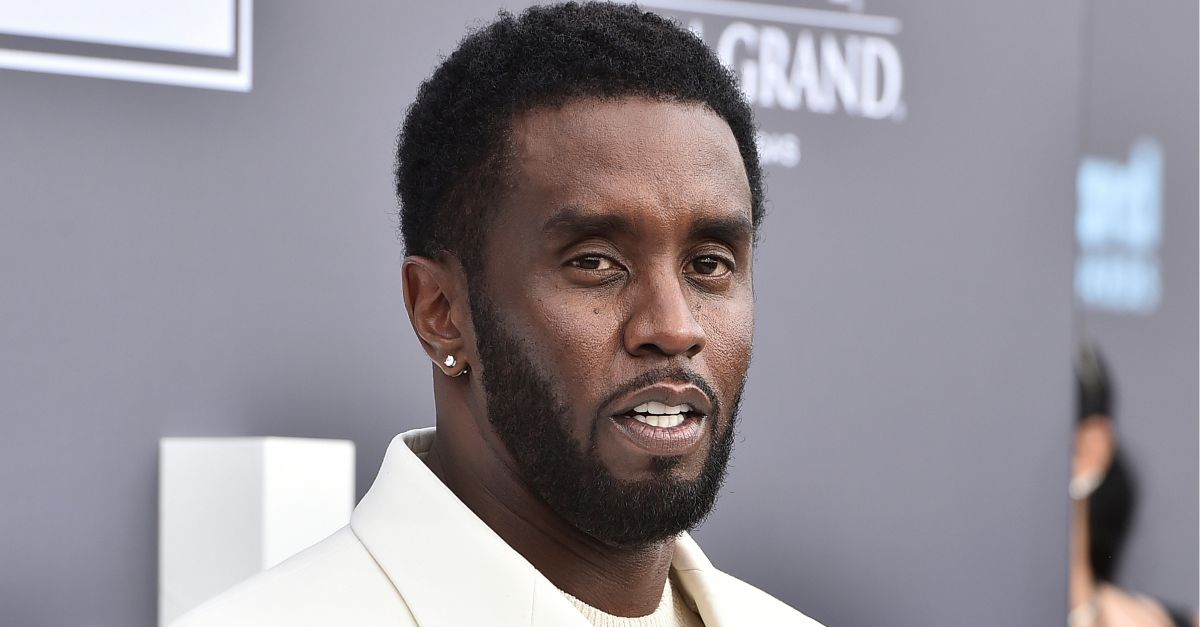 FILE – Music mogul and entrepreneur Sean "Diddy" Combs arrives at the Billboard Music Awards in Las Vegas May 15, 2022. Combs was accused in a lawsuit Thursday, Nov. 16, 2023, of subjecting R&B singer Cassie to abuse in a years-long relationship. Cassie, whose legal name is Casandra Ventura, alleged in the suit against the producer and music mogul in New York federal court. Combs' lawyer denies the allegations. (Photo by Jordan Strauss/Invision/AP, File)
Sean "Diddy" Combs and his former girlfriend, the R&B singer Cassie — real name Cassandra Ventura — have said they've resolved claims she filed against him, accusing the rap mogul of sex trafficking, rape and years of controlling behavior, even allegedly blowing up a car of a romantic rival.
In statements emailed late Friday, both parties said they were satisfied with the agreement without providing details.
"I have decided to resolve this matter amicably on terms that I have some level of control," Ventura's statement said. "I want to thank my family, fans and lawyers for their unwavering support."
Combs said in a statement: "We have decided to resolve this matter amicably. I wish Cassie and her family all the best. Love."
Douglas Wigdor, Ventura's lawyer, said: "I am very proud of Ms. Ventura for having the strength to go public with her lawsuit. She ought to be commended for doing so."
The news came after a 35-page lawsuit, filed Thursday in the U.S. Southern District of New York, accused Combs of physical abuse toward Ventura. It alleged Combs raped Ventura in her home after she tried to dump him and forced her to engage in sex acts with male prostitutes while Combs filmed in what were known as "freak outs" and demanded she carry his firearm in her purse "just to make her feel uncomfortable and demonstrate how dangerous he is," the lawsuit said.
It also says Combs "blew up a man's car after he learned that he was romantically interested" in Ventura. The lawsuit identifies the man as rapper Kid Cudi, whose real name is Scott Ramon Seguro Mescudi. Combs was allegedly upset she went to Mescudi's home to escape him. It says during Paris Fashion Week in February 2012, Combs reportedly told Ventura he was going to blow up Mescudi's car, and he wanted to make sure Mescudi was home with his friends when the car blew up. The lawsuit alleges Mescudi's car blew up in the driveway.
"Ms. Ventura was terrified, as she began to fully comprehend what Mr. Combs was both willing and able to do to those he believed had slighted him," the lawsuit said.
In a statement to Law&Crime, Combs' attorney Benjamin Brafman says his client "vehemently denies these offensive and outrageous allegations."
"Ms. Ventura's demand of $30 million, under the threat of writing a damaging book about their relationship, was unequivocally rejected as blatant blackmail. Despite withdrawing her initial threat, Ms. Ventura has now resorted to filing a lawsuit riddled with baseless and outrageous lies, aiming to tarnish Mr. Combs' reputation, and seeking a payday," the statement said.
In response, Wigdor said Combs previously offered his client "eight figures" to keep her quiet and prevent her from filing the lawsuit.
"Mr. Combs offered Ms. Ventura eight figures to silence her and prevent the filing of this lawsuit. She rejected his efforts and decided to give a voice to all women who suffer in silence," Wigdor said in a statement to Law&Crime. "Ms. Ventura should be applauded for her bravery."
Combs met Ventura in 2005 when she was 19 and he was 37. He lured her into an "ostentatious, fast-paced, and drug-fueled lifestyle, and into a romantic relationship with him — her boss, one of the most powerful men in the entertainment industry," according to the suit. Her debut single, "Me & U" in 2006, was produced by Combs' Bad Boy Records, also named in the suit. Combs was a well-established music superstar, and he allegedly used his status and her naiveté to manipulate her into doing whatever he wanted. That included allegedly talking her into doing drugs such as ecstasy.
"From the very start of their relationship, Mr. Combs exerted his power and influence over Ms. Ventura. This dynamic was fueled by their nearly twenty-year age difference as well as their relative positions in the entertainment industry — with Mr. Combs considered a music 'mogul' and Ms. Ventura at the very start of her career as an entertainer," the suit stated.
Ventura also accused Combs of being physically violent, leaving bruises throughout her body. After a party with Jay-Z, Combs allegedly repeatedly kicked and punched Ventura in the back of a Cadillac Escalade and forced her out of the vehicle in the middle of Fifth Avenue, causing her to hail a cab on her own. She said she didn't report the incident, and others, to authorities because she feared Combs was too powerful and would wreck her career. Combs would give her "excessive amounts of gifts" as an apology and to convince her to come back to him, the lawsuit said.
The lawsuit describes an alleged rape in September 2018. It happened after dinner at an Italian restaurant in Malibu, California, where they discussed ending their relationship for good. After they returned to her home, he "forced himself into her apartment and tried to kiss" her, according to the lawsuit. He then "proceeded to rape" her while she repeatedly said "no," the lawsuit alleged.
Because of his alleged abuse, Ventura resorted to drugs and alcohol to cope. When sober, she suffered from "horrific nightmares," but since the birth of her two children, she's been able to point her life in the right direction.
Combs wasn't arrested or charged with the alleged acts outlined above.
We want Law&Crime to be your favorite destination for all things true crime
To continue bringing you the very best content, we rely on valuable feedback from our loyal viewers. We invite you to take a brief survey about the kind of programming you want to see more of from us. Participation is anonymous and will only take about 3 minutes.
Law&Crime's David Harris contributed to this report.
Have a tip we should know? [email protected]