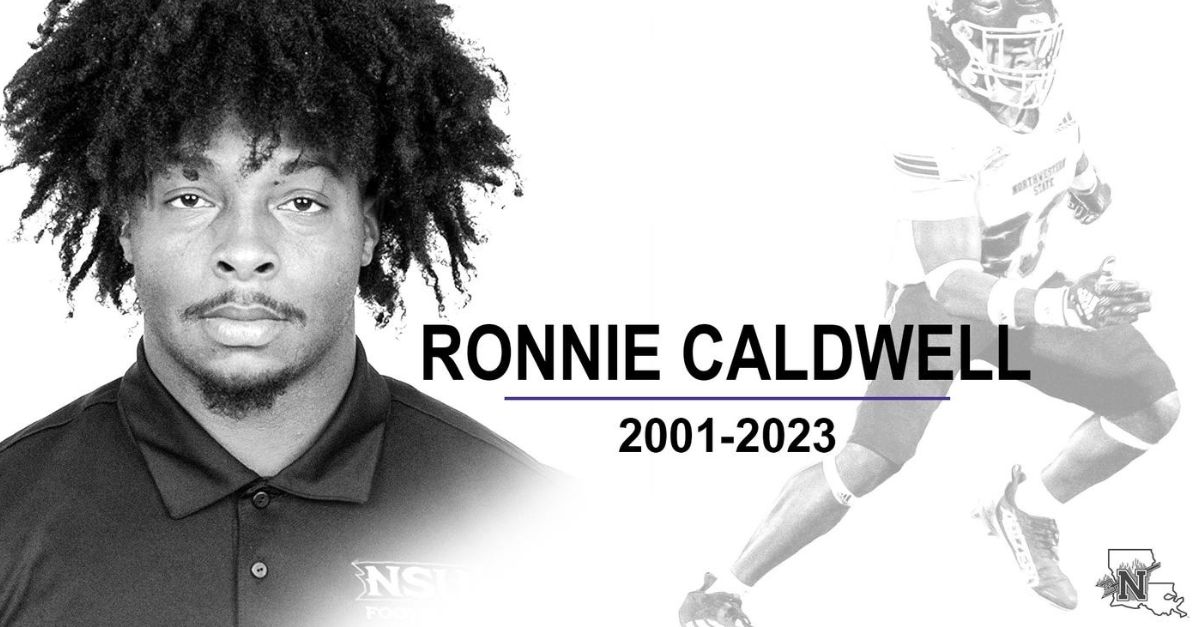 Northwestern State University football player Ronnie Caldwell Jr., 21, was shot at killed at his Natchitoches, Louisiana, apartment on Oct. 12, 2023. His family filed a federal lawsuit on Nov. 3 claiming the school and head football coach, Brad Laird, failed to take measures to protect Caldwell before his death. (Image via Northwestern State University)
The parents of Ronnie Caldwell Jr., the slain Northwestern State University football player allegedly murdered last month by his roommate, filed a wrongful death lawsuit alleging the school, head football coach and apartment complex failed to remove their son from a dangerous situation before he was killed.
The Natchitoches Police Department in Louisiana responded shortly after 1 a.m. Oct. 12 to an apartment complex for a shooting and found Caldwell, 21, suffering from multiple gunshot wounds. The coroner's office pronounced him dead on scene. Police arrested Caldwell's roommate, 27-year-old John McIntosh, on a charge of possession of a firearm in the presence of a controlled dangerous substance. McIntosh has not been charged with Caldwell's death.
Also in connection with the homicide, cops on Oct. 20 arrested one of Caldwell's teammates, Maurice Campbell II, 22, of Memphis, for obstruction of justice, possession of marijuana with the intent to distribute and possession of a firearm in the presence of a controlled dangerous substance.
According to the lawsuit filed Friday in the U.S. Western District of Louisiana and reviewed by Law&Crime, Caldwell and a teammate had to be removed from their original apartment after mold was discovered. Apartment management moved Caldwell and his teammate to another apartment within the complex where he was paired with another roommate. The lawsuit does not name the roommate, but police identified him as McIntosh.
"Ronnie and his new roommate were not a good match. During their short time period living together, they had a series of verbal altercations," the lawsuit said.
On Oct. 9, the new roommate allegedly pointed a gun at Caldwell. After the incident, Caldwell contacted his father who called the head football coach, Brad Laird, to tell him about what happened. Laird told the father he would "take expedient action and move Ronnie to a safe location immediately," the lawsuit said. But that apparently didn't happen and the next time the two talked was when Laird called Caldwell's father to tell him his son was dead, according to the lawsuit.
"Instead of listening to and heeding Ronnie's cries for help to move away from his violent roommate, NSU and Coach Laird failed one of its students and star athletes. Ultimately, their failure cost Ronnie his life," the lawsuit said.
Caldwell's parents, Ronnie Caldwell Sr. and Blanche Bradley, said in an Oct. 27 press conference that the death was preventable.
"I called the coach. I texted him and asked him, 'Please move my son. Somebody pulled a gun. I need you to move him. Get him away from there. Get him in a hotel until I can get there. I'll be there this weekend,'" Caldwell Sr. said, according to ESPN. "Next thing I know, the next phone call I get from this man is at 2:07 a.m. and my son is deceased. Now, how do you feel being a man like me? I call myself being protector. I've been protecting my whole family all their life and I get this call and all I asked him to do is to move my son. What's so hard?"
The school declined to comment on the lawsuit. Laird could not be reached and the apartment complex's management company, Campus Advantage Inc., did not return a message seeking comment.
Caldwell's death shocked the school and football team. Laird resigned Oct. 26 after six seasons as coach and the school canceled the rest of the season. The team played one game after the murder, but then decided the "hurt on our team was too deep," NSU President Dr. Marcus Jones said in a statement. Jones described Caldwell as a "beloved member of our community."
After graduating from Cedar Park High School near Austin, Texas, Ronnie Caldwell Jr. went on to Tyler Junior College, which is about 100 miles east of Dallas. He transferred to NSU where he was seventh in tackles for the team in tackles. Although he was hurt for this season, he helped the coaching staff prepare for games.
Laird said in a statement that he resigned because of Caldwell's death and the emotional burden it caused him.
"Any coach will tell you that their players become like family, so the loss of Ronnie was like losing a son. I love this program and this university and I know it will persevere and move forward with the competitive spirit that is at the core of our DNA," the statement said.
The Caldwell family attorney took issue with Laird's remarks,
"If he was like a son, he would've protected him," attorney Troy Pradia said, according to ESPN. "All his father wanted was his son to be moved to a safer location."
Have a tip we should know? [email protected]