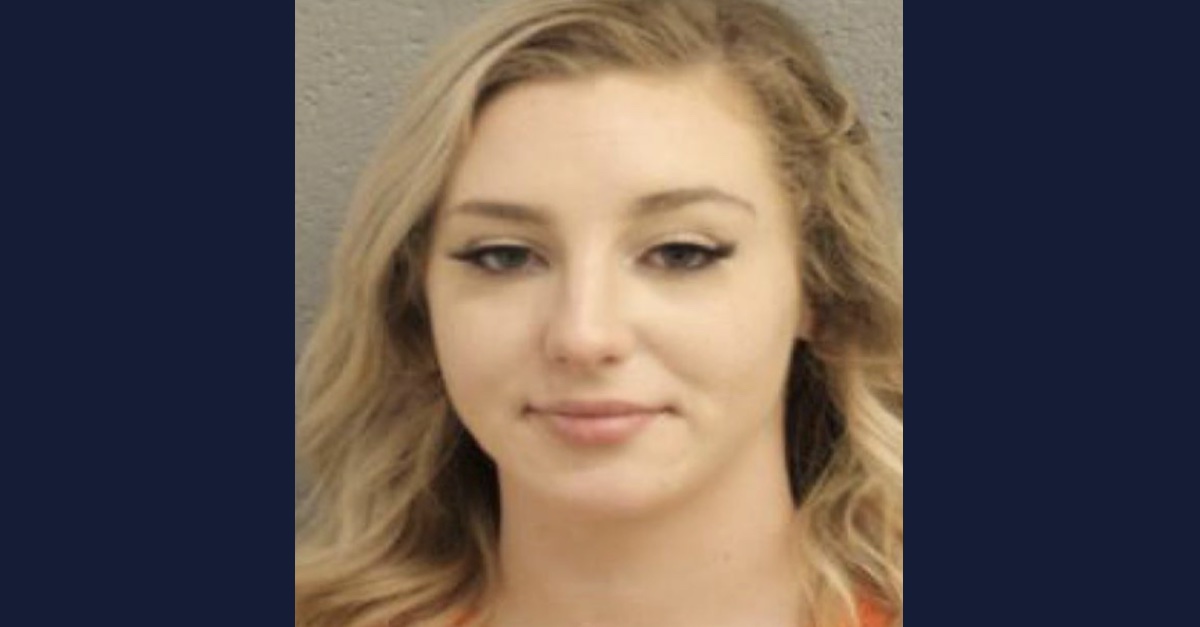 Alyssa Kinney (Harris County Jail mugshot)
A 22-year-old Texas road rage suspect was arrested at home on Saturday, right around the corner from where she allegedly pointed a gun at a man during a heated war of words.
Alyssa Kinney, of Spring, Texas, faces the charge of aggravated assault with a deadly weapon — a gun — in connection with a neighborhood "verbal altercation" that local authorities say spiraled into the realm of criminality.
"On August 19, 2023, deputies with Constable Mark Herman's Office responded to the 19100 block of Crystola Park in reference to a road rage incident," said authorities with the Harris County Precinct 4 Constable's Office. "Upon deputies arriving, the complainant reported that a female suspect pointed a firearm at him during a verbal altercation."
More Law&Crime coverage: Mom accused of 'road rage' pocketknife stabbing of parent during first-day pickup outside elementary school 
A brief criminal complaint filed in court by the Harris County District Attorney's Office alleged that Kinney "on or about August 19, 2023, did then and there unlawfully, intentionally and knowingly threaten [the victim] with imminent bodily injury by using and exhibiting a deadly weapon, namely, a Firearm."
Under Texas law, aggravated assault occurs when a person "uses or exhibits a deadly weapon during the commission of the assault." In Kinney's case, because the alleged victim sustained no serious bodily injury, she is charged with a second-degree felony. Nonetheless, a conviction for that offense would mean at least two years in state prison and no more than 20 years behind bars. A person convicted of a second-degree felony in Texas could also face up to $10,000 fine.
Constable Herman said Kinney was tracked down by deputies who obtained a description of the defendant and the vehicle she was driving from the reporting victim. Investigators didn't have to look very far for their suspect.
According to the Harris County Precinct 4 Constable's Office, the incident unfolded in the 19100 block of Crystola Park, which is right around the corner from the Dickson Park Drive address in Spring where Kinney was taken into custody. The area is north of downtown Houston via I-45.
The defendant was booked Saturday into Harris County Jail but she has since posted a $10,000 bond, jail records reviewed by Law&Crime show.
Court records show that Kinney was released with conditions. That document indicated alcohol was a "factor" in the alleged road rage incident.

The defendant was also ordered not to contact the alleged victim.
In an affidavit on her finances, in which the defendant asked for the court to appoint her a lawyer, Kinney listed two minor children as dependents. She said that she had been renting out the Dickson Park Drive residence for the last seven months.
Listing her status as unemployed, Kinney tallied her necessary monthly living expenses at $7,750, the affidavit said.
Kinney will turn 23 on 9/11.
Have a tip we should know? [email protected]